Mastering the Extraordinary
Greetings all! The weather in Upstate NY is wonderful and cool as natures colors paint the fire of fall on the mountains with the breeze whispering warnings of winter- as we chop corn and split wood to get ready.
Life: Work is crazy busy for me now, so its been important to be very mindful of time.
Please be aware that the research of JOY keeps wondering through religion with strong hold in Christianity, not that that's bad but it is not my original research intention.
Joy Lives in the Seat of the Soul! – https://www.youtube.com/watch?v=-2wutEzjy_E
Questions are in red. Links are in blue.
Background: For over 25 years I have lived by the mantra of-
"When the FUN'S OVER YOUR FIRED!"
I think that this has propagated personal JOY in my world. Before this project I didn't ever think about me personally and JOY. I do now realize I have a personal connection and I don't often acknowledge from a personal point of view- openly. But now that were here- I believe instilled in my hard drive and nourished by Grandmothers words "What doesn't kill you makes you stronger" is with every adversity and challenge comes the opportunity for great things and growth that would not otherwise present them self's.
Everything Always Works Out~ for me and you!
JOY
joi/ noun
1. a feeling of great pleasure and happiness.
"tears of joy"
synonyms: delight, great pleasure, joyfulness, jubilation, triumph, exultation, rejoicing, happiness,gladness, glee, exhilaration, exuberance, elation, euphoria, bliss, ecstasy, rapture.
verb
literary
1. rejoice.
"I felt shame that I had ever joyed in his discomfiture or pain"
Photo-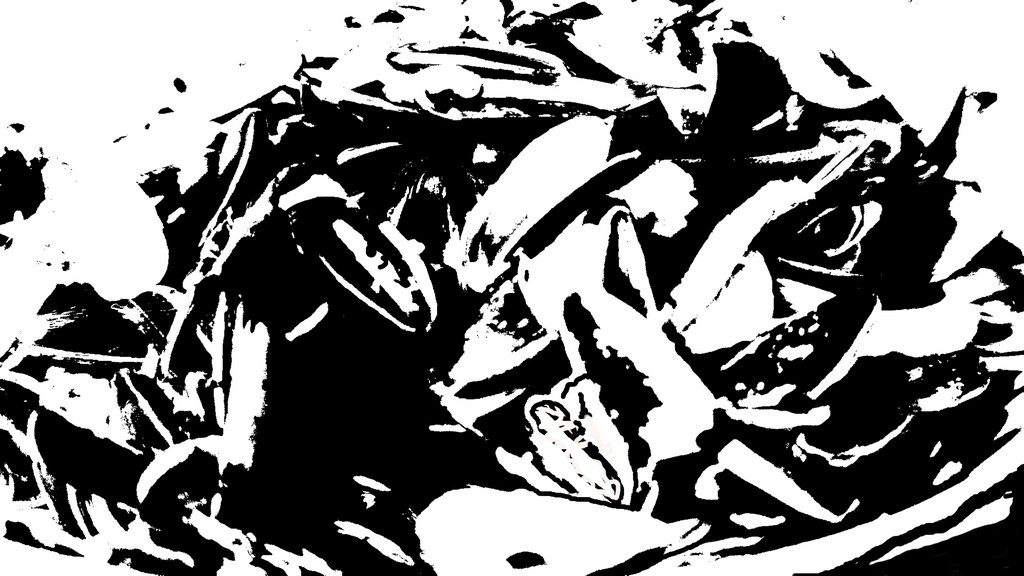 _____________________________________________________________________
Introduction to Series- There are currently 77 finished pieces.
Please click – "SEED OF JOY"
My Optimism: In myself a garden, firmly planted with foundation of beliefs, lead by JOY in which we all have a choice to create a force for good and become agents of positive change…… "Love even in the face of Hate to become the change you want to see." -This is the mantra told to me every morning as a child by my father (a Zen Buddist Master), and in this difficult world- that's all I see one has control over, not that its an easy task but I believe it does feed the soul.
I know my Joy do you know Yours?
This idea of using one object and working it extensively came from conversations with my adviser Lisa, and she was right i would find somethings "a new"- a matter of fact many things-! it became an archaeological dig- occur and appear to subconscious intellect – all in Reflection.
_____________________________________________________________________
Currently reading- Ansel Kiefer's Notebooks Volume One-
I saw his show at Mass MOCA. I expected more- Impact on self- reaction. The book is currently feeling the same. The reviews are outstanding and his use of texture important to my work at this time.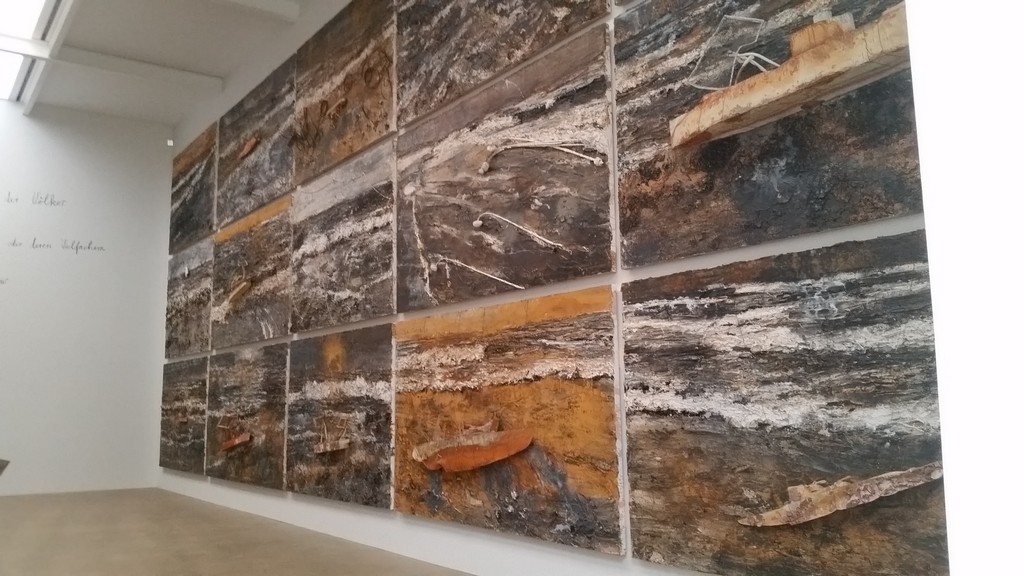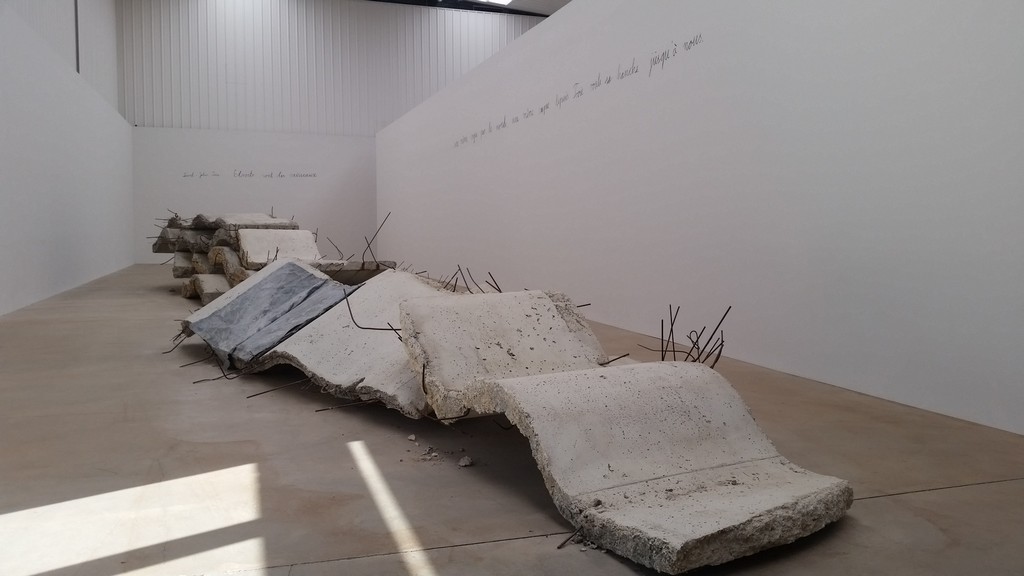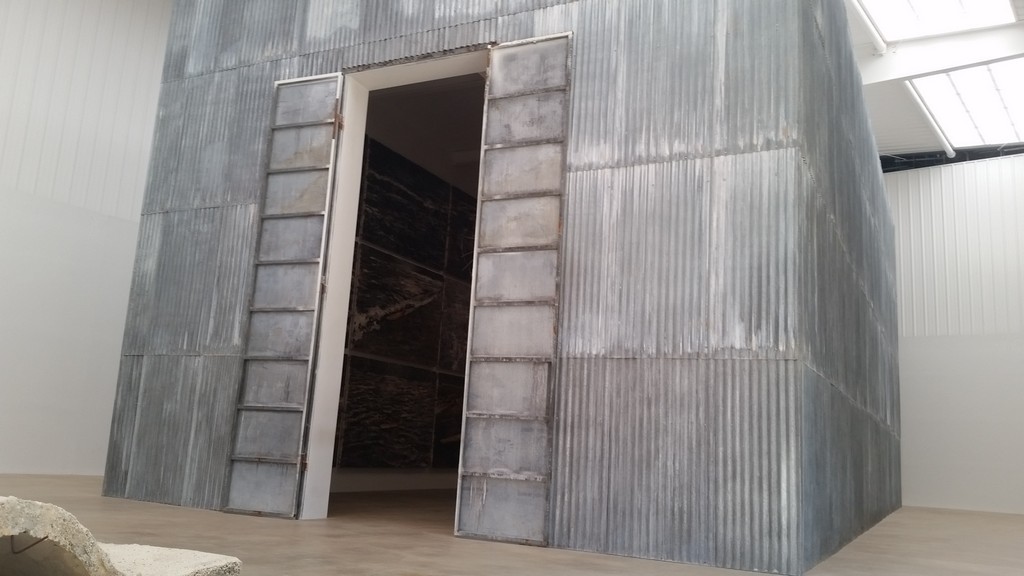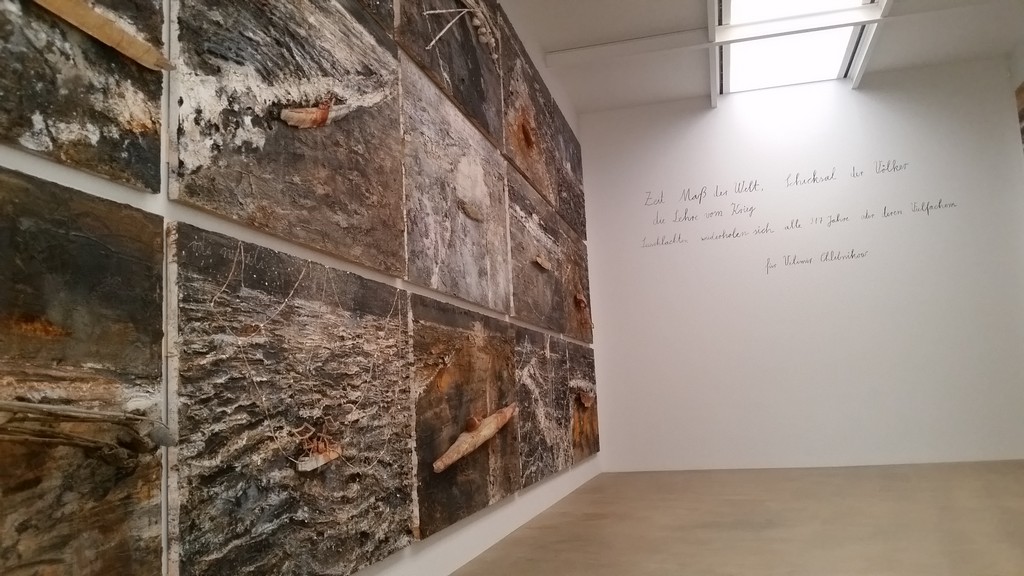 SPeaking of Texture – I introduce the first paintings from the series. Created from oil drawings done in Berlin Germany exploring the opposite of Joy but for me FLUIDLY went back to feelings of Zen Joy. I understand the act of creating is situated in the soul of Joy for me as a human and spirit being. I have spent the last 2 months researching and testing material for texture on canvas in combination with tar and oil paint. the process has been filled with complications and at this time I am not clear on why its important, except for the personal wanting the to create in sculpture like dimensions on canvas, of which I love in A. Kiefers work. I have extensively read and as of now I have not found A. Kiefers process to material dimension on canvas. I spoke to Research and Development in over 6 paint company's trying to find a good solution for texture. At least with Tar there was only one source and they just said NO to my ideas, but I did figure it out and achieved great dimension in tar over the last year although it takes a long time to cure. For now I continued to use Keifer like texture outcome in oil paint.
Paintings-
The paintings all come from oil pastel drawings started in Berlin. You can see the unfolding of the work in the last two month blog posts. The Idea here: one must know the opposite of joy to understand the parameters of a subject.
JOY – Pain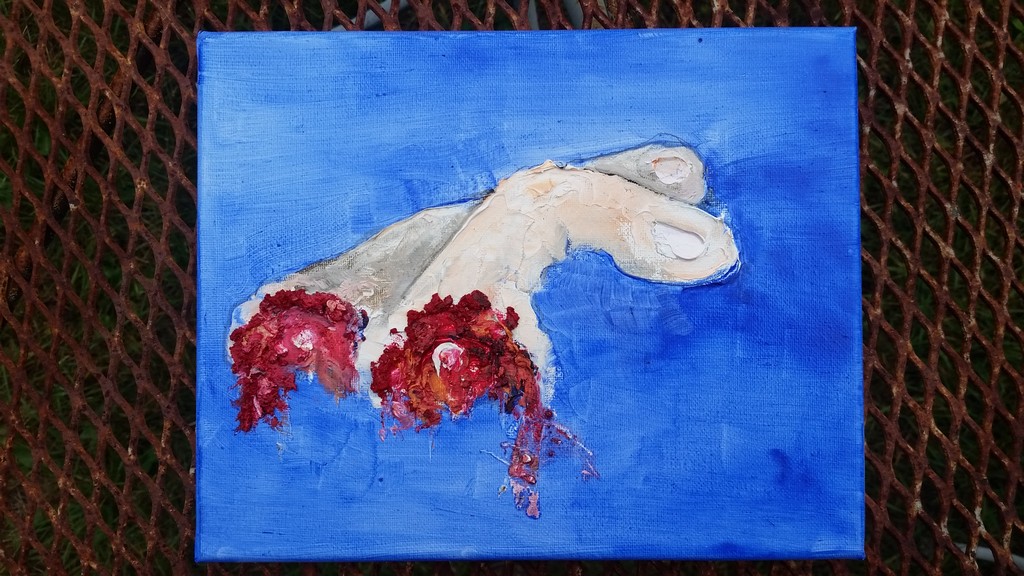 Sometimes two ends of a subject are found in the same place.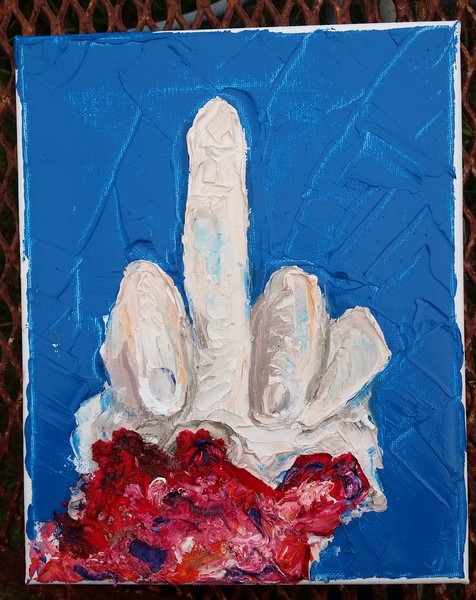 A object ripped from its source holds intention even stronger than prior to the act.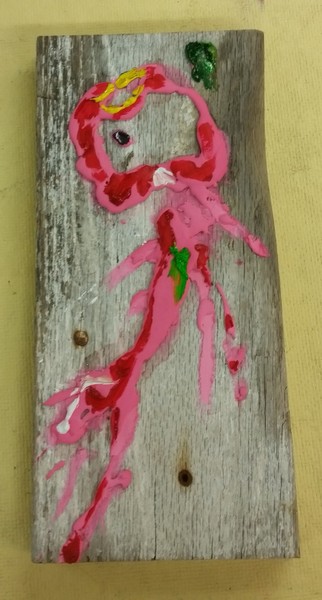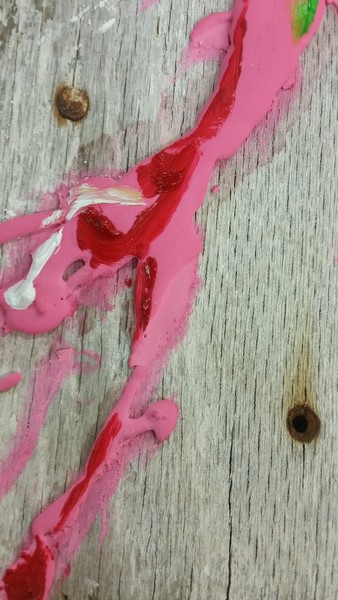 This a is on 100 year old white washed barn board and is the out come of mega testing for material to create texture. It is not were I would like to be so Ill keep at it. I am looking to achieve a Kiefer type surface. Although what a nightmare to dry and store.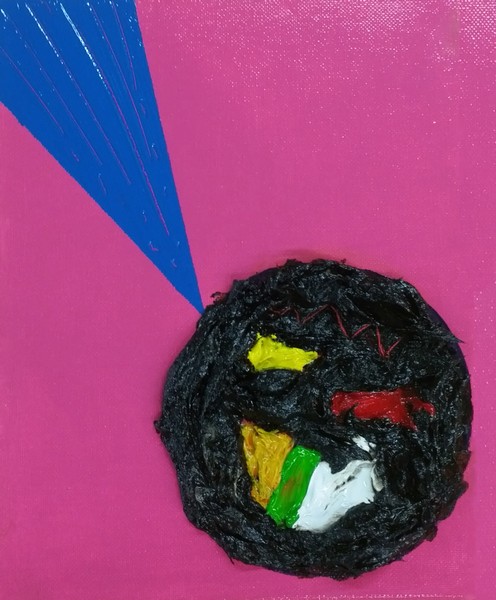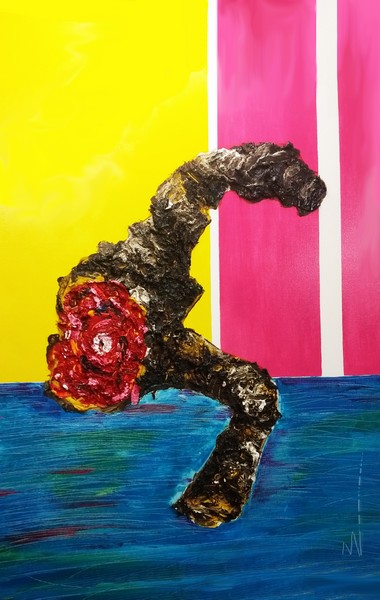 30″x 36″ canvas, Tar Oil and Texture. This photograph doesn't show the dimension of texture that is accomplished. The 15 is here so there was no time to re photograph.
Meditation-
I am currently sitting with this piece- the power, thoughts and insight it is bringing up is amazing- but I'm not – of yet – clear on what I will do – with the input – if anything – time? George has shared in depth conversation and review stimulated thoughts and perspectives that boil with excitement-! This work was introduced over the last two months with the intention of looking at the opposite of JOY, for me this process didn't work because, I became very stimulated and when I begun painting (3 pieces shown this month) from the oil pastel drawings, which brought me right back to a singing heart of JOY- ?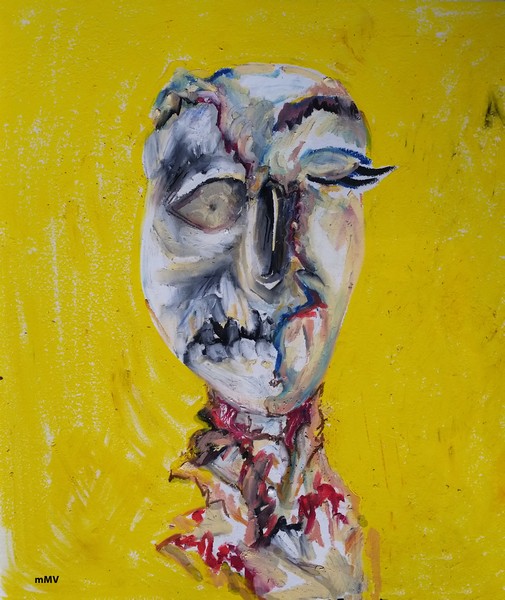 Anti Journaling-
i Anti – Journal every day and just pick a sample by randomly opening to a page for submission by chance. I figure the universe has a plan better than mine,,,,, ~I am just the conduit.
~Life is like a stream~
Small particles gather forming shape temporarily
Always in motion
Change
Lucid – Air – Flow- Lucid-
Bear Care- Hold-
Focus
Attention – notice- details dissipate rapidly
Beauty each moment- Beauty in a single Breath
Deep details – Distinct differences
You- Me- she- Him – them- differences
Colors – All metaphor- translucent
Life is temporary
Translucent
Temporary
Sometimes, no time- to say
temporary
Take notice
Play
Take Notice
Splash
Take notice of the day………
Show – Lecture-
On 10/19/2016 I have engagement to speak on sculpture at the State University of New York at Oswego, also known as SUNY Oswego New York, on the shore of Lake Ontario. I am included in the outdoor sculpture show until 2018. The piece I am showing Industrial Nation (INA), stands at 20′. This piece is a conversation about the tragedy of 911 INA was installed by a crane and award winning and funded by the state of NY and a private company.
I have also Been offered a full teaching position at in painting.
– I have declined. I'm not at this time interested in moving.
Sculpture-
At this time there are 2 pieces completed
NEW SCULPTURE ~ Please Click the link- Garand Shot for photographs.
Garand Shot
This is a series of mixed media, sculpture, paintings and drawings.
The sculpture: offers physical modification through planning and chance
with the abrupt action of shooting using high powered rifles to alter
the form of a common endeared household object that would live on a kitchen or dining table into dialogues about social class values bringing notice to exchange, the world's condition and human growth or not.
There was much Joy present in the shooting and assembling of the work. I find when I'm working to be a very Joyful time and when I'm not working my family tells me to go to the studio.
The shooting was a group participation and everyone really had a wonderful time as can be seen in September Blog Post video.
no.238 "False Positive"


no.237 "Nucleus of Atom"
Please click no.237_Nucleus of Atom _2016 Research Paper

Research –
The Society of the Spectacle – Guy Debord
"passive identification with the spectacle supplants genuine activity". "The spectacle is not a collection of images," Debord writes, "rather, it is a social relationship between people that is mediated by images."
M. Jackson starts with a Beethoven's excerpt from a lesser known portion of the 9 th symphony's final movement. Beethoven got it from a poem- ODE TO JOY by Friedrich Schiller in 1785. I like the next version re-written 1803! Traveling the wake of JOY!
The next set of very interesting things found are in Friedrich Schiller's Philosophical letters. Key words keep prevailing and in this set of writing come up again- Truth, Enlightenment, Moral, Seeds……..
"An enlightened understanding, on the other hand, ennobles the sentiments -the head must from the heart" ~F. Schiller
I'm thinking the Art must be from the Heart!"
-I came across this 80's tune and -I noticed God is also mentioned here keeping consistent with research- Lyrics http://www.azlyrics.com/lyrics/maze/joyandpain.html
Commercial- https://vimeo.com/152751563
10/27/16- Post Star- News Headline for the day- Parker wept as she recalled her infant daughter's life, and how she went from the joy of motherhood to the despair of losing a child in a matter of hours. (In my mind this is the extremes Joy embraces.)
I am thankful for all of you and hope you are well! Thank you-! ~m