This month my friend visited – experiences from MoMa to Yale with all the different landscapes in between.
Gathering Perception
We Gathered as if sticks to become- we start- in – ten- tion,
aim no plan, build, construct, erect, – a bon fire – fire to dance in, flames- flames fanned by the breeze, Flames swirling – hot -forging color -reds slip into deep purples, highlighted in white, sometimes striking the ground, other times reaching high in the sky. But always moving, moving fast, to fast to notice change.
The breeze carries, lifts, shifts, the fire to soar places unknown, we slip into and beyond sedation a color so true you relax into the heat, as if the first sun of spring. Raw and Exposed this Sun burns unexpected, propelling unknown out of the shade within the flame. Find- Self, mesmerized and staring – into, the flame as it burns your retinas- taking physical sight so one can only travel by sense. No rest – drive, dance, sing, listen, draw, record.
Delirium sets into space. Space uncontrolled- perfect for testing- expanding – contracting. Groping growth in a new and different form of sight.
A Time, Space Whirlwind, that 2 souls Formed Altered Perception – Reality.
This written piece reflects: how I grew to the point of out of body exhaustion- for two weeks, 7 museums, many friends, food, dances, visits, pools, hikes, photographs, drawing, landmarks of NY, Massachusetts, Connecticut, Vermont, all in the drive of 1980 miles. This was the beginning of many ideas for projects which I consider in retrospect one of my life's the most connecting important facets holding the diamonds that sparkle with possibilities to come and some already mined. See Sculpture No. 787 and No. 788 SO- THANK YOU Singapore GEORGE!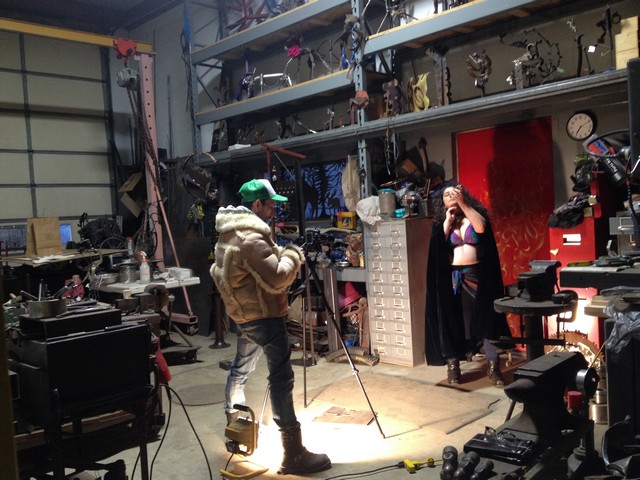 Kristin Eiriksdottir's poem, "KOK," inspires the thematic of opposing forces and tensions of layering and unraveling, concealing and revealing,
containment and openness containment. Both pastel paintings and photography work are relational and dynamic configurations that create movement between these extreme and opposite paths. The work highlights the physical and intuitive labor that goes into the making of an image. The gestures, colors, shapes, and abstract forms that appear bring something to life that spills over and through the frame. What has been generated, animated, and projected, compels us toward these works as they delight in the poetic intention of intuition, in movement and color. (1)
---
This Months Sculpture
Sculpture No. 787
No.787_EastWick
Sculpture No. 788
Sculpture No. 788_A

Sculpture No. 788_B

Sculpture No. 788_C

Sculpture No. 788_D

Sculpture No. 788_E

Sculpture No. 788_F
---
Sculpture No. 785
Is a continuation of the series "Space Conscious"
Sculpt No.785_6

Sculpture No. 785

Close up of No. 785

detail of Sculpture No. 785

detail of Sculpture No. 785
This work searches outside known perimeters; Reaching into space, creating – opening – circling – a testing ground pushing known for unknown and without predestined requirements, except to move in the intention for growth – stretching – reach for something new – more – Becoming – process.
---
Sculpture No. 784
"Epic"
Sculpture No.784_Epic

Sculpture No.784_Epic

Sculpture No.784_Epic
I remember when shredding the surf was most important. Now to watch my nephew glide through the tide is just as rewarding.
---

Sculpture No. 786
"Not your Mama's Ride"
Sculpture No. 786_Chopper

Chopper Baby
Every spring i do a few of motorcycles, there a fun way to get ready to ride before the street sweeper comes around – No salt on my HD's.
---
Master Healer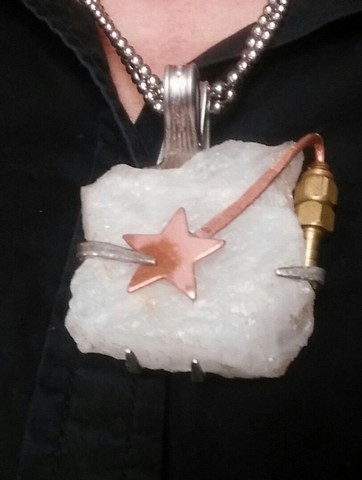 "Master Healer" _ Newly finished Jewelry _Quartz and copper
Clear Quartz is known as the "master healer" and will amplify energy and thoughts, as well as the effect of other crystals. Most common and abundant in the world, the Clear Quartz opens the mind and heart to higher guidance. This clear yet radiant gem may accelerate the fulfillment of the healing process and one's prayers. This good for everything stone is also believed to amplify the power of other crystals, and can be programmed with your desired intention, so make a wish!
Clear Quartz harmonizes and aligns all the chakras. Keep it with you and set your own intentions or alongside other stones to amplify their meanings.
---
Airbrush Painting on toolbox lid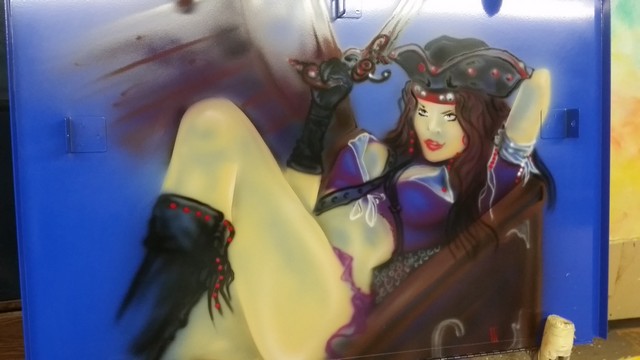 I hope you enjoyed your time with me, putting this post together has exhausted me, so come on back next month and see what's going on!
Feel free to contact my office with questions or purchase requests, or you can email me through the website.
Thank you for dropping in and I wish you a wonderful spring.
-Now its time to get back at it! -m