The Geometry of Joy-
"Joy is a mysterious beauty equal to truth and found in the reflective shadows of self." -m.Vara
In the two years of this MFA project there have been many intersections and aspects that have revealed themselves in the process of researching The Geometry of Joy. I have extensively considered Joy and the energy it both produces and is produced by through looking to history, art, science, spirit, mathematics, and philosophy as a means to contextualize the series of artworks I've discussed here in this blog's monthly postings and in the project report The Geometry of Joy. In the blog postings one can find the specific information that speaks to the subjects I have thought about and have outlined [inconclusively] below. The information of these postings was masticated, digested, and subsequently expelled into the artistic visual equations which became the focus of The Geometry of Joy. The past two years has flown by; I feel there is still a lot of information to be harvested and will feed the creation of many more artworks on this topic; leaving me to feel like I can and need to do so much more.
An outline of some of the areas I've researched leading to the visual equations of Joy as revealed and created in the work could read as follows:
Science of Joy:

The mathematical equation as a number is -1.61803…………… [1]
DNA, cells, and genes.
Energy – kinetic, static, potential.
Measurement of Joy. In the body this is KE=1/2 x 2010kg X (6m/5) 2- meters per second.
Joy as energy produces more Joy. Energy is a field that connects spirit and science, opening avenues to place -space- being 'astral' and means to travel. Travel through zones of subconscious and consciousness > mind.
Spirit and Soul of Joy:

Everything has two sides, Yin and Yang, and the fine line between the two is Joy.
Spirit practices and Joy originating from the text: Joy is a fruit of the Spirit (Gal. 5:22-23). Employing kind words, sharing, empathy, and hope.
Attitude setting through Joy by the first decision of the day; incorporating meditation and physical tests to determine and direct how one is 'being' Joy that day.
Spirit/Soul: Where is Joy housed?
Contrasting Joy: Nature < Nurture; Full > Empty; Growth > Death.
Broken Joy.
Healing Joy.
Possibilities of
Joy as Connection; relationships that are physical, astral, and mathematical. Relationships between the material, human, animal, animal to animal, communication, memory, interior, and exterior.
Ideas and Form of Joy:

Water as a metaphor for Joy in a parable in which Joy is at the cross section of molecular behavior; forming or organizing energy matter into three forms or phases consisting of solid, liquid, and gas. In the same way water is the only known substance that can exist in gaseous, liquid, and solid phases within the relatively narrow range of temperatures and pressures found on earth, so too does Joy. The unique shape of the water molecule, containing two atoms of hydrogen and one atom of oxygen, arranged such that one side of the molecule (nearest the hydrogens) is positively charged while the other side (nearest the oxygen) is negatively charged. If two water molecules come together, the positive side of one is attracted to the negative side of the other, making the molecules cling together. This simple fact accounts for the high heat capacity, surface tension, cohesion, adhesion, and other characteristics that make water so important to the earth's biosphere. [2] I think the water molecule is a good visual model for The Geometry of Joy; Joy as the substance binding together positive and negative. [Note: with more time this can grow into an entire series of its own.]
Politics and/of
The cross section of fear and Joy.
Joy expressed through Form: interior, exterior, emotion, body, space, and time.
Joy as sound: silence (absence) and sound (presence).
Joy as sign: physical, gestural, and lingual.
Places of Joy: connection to memory, planned and chance opportunities.
Joy in material. Objects as vessels for revealing Joy thru mind, memory, and history of the object in regard to color theory, place, space, and time -physical and mental.
Joy as metaphor. Stories, parables shared through the processes of
Processes of Joy:

Sculpture
Objects
Events
Painting
Photographing
Drawing
Creative writing
Meditation
Intention/Chance
Mental/Physical
Story/History
The outline above only slightly shows the potential of what and how I researched Joy, but not the order or the structure of my research, or its subject Joy. Between the areas and the subheadings there is much overlap; relationships and connections were formed across, back and forth, again and again.
I would summarize in words the outcome of my research in this project as revealing:
Joy is scalar; it has magnitude but not direction.
Joy is the fine line, yet infinite space, between Yin and Yang,
the two sides of Everything.
Livio, Mario. The Golden Ratio: The Story of PHI, the World's Most Astonishing Number. New York. Broadway Books. 2003, p. 2-4.
https://www.ucar.edu/learn/1_1_2_3t.htm
---
The outline above explained in words the many parts that I believe create the Geometry of Joy. Clickable links are blue and lead to background information/ essays that formed this visual voyage drawn into inspirations that I culminate as follows in this blog post.
Welcome to:The Geometry of Joy.
I- "Honor Thy Material" and "Respect the Process".
THE GEOMETRY OF JOY -Project report.
MFA GALLERY -Photographs of work.
The Geometry of Joy included a survey of 125 people. The investigation questions were set up with a research team. The experience and information was translated into visual material. – Joy Questionnaire 2016_17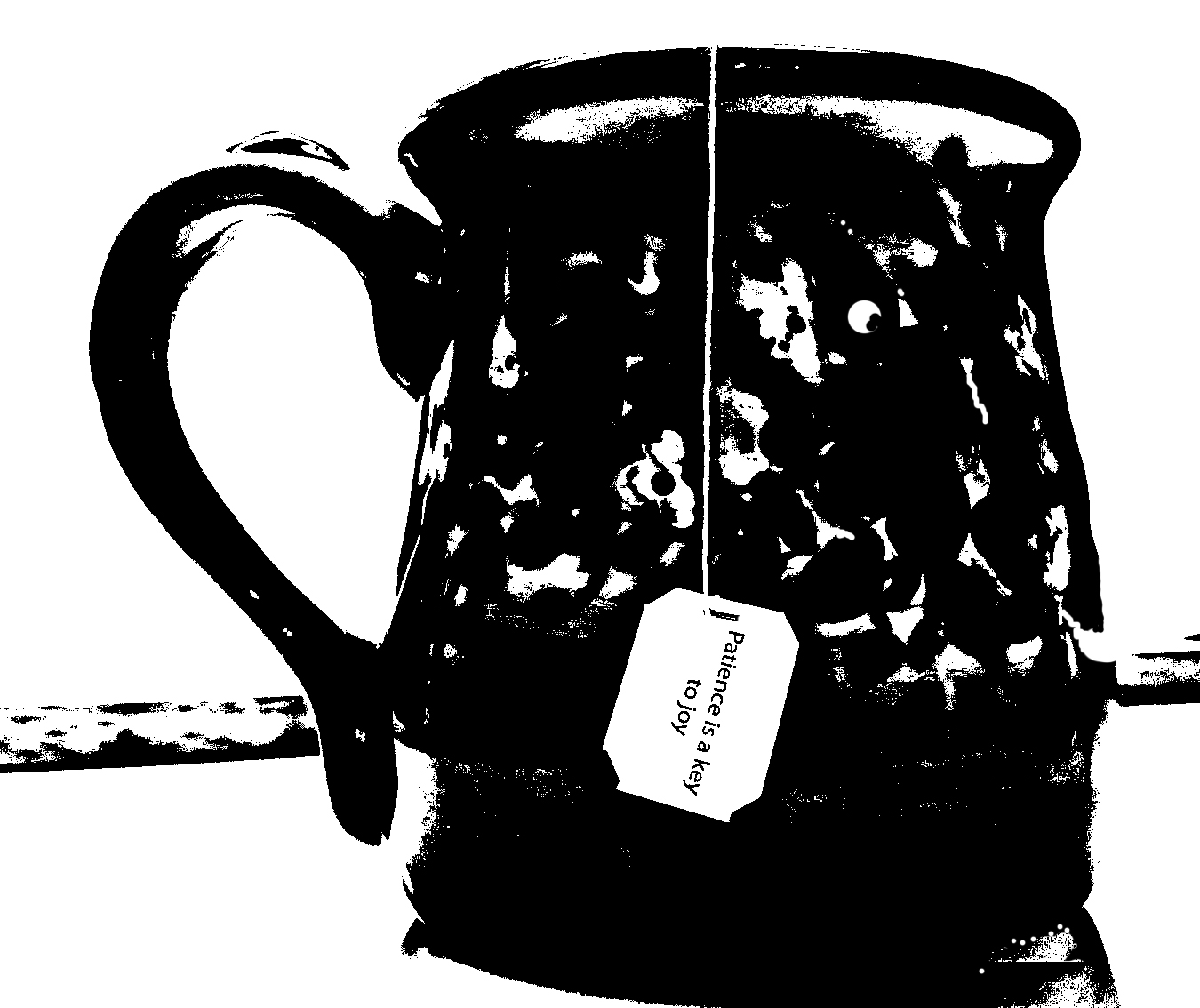 ---
The now: Geometry of Joy: Intention of the new work- Finalize, contextualize the entire process into metal sculpture.
---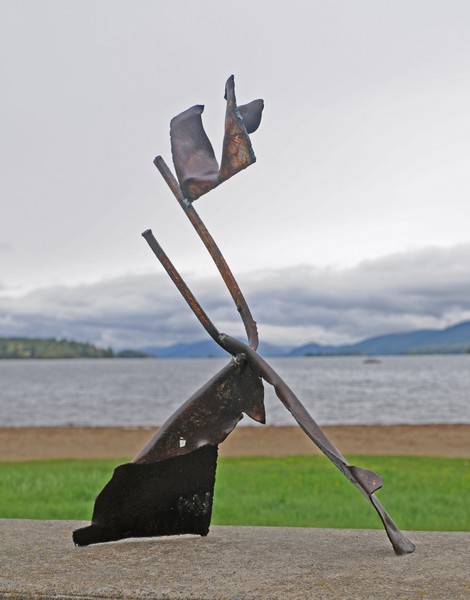 ---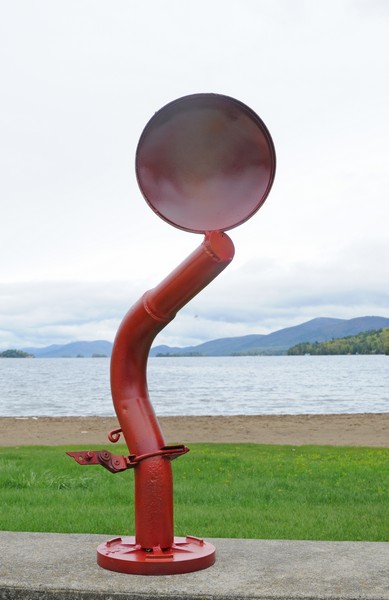 ---
---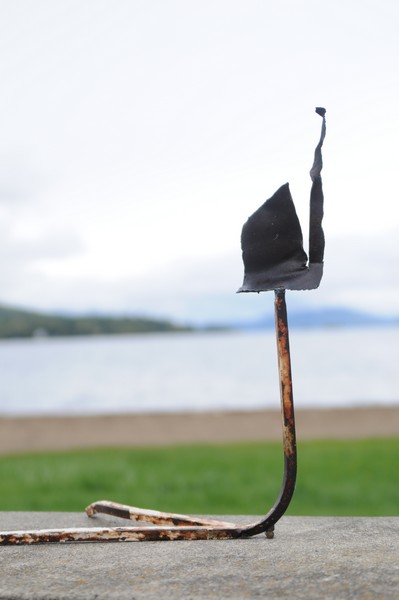 ---
---
tHE QUESTION: What atmosphere generates JOY within me consistently?
I feel Geometry of Joys exuberance for me lives FUN in the line of relationships, travel and oddity and rust. Fun inspires! So here I have passionately created vehicles from scratch that keep one in the wind – freedom – flight, equating to The Geometry of Joy. The the warm brown color, in forms rust and is partisan to continuous change.
"Jewel – Screw It" – made from parts that in the 20 thru the 50's would be now classified as an Old School Rod.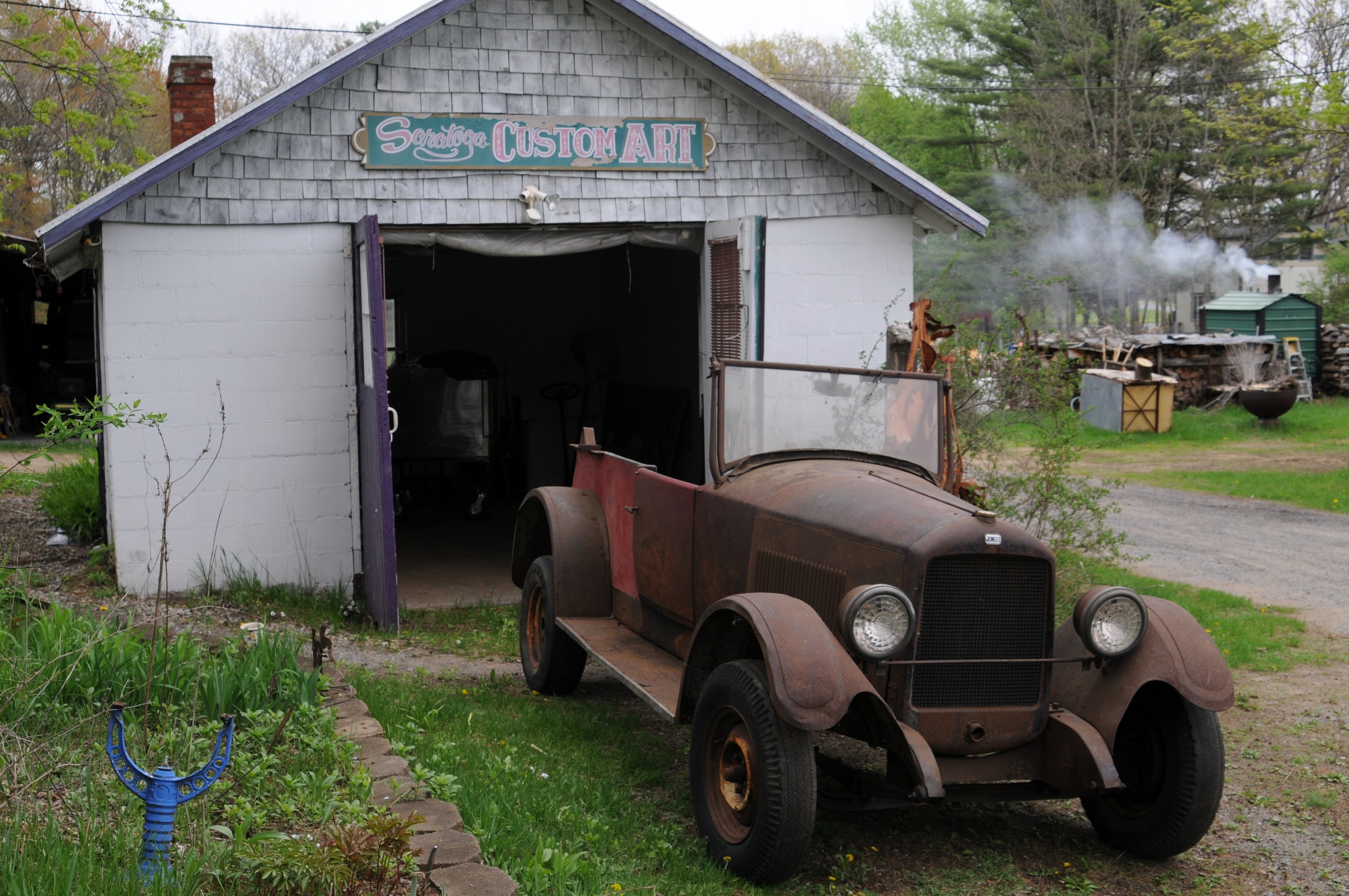 1975 Harley Davidson Shovelhead Motor, Transmission 1975: 4 speed, custom handmade rigid frame, air bagged seat, Open primary drive, One off- Handmade custom everything.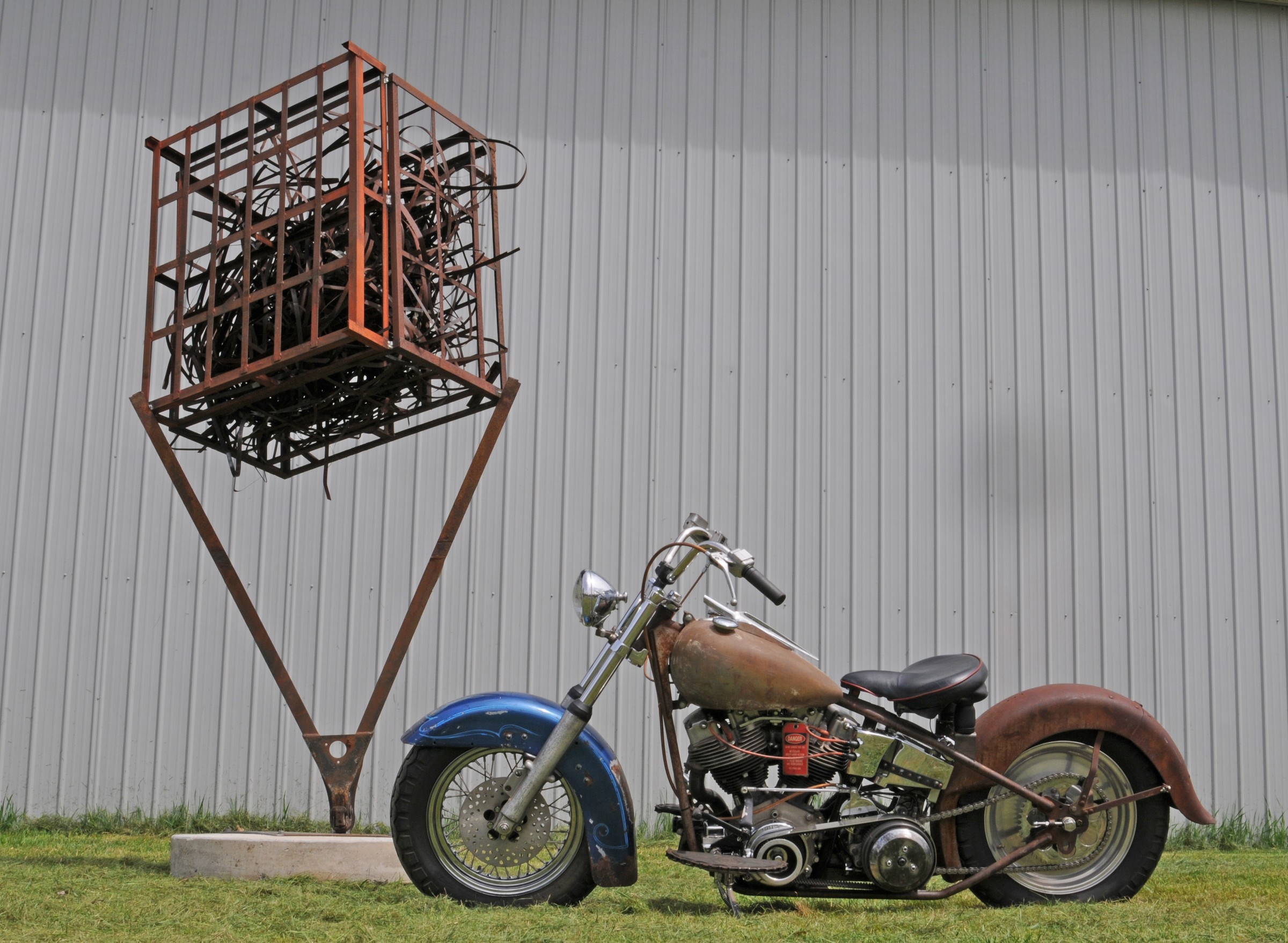 ---
tHE QUESTION: Are Creatures Born with predisposition of Joy?
Geometry of Joy: DNA of JOY – Memory that lasts more than a life time.
VERT- 6″ X 6″, organized – glued – human, dog, dirt, DNA entangled with other event materials. I use DNA to create context of cellular JOY connecting more than one person or species to a time and event of JOY. DNA is used for sculptures and photographs. This is a new perspective and is leading to further cell investigation and artistry.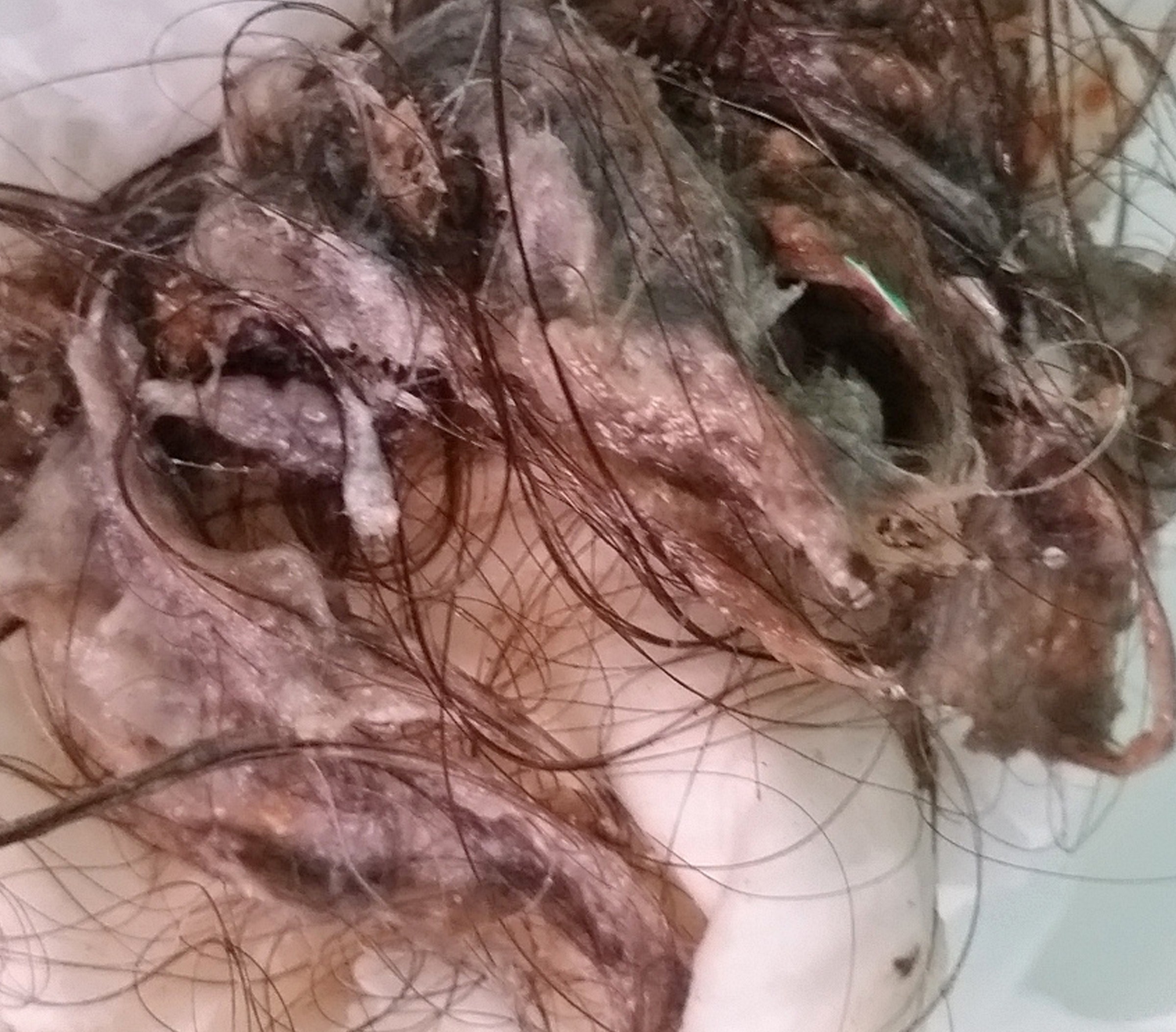 ---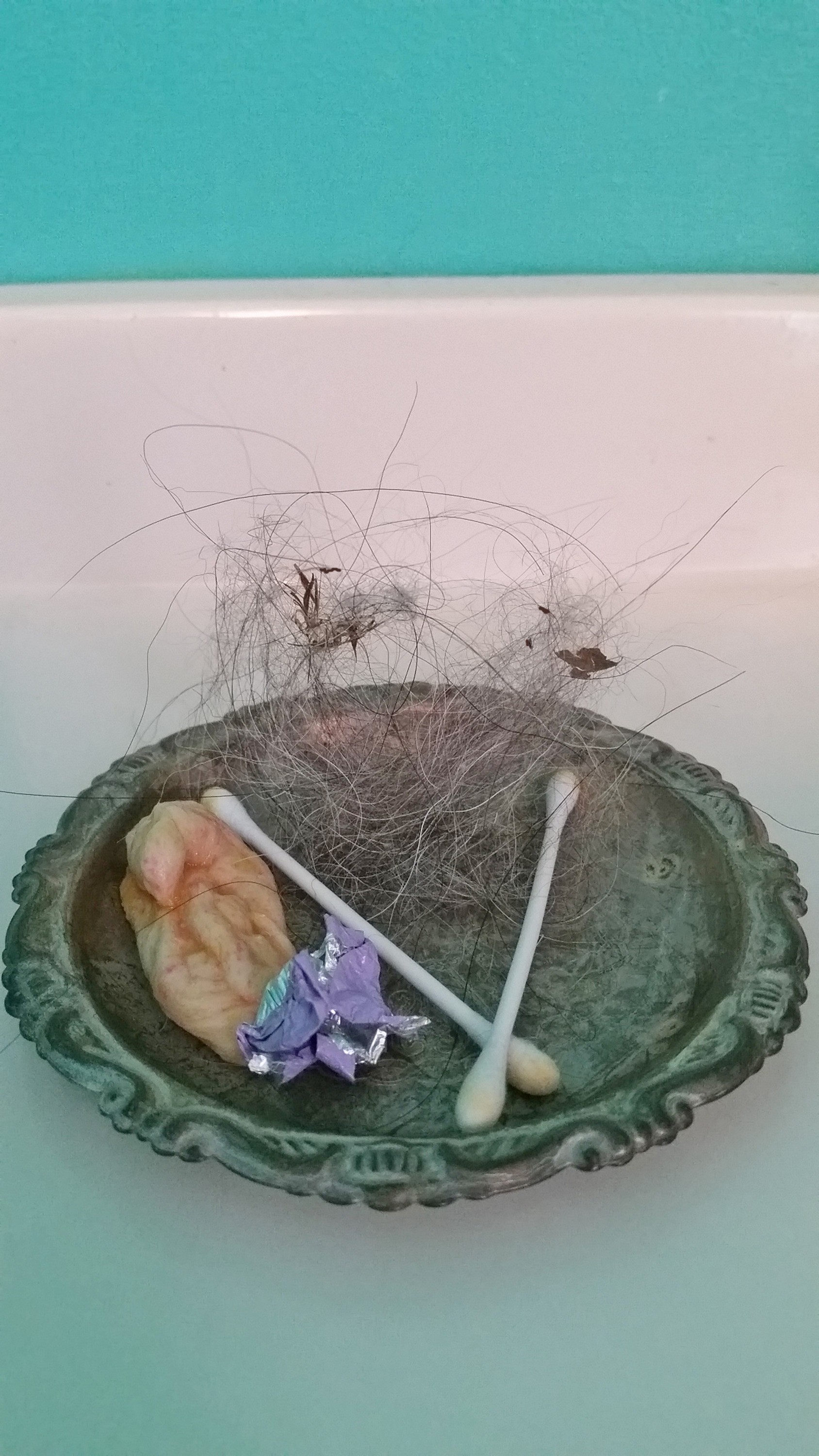 ---
Geometry of Joy: Goal- finalize, contextualize the entire process into large metal sculpture.
Sculpture no. 256. ˈfôrCHən/z 5/8/2017
120" h x 72" r, flat stock, angle iron, trailer tongue, banding welded together. This piece is meant to change with time carrying a live aspect in steel.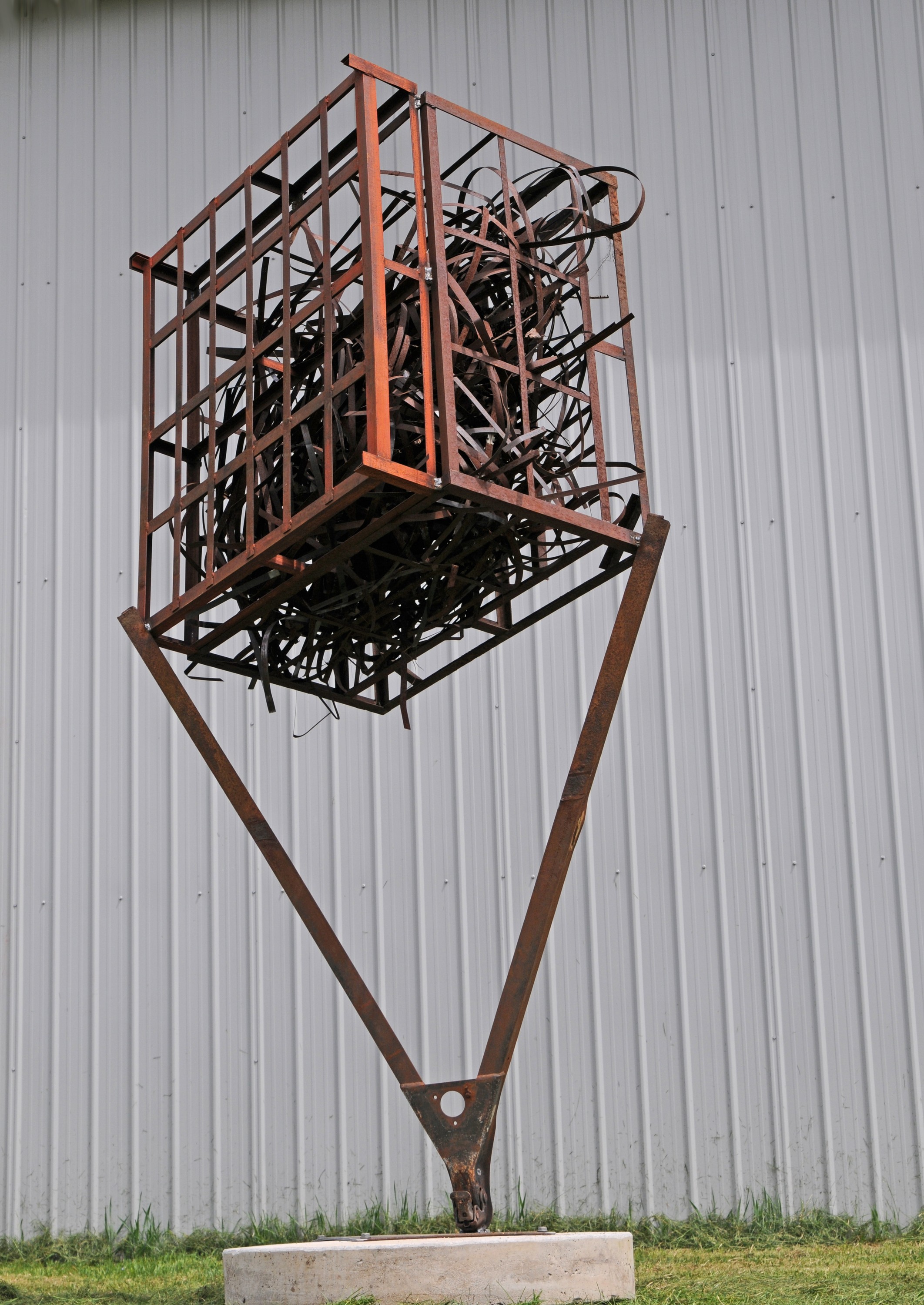 ---
Traumatic Stress Release (4/2017) = JOY
24" h x 12", seat mesh, valve release, temper spring, real estate sign stock, stainless, galvanized, steel, welded. Finish is intended to be RAW- found.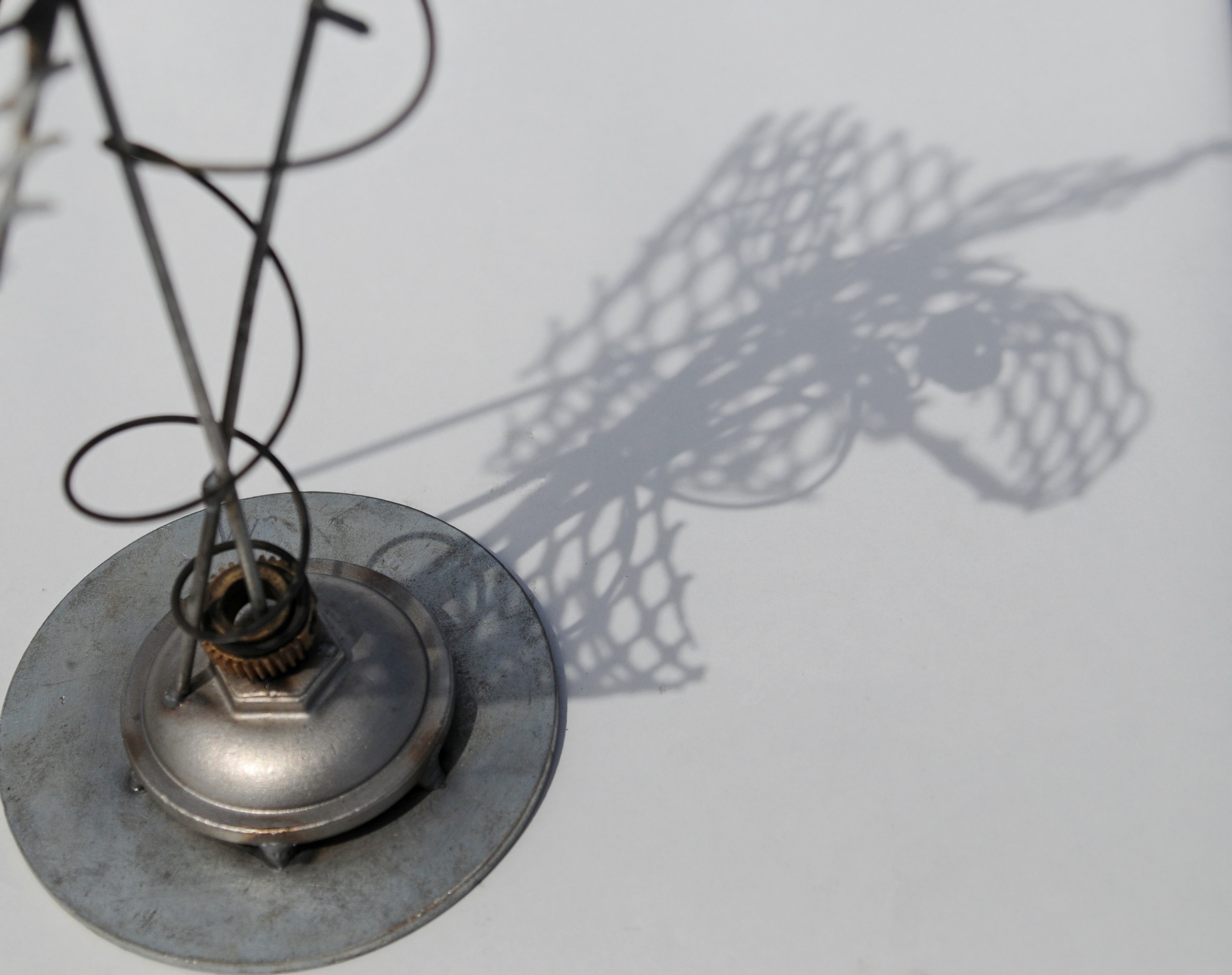 ---
Sculpture- "Only Temporary!"
24″ h x 18″ round, burnt aluminum.
Talks about the fragility of human emotion relating back to the Geometry of Joy.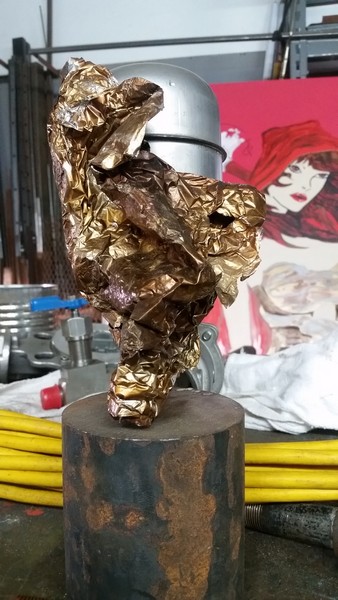 ---
New Paintings- Tar and Oil paint on canvas.
Flight-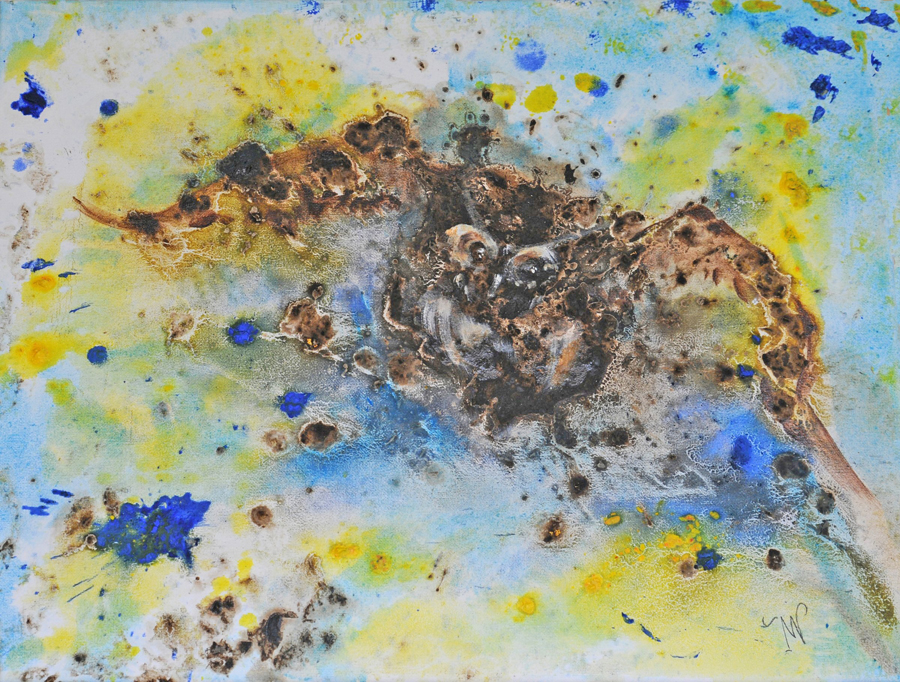 Freedom-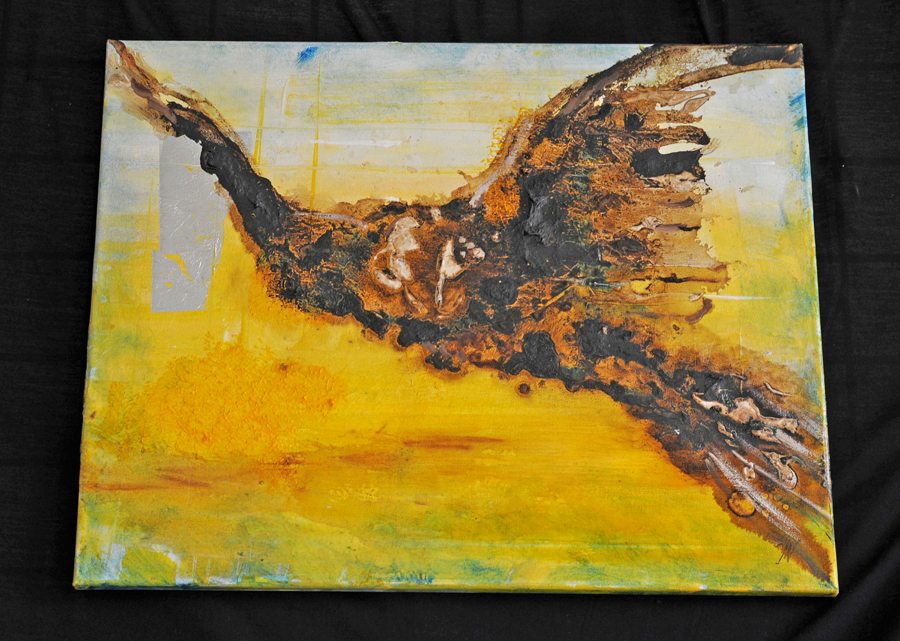 ---
5- Books of Joy, Artist books, 5-2017, individually hand painted with acrylic, oil and automotive paints. Single addition of each book. The five books take a painterly approach into Geometry as shape, mutating surface of tradition. On these pages I play with ideas- metaphor, interior, exterior, residue, joke, relationships, material and color.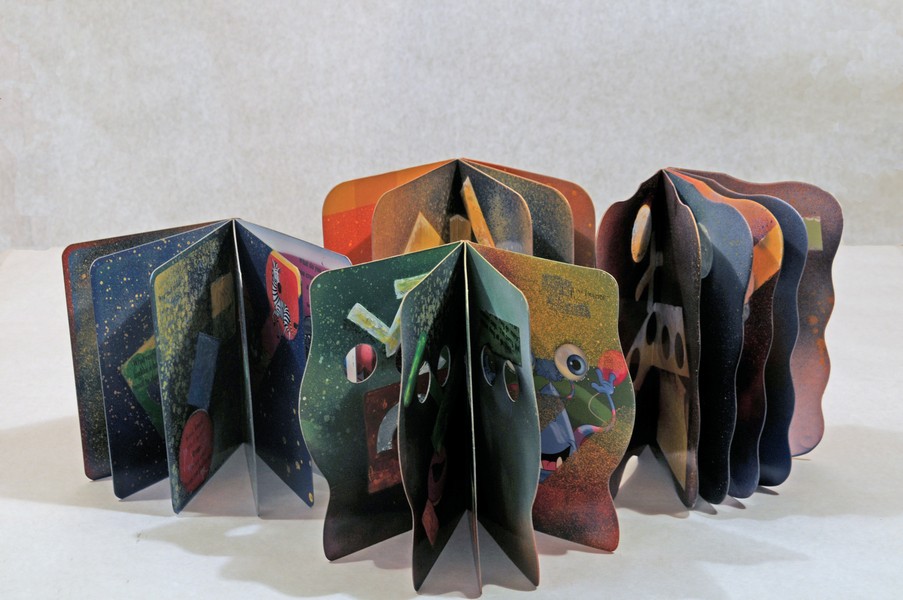 ---
Forms of Joy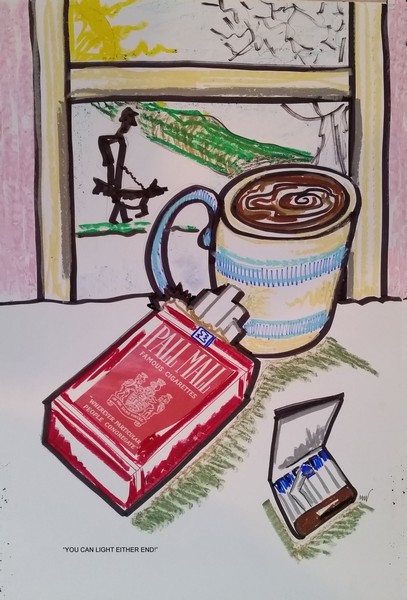 ---
No. 253_ˈembrēˌō/
Is a sculpture that has grown to be an entire survey of its own, which stimulated new questions for DNA, Cell and Children in the context of The Geometry of Joy.
To accompany this sculpture there is a book, 260 drawings and 3 paintings not shown here.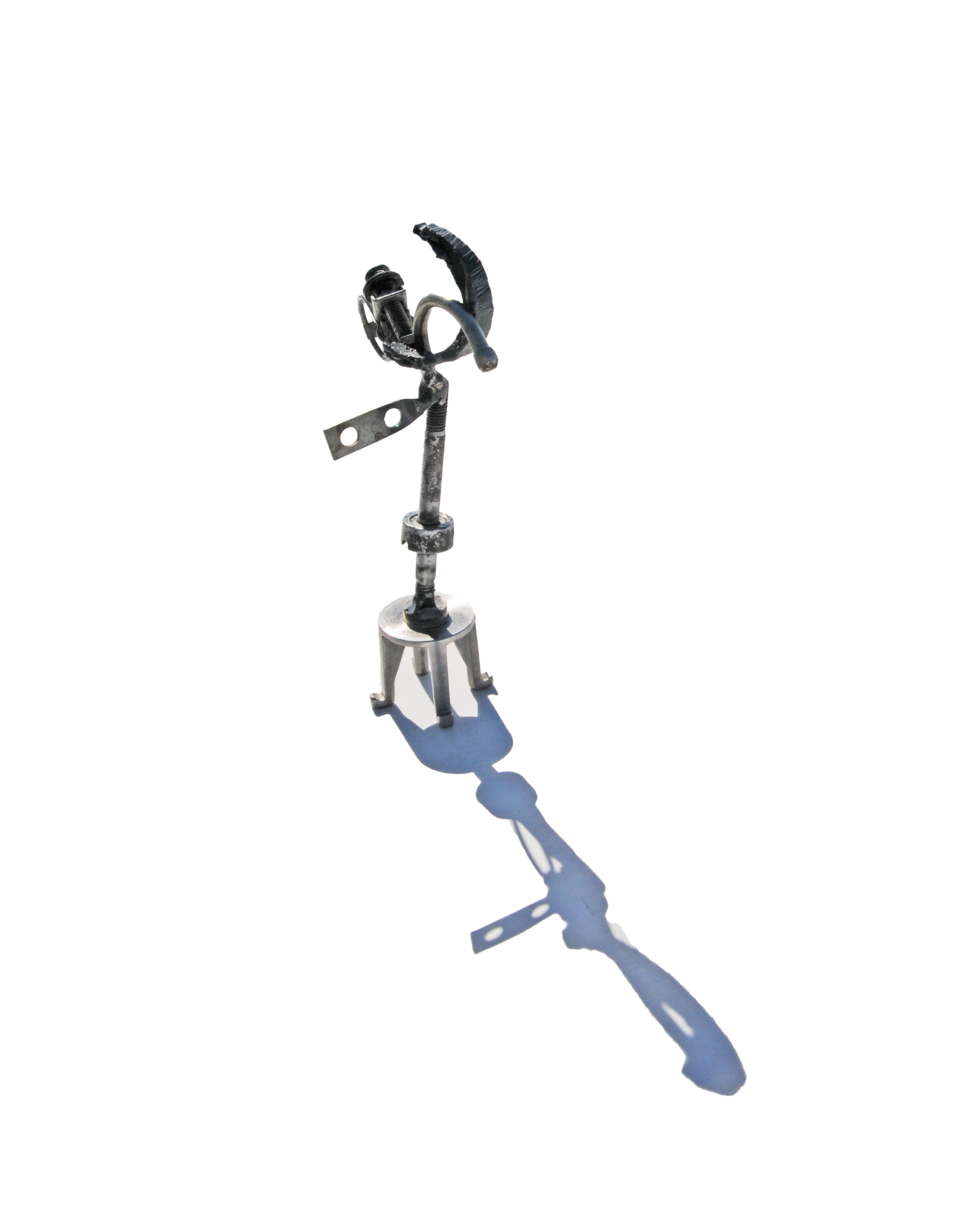 miChelleVara_Sculpture #253-Embryo
Series includes: Sculpture- Book – Photographs – Photo essay – Narrative drawings- Photographic metaphors – Writings – Anti/+- Journals ……….. happening.
"The act of resistance should be joyous and irresistible." (1)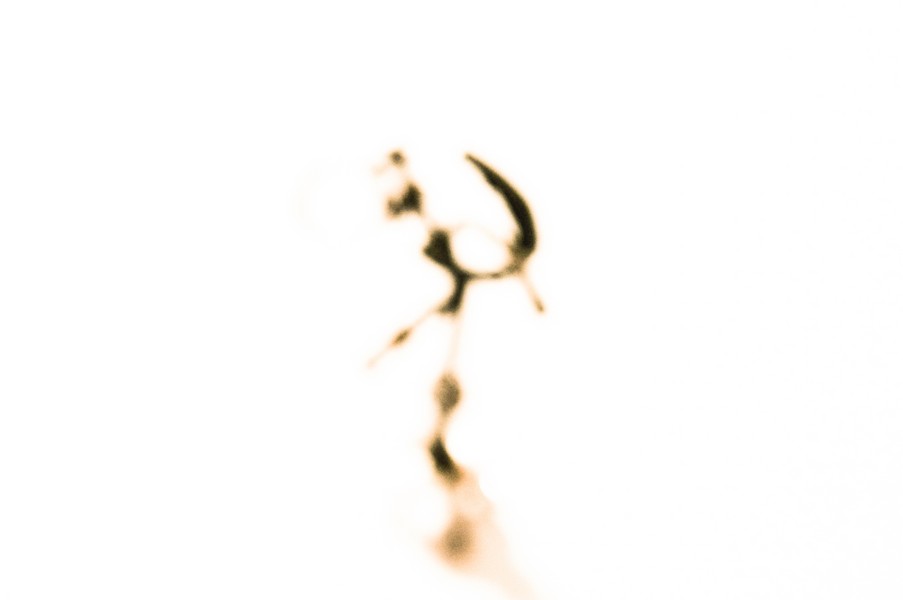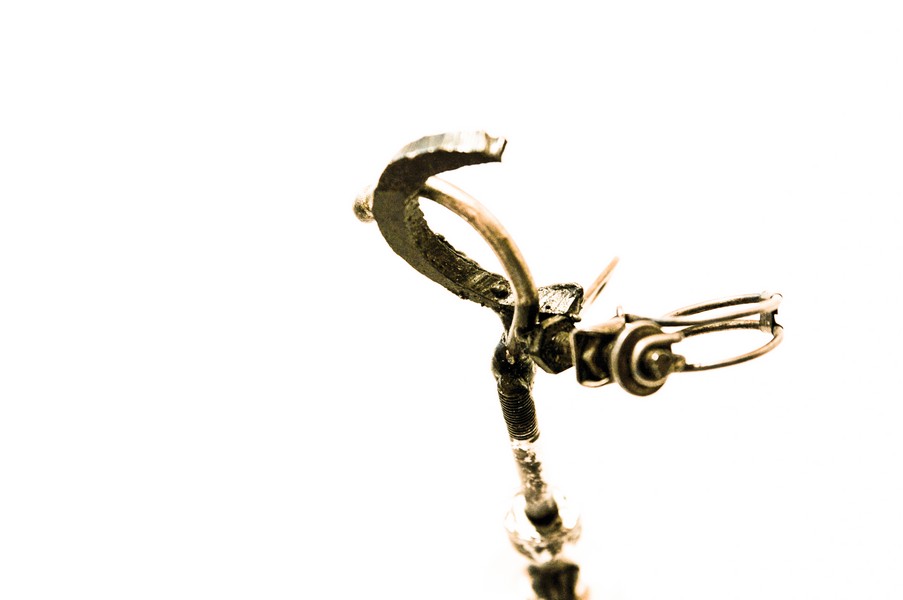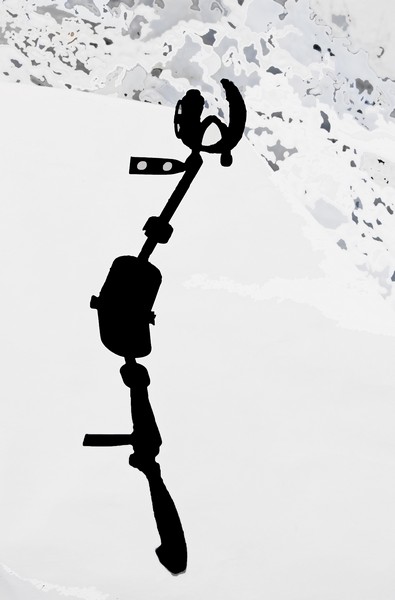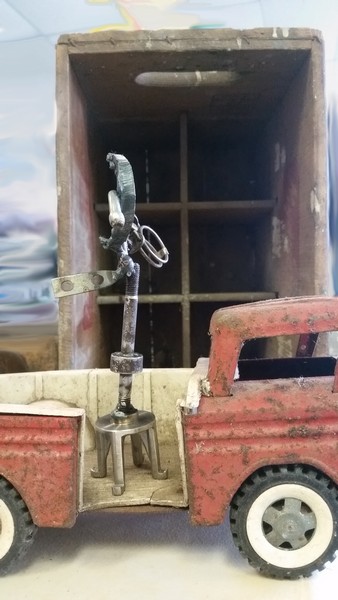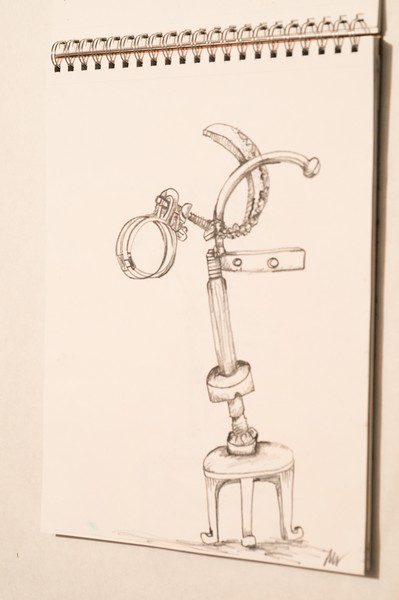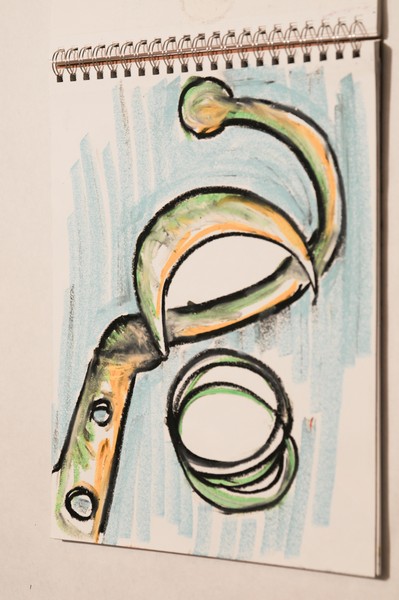 the Queer Intimacy Series was birthed from the sculpture called ˈembrēˌō/ , as oil pastel on paper.
This is an extended practice to the physical sculpture that was created from the investigation of opposing impression of force and how it sits in JOY.
The critical review of a Witikins photograph called Arm Fuck 1982, was the starting point.
The oil pastels examine basic nature of form and reaction choosing to use 4 colors as a referance to feelings- reactions.
There has been many creative writings, that can be found throughout the blog.
Automatism- Reaction writing sample:
Arm Fuck
An arm in the ass
Reaction appalled
Raw
Ruff
And some say filling
A gay derby of indiscreet
A game
Stimulate
Reactions
Pain – Pleasure
Distain
Who's to gain
Arm fuck
What a shame.
Humanitarian senses violated
Visual senses vomit curiosity's
Ruptured in
Pain – Pleasure
Ego
Power
Driving Fear
Exhausted Overwhement
Remember freedom
Breath – Feel
Sooth self: All that is- is on your side.
1. http://www.vagilante.life/love-letters-project
---
Sculpture No.252 Under the Apple Tree
21″h x 6″ round, recycled metal parts welded and finished in oil, specifically chosen to represent symbols of language.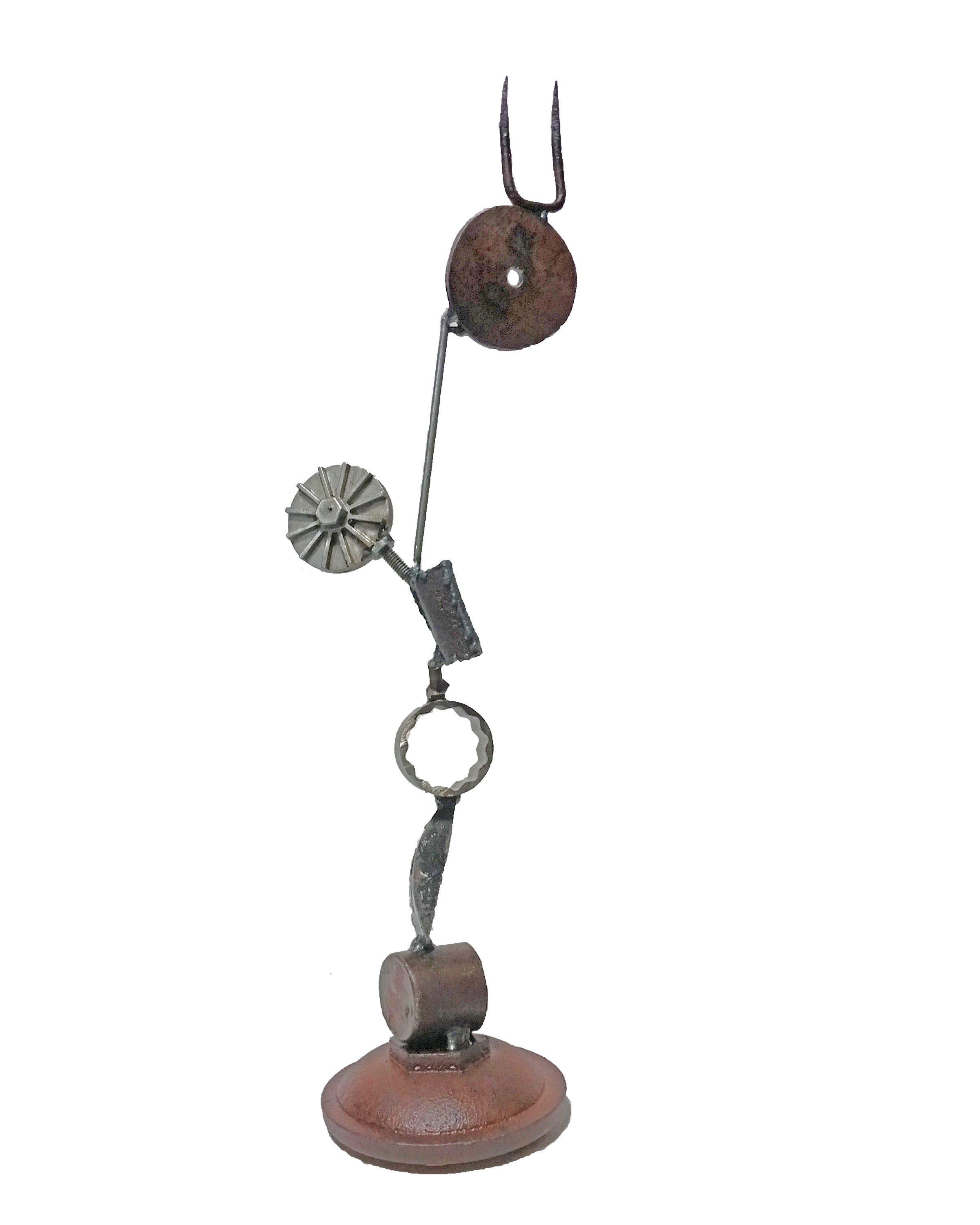 ---
no. 254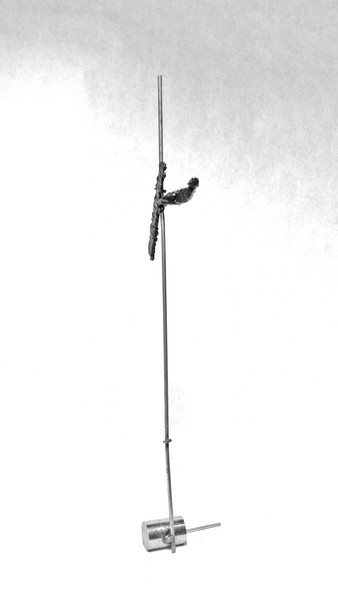 ---
no. 142_ Three Pi
Series includes: Sculpture – Book – Photographs – Photo essay – Narrative drawings- Photographic metaphors – Writings – Anti/+- Journals ………..
Study: As suggested by my adviser: The process is similar to Marcel Duchamp's, in Bride Stripped Bare by Her Bachelors, but in his case it took eight years. I have chosen one piece of sculpture called Three Pi and attempted to draw out, find or connect to, in order to evaluate and find joy in and out of the piece. The processes as follows:
Three Pi – birthed Background to piston.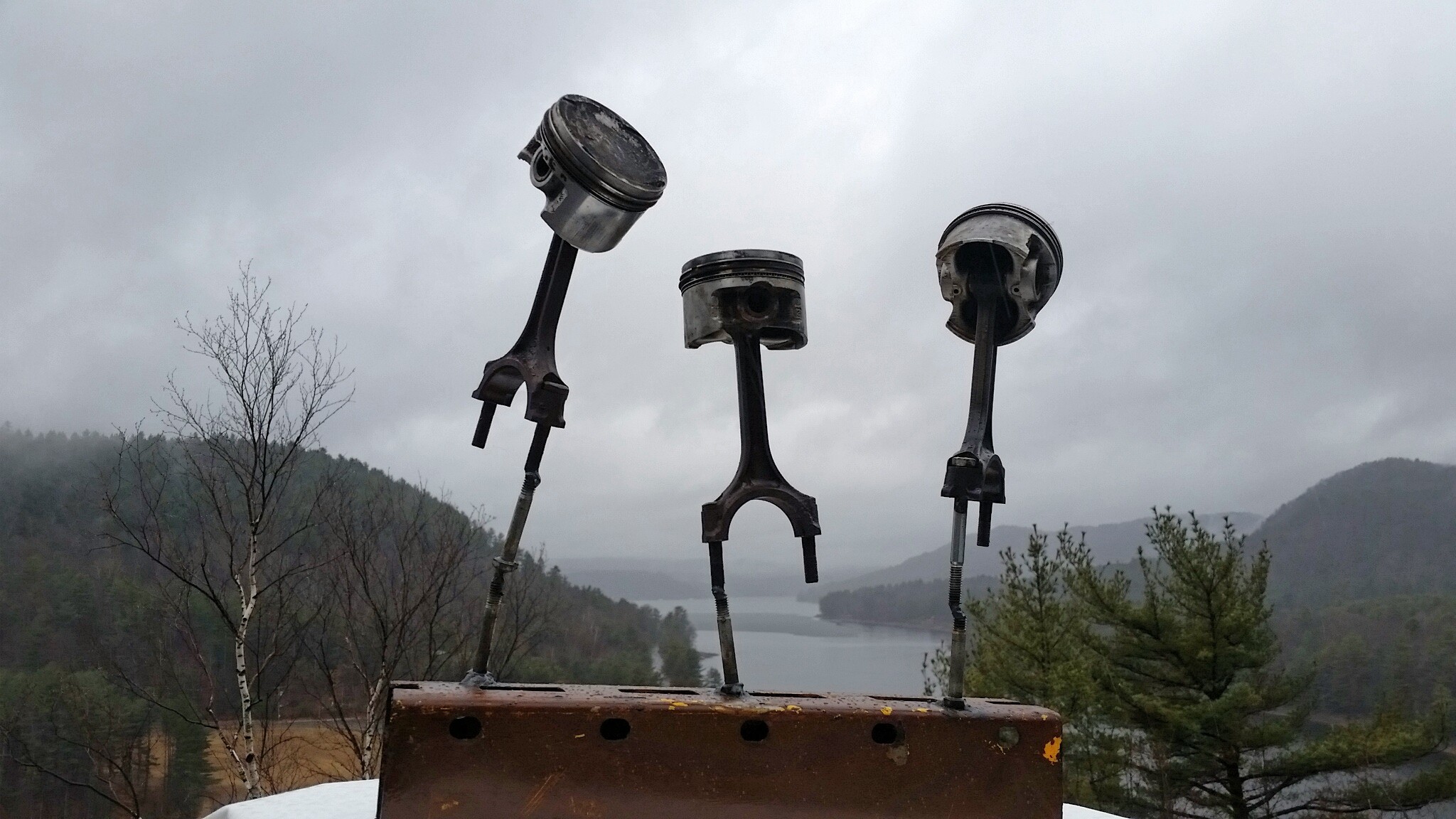 Photography essay – finished as a book Aspects to Geometry.
sample-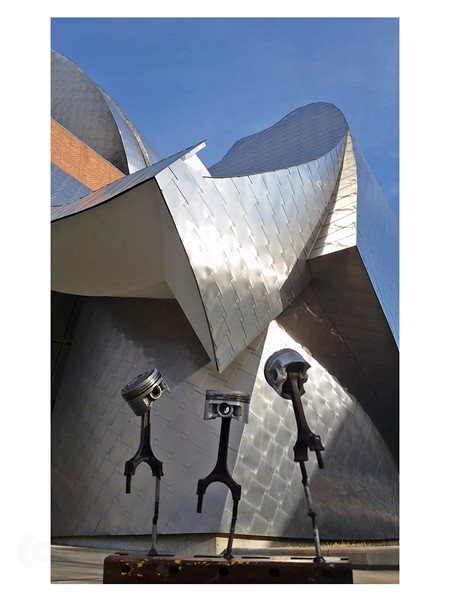 ---
Energy drawings of Joy in oil pastel.
Question: Can automatist action capture the Geometry of JOY in the watching of other beings?
---
Question: how does string theory work into the Geometry of JOY?
No. 243 Untitled at this time
96″ High x 60 Wide. Welded metal.
Created through the inspiration of reading about string process, theories and black holes as contextualized to The Geometry of Joy.
---
Sculpture – Book – Writings – Drawings
The Book is the following of objects, events, happenings, over two weeks in NYC, that join together and create a new scene of sculpture.
---
The Seed series is a book comprised of oil pastels, photographs and oil paintings with poetry. This series has over 1600 pieces to it indicating the magnitude of Joys Geometry.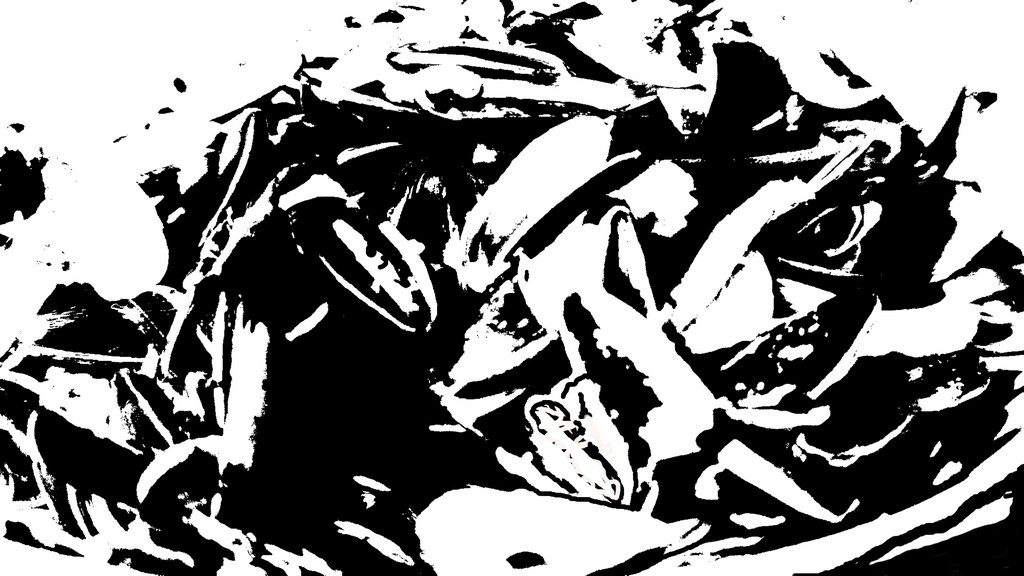 ---
Seeds of Joy – Oil Tar and Gold leaf on canvas-
---
Paintings Verta- tar & oil on canvas.
---
The Lisa Challenge – In a meeting, Lisa Osborn said she didn't believe my work was intentional and challenged me to create Joy on purpose in sculpture. There was three pieces made and only one shown to the Ti community.
no. 245__ Contexts of Joy
24″h x 28″l x 5″w, Found parts welded. Parts are chosen for their metaphor and left in ruff finish with oil over top.
---
no.246_
---
---
no. 248_ The Thrill is GONE
---
Garand Shot- Off the Table – Silver Order (1)
This series is made by force to precious house objects for a extensive and deep visual language that includes happenings and experience.
---
Principals of Tradition (2017) 26" h x 18", the Rolling pin was used in preperation of daily lunch at the Queensbury NY, high school for over 35 years. The antique water bottle was exploded as part to the Off the Table series, welded together with chandelier piece and structure, left in found finish.

251. Principals of Tradition
---
---
247. Mixed Signals
28"h x 25"l x 8"w, reclaimed kitchen utensils welded.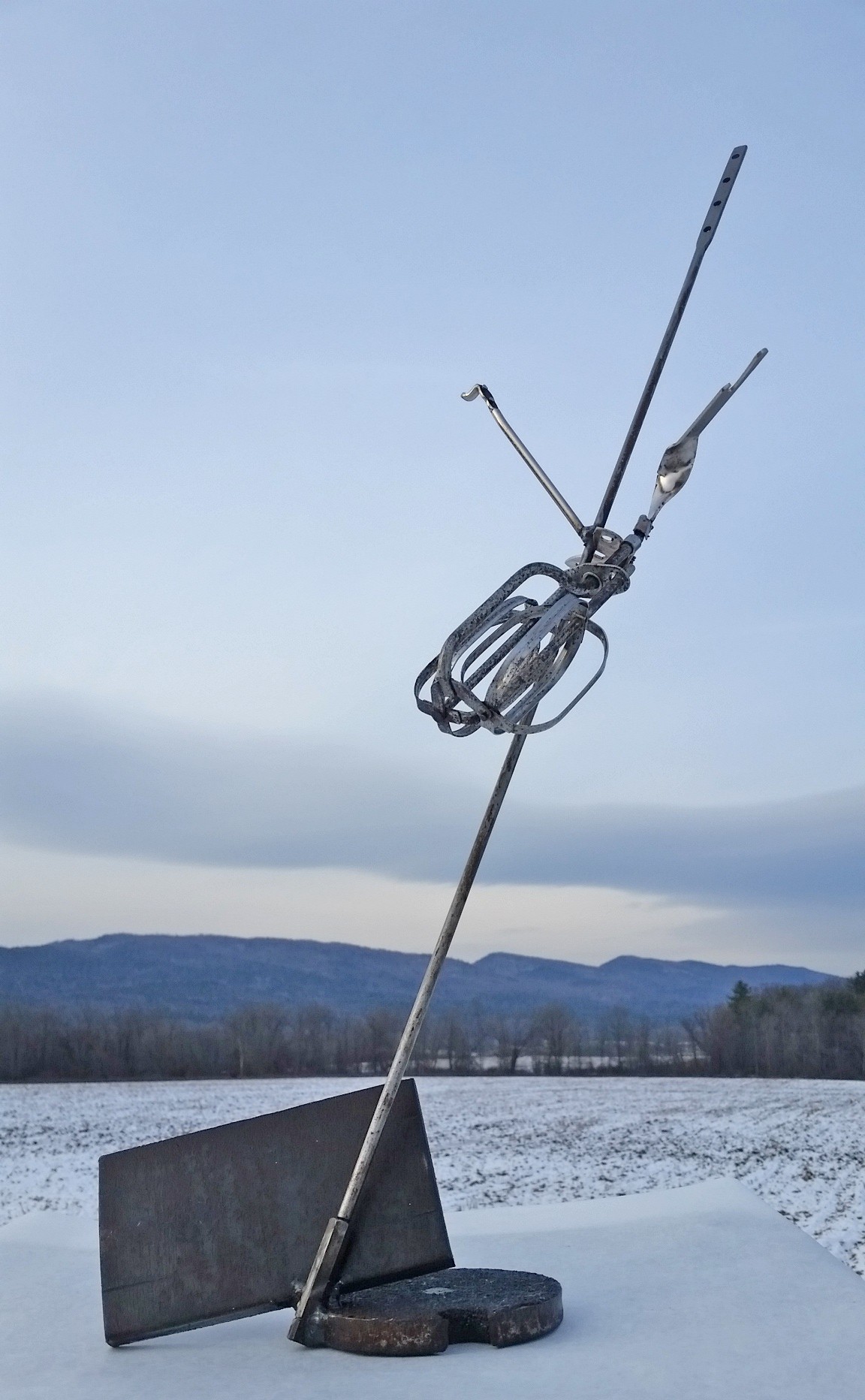 ---
no. 242_
This is done with no welding as requested by adviser M. Bowdidge. Once completed it was used as a piece for performance. I didn't get a chance to video successfully so at another time i'll have to do it again. But it will never be the same. it worked as a platform to the election- serving – political social – putting on – waist – body- the Haves and the have Nots! contradictions of policy (dis- Comfort) in memory of cake (comfort). Where I showed the piece it was dubbed a political Americans name, it was great fun and the people involved enjoyed each other and the event! totally Joy! the euphoric sense of community was stimulated and enjoyed.
---
no. 238_ False Positive Dimension: 15" h x 6" square
Material: pewter vase, napkin ring, glass condiment shaker, fabric under garment, beads, brass, gold, silver, wire, epoxy.
Finish: polished pewter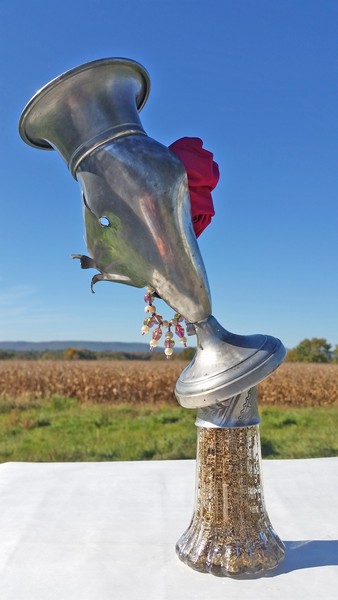 ---
No. 237_ Nucleus of Adam
Dimension: 16" h x 6" square
Material: Pewter, wood: table leg, acorn nut, spacer.
Finish: enamel, wax and linseed oil.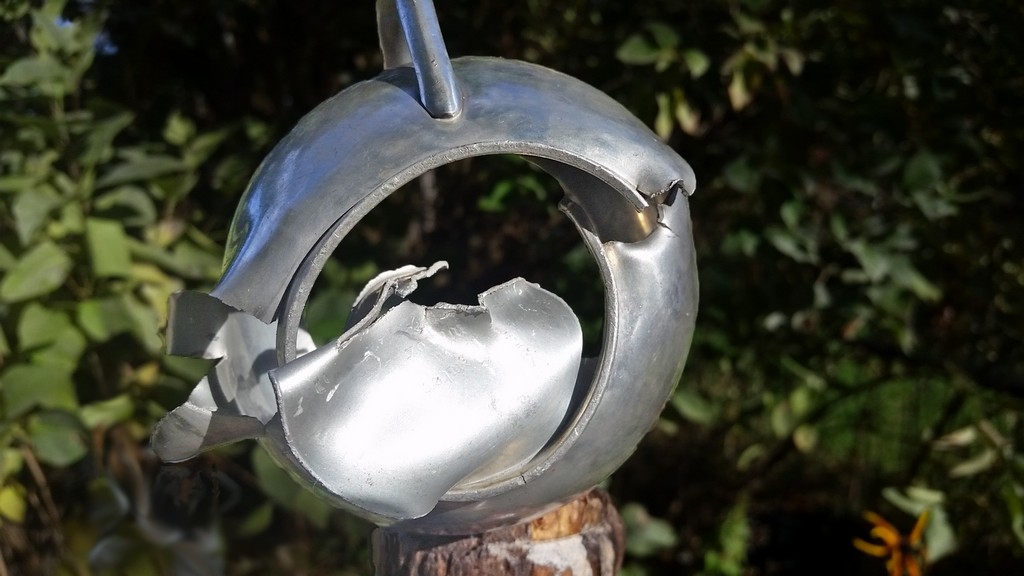 ---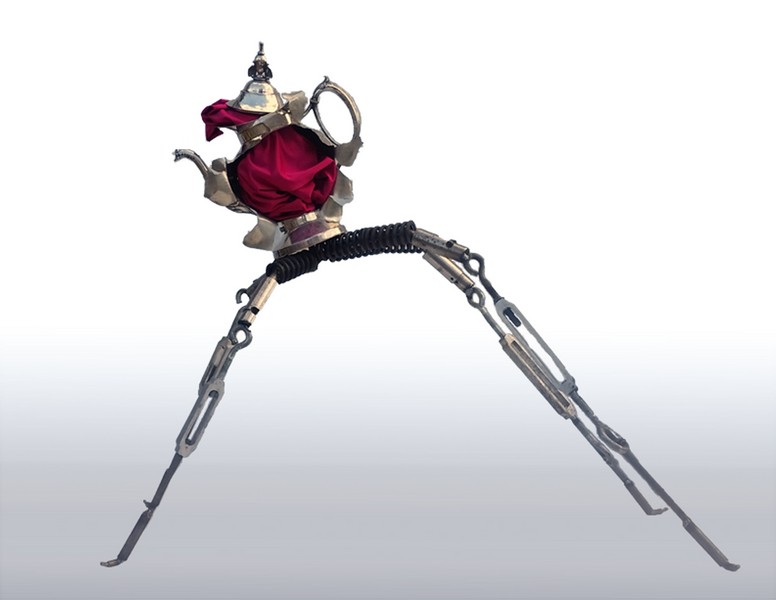 ---
Materials: antique plate with 14KT gilding; antique 'Cranberry' glass; threaded rod; transmission race; circles; bicycle breaks and bracket; bone. Parts collected in Berlin Germany.
Inspired in Joy of complex layers of Berlin Germany's conversations.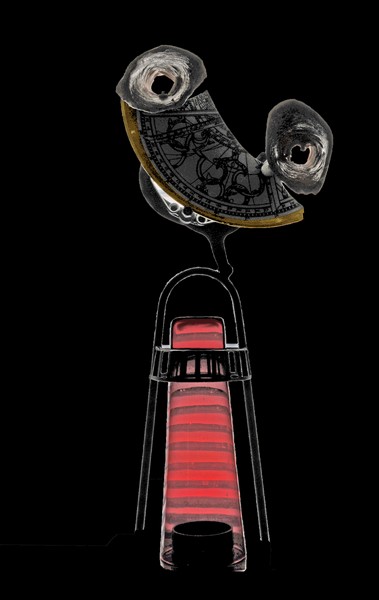 ---
no.241_ Bucked
18″ h x 3″ round, kitchen objects knife sharpener, with horn, brass rind and welded.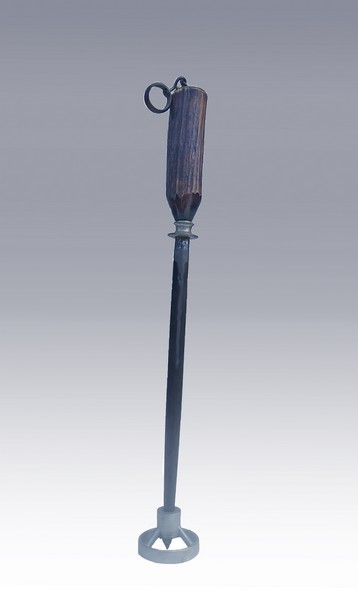 ---
---
Limb Series – Paintings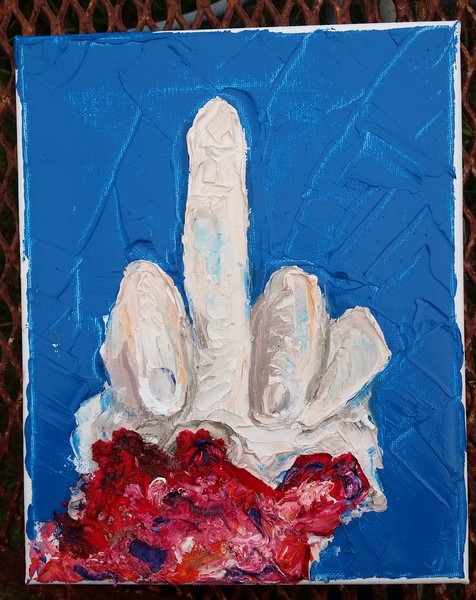 This series creates a context to Joy as located in pain. Pain is complex Geometry which easily contextualizes research into visual out put.
---
Breath of Joy is a photographic series computer altered.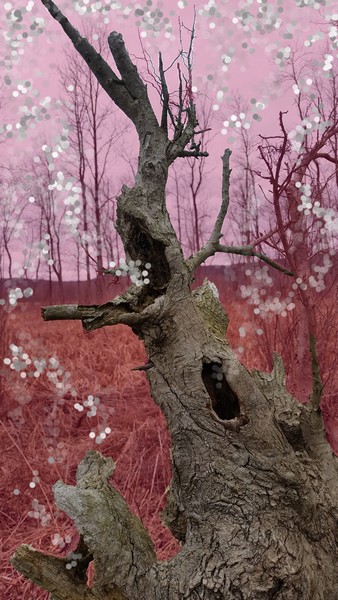 ---
Anti Journaling-
i Anti – Journal every day and just pick a sample by randomly opening to a page or a random book for submission by chance. I figure the universe has a plan better than mine,,,,,
~I am just the conduit.
~Life is like a stream~
Small particles gather forming shape temporarily
Always in motion
Change
Lucid – Air – Flow- Lucid-
Bear Care- Hold-
Focus
Attention – notice- details dissipate rapidly
Beauty each moment- Beauty in a single Breath
Deep details – Distinct differences
You- Me- she- Him – them- differences
Colors – All metaphor- translucent
Life is temporary
Translucent
Temporary
Sometimes, no time- to say
temporary
Take notice
Play
Take Notice
Splash
Take notice of the day………
---
Research Papers
---
"Social Sculpture of the Artists Mind"
The presentation was a great success- I made a video of my work over the last 8 months to move the onlookers into the experience of: "The Artist Perspective"
I started by asking myself:
How can I use already realized physical work to make/cause a viewer to FEEL how i feel during the creative ARTIST'S PROCESS in real life.
What is presentation's goal?
I answered both questions.
The video of my work was in a fast unpredictable pace & large quantity of visual stimulation- art stills shot with intention, showing where the artist lives and how she thinks. the outcome was varied and I was told multiple times how it made the onlooker feel. In one case it made a person infuriated.
When there's more time I will expand this idea into finished art works and happenings.
---
Finding- the Geometry of JOY
Writings – Paintings – Oil Pastels – Drawings – Artist Book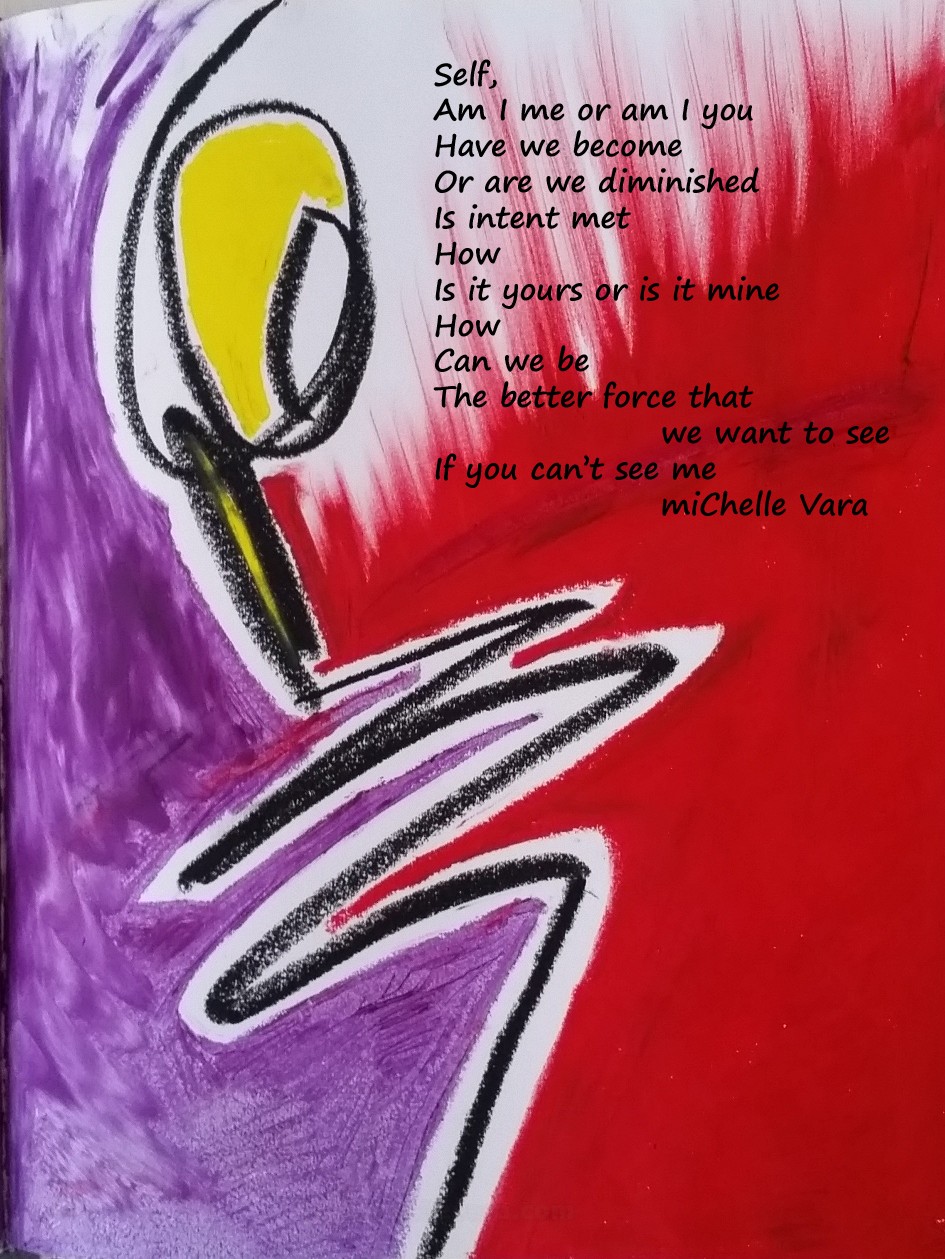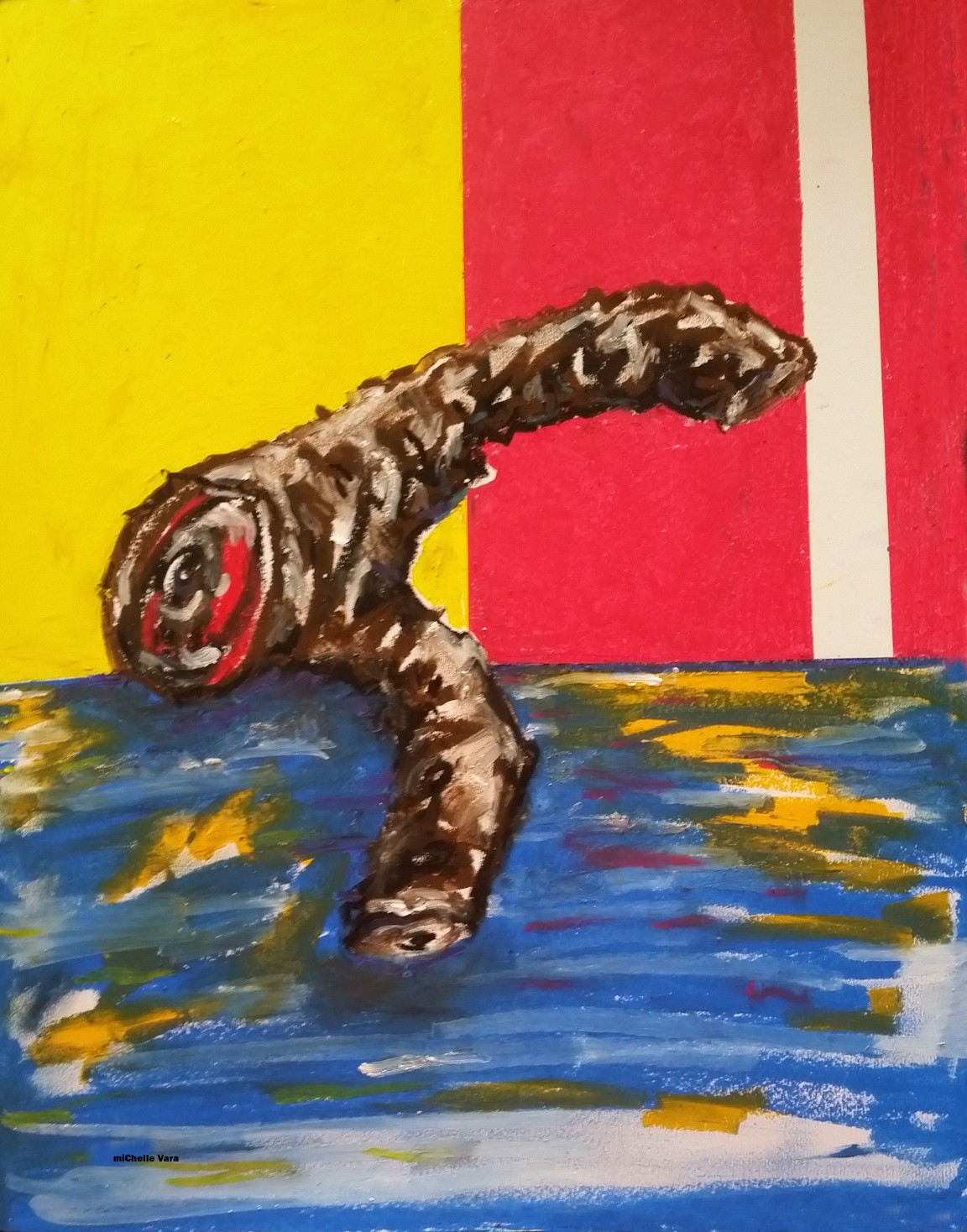 ---
The International Experimental Art Space –
Remembering the forefathers of art expansion!
John Cage, Duchamp and the likes.
The International (d) Experimental Art Space is an open and relaxed platform for experimenting in art for human growth. This space offers artist, thinkers, philosophers, performers, musicians, writers, a social place to further a practice, lecture, meet, experiment, present and engage with peers or just come to enjoy a conversation and comradery.
https://www.facebook.com/International-Experimental-Art-Space-1702213169995693/