This artist's series came as an exploration of memory when the storm Sandy hit the coast of New Jersey and Ortley Beach got wiped off the map! Michelle while helping family and friends clean up, collected material, and remembered.
715. ULA  (2013)- 29"h x 20"
All things acquired from the beach and encapsulated in a found bottle, incorporated with brake cable, wrench, file hanger, and other metal welded together. The finish is handmade from crushed pigments. The sculpture is kinetic. Name is Celtic meaning "Sea Jewel".
717. Venilia  (2013) -33"h x 20"w x 45"l, Beach bench reclaimed from the storm NJ -Sandy, handrail, house trailer frame, chair, welded together and powder coated in blue. Meaning: Latin- of the sea and winds.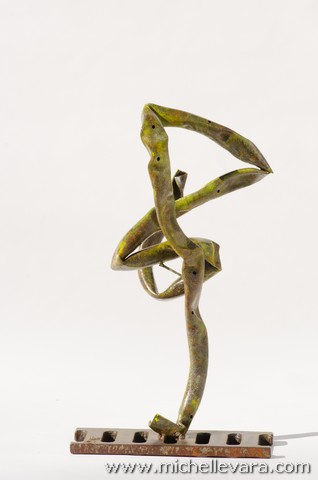 Sculpture No. 716_ Re' – Made from found Beach bench and storm grate welded and finished with automotive paint and rainbow flake for quality deep dementional polish.
719. Umiko   (2013)- 18"h x 7", Found objects welded and seashell finished in stain and clear coat. Name meaning:  Japanese- "Child of the sea".
No.720_ Sex on the Beach (2013)-13"h x 6", Brass chips, tools used to create and fix damage from storm Sandy, welded and finished in paint.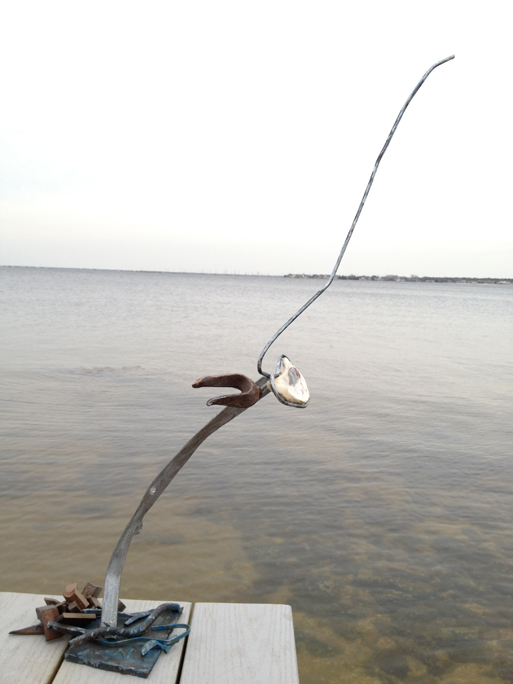 Sculpture No.714_ Latine (2013)- 30"h x 16" – Re-claimed metal welded, sea shell, finished in handmade paint.
Name meaning: Latin sea gull.