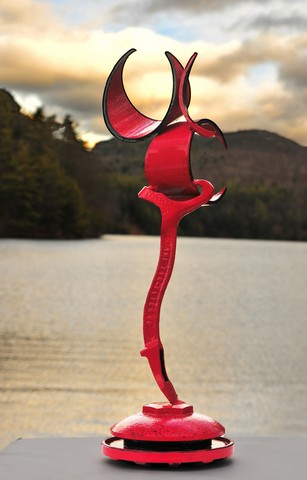 Sculpture No.835_ Cardinal _2020
Welded steel painted with red and black enamel. 22h x8w x 7.5d,
Available for purchase please contact.
For this Sculpture piece Sculpture No.835_ Cardinal _2020
I explore Religious- Ethical- Parental- Conundrums as metaphors in the nature of being human at this time in the world.
Carnal as a bird
For many bird lovers, the sight of a cardinal holds special meaning, sometimes evoking emotional or spiritual feelings. They say the vibrant red bird is an uplifting, happy sign that those we have lost will live forever, so long as we keep their memory alive in our hearts.
(https://www.birdsandblooms.com/birding/birding-basics/cardinal-meaning/#:~:text=Cardinal%20Meaning%20and%20Symbolism,memory%20alive%20in%20our%20hearts.)
The cardinals from a very early period, are assistants of the pope in his liturgical functions, in the care of the poor, the administration of papal finances and possessions, and the synodal (governing or advisory council) disposition of important matters.
(https://www.tektonministries.org/catholic-media-what-is-a-cardinal/?gclid=CjwKCAjw9aiIBhA1EiwAJ_GTSuW_JmciiE-Q1zwdkkm_H1RQ2tWDi-cxJlaD9bF6zQbzFYVFxvH36BoCM_sQAvD_BwE
Sculpture that explores or captures Red frustrations in flight, of a mother with a tween runaway child.
Help (something or someone) to grow, develop, or succeed. To take care of (someone or something that is growing or developing) by providing food, protection, a place to live, etc. : to hold (something, such as an idea or a strong feeling) in your mind for a long time.
The current world affairs from the standpoint of being human.
the fundamental philosophical problem of "qualia" — conscious, subjective experiences which cannot be shared between people (at least not in any direct way). In fact, colours seem to be the philosophers' favourite example of this problem.
Cardinal comes from the Latin word meaning "hinge". Of the greatest importance; fundamental.
Cardinals represent devotion, loving relationships, courtship, and monogamy above everything else in the Native American lore, while some tribes thought cardinals to be the harbinger of rain, other tribes, like the southeastern tribe, associated good fortune and sun. (https://www.worldbirds.org/cardinal-symbolism/)
Something is metaphorical when you use it to stand for or symbolize, another thing. For example, a dark sky in a poem might be a metaphorical representation of sadness. You'll find yourself using the adjective metaphorically all the time if you take a poetry class; poems are usually full of metaphors.
Red symbolizes energy, action, confidence, courage, and change. Red brings passion and strength to your relationships, your life, and your work. RED SPIRITUALLY EFFECTS: stability, security, grounding, courage, action, physical and emotional survival.
"spiritual vibrations":
The artist Kandinsky said- "red alive, restless, confidently striving towards a goal, glowing, "manly maturity" Light warm red: strength, energy, joy; vermilion: glowing passion, sure strength Light cold red: youthful, pure joy, young "sound of a trumpet, strong, harsh" Fanfare, Tuba deep notes on the cello high, clear violin"