1/2017 – 2/2017
Sauce- Wood- Rock- Rock
The Joys of finding-
Did I find you or did you find me?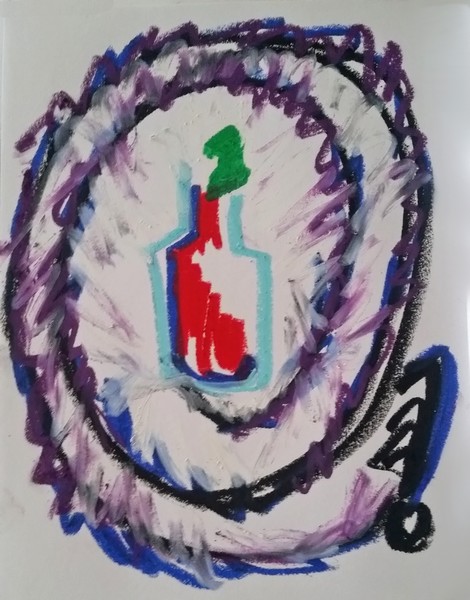 I liken this process to what i have read in the book: "Make the Secrets Productive," Joseph Beuys saying "This is the natural process of being human.The work does not depict allude to, or evoke nature – It emanates natural forces and processes."
"The nature of the beautiful consists in this, that its inner being lies beyond the limits of the power of thought, in its emergence, in its own becoming"
"Art = Life = Energy."
– "Energy + experience = a Art Life."
At the January NYC resi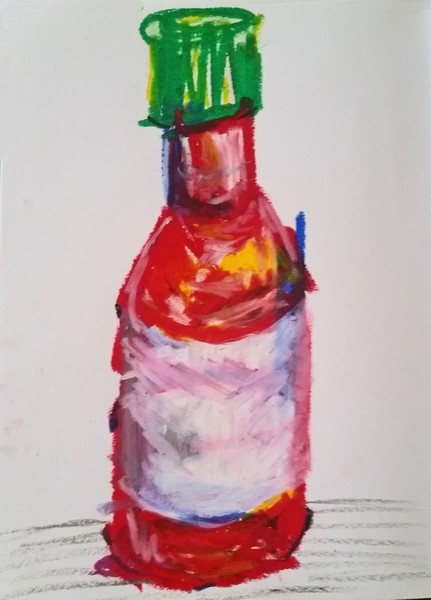 dency, I attended; I presented on the first day. When I was finished, I was congratulated with a small bottle of Hot Sauce- so cute.
Too Hot!
Small but powerful.
I took the small bottle and threw into the front suitcase pocket.
Symbol?
I stood outside the Elizabeth Center for the Arts. While the others smoked cigarettes, I shared in comradery and banter. Inspired conversations are the heartbeat of residencies. People from a world of difference, communicating stimulating thoughts and ideas. Everyone's intentions so large. I looked down. -there- was a polished White Rock, that's shape could be mistaken for a small heart.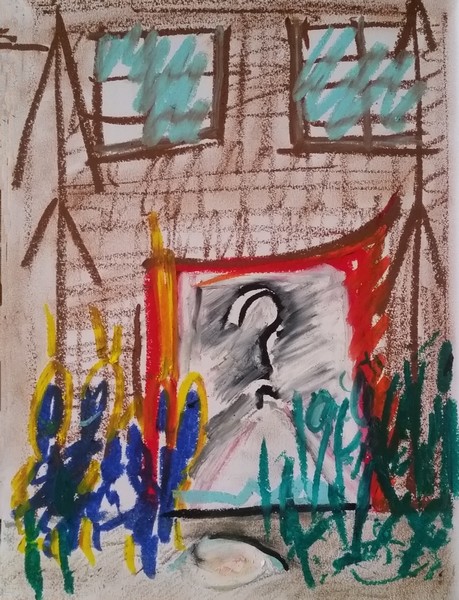 First thought – I have read; the heart houses Joy and Soul is White.
Joy- the heart of my time.
Joy- I felt for these people.
Joy- I share with these people.
Joy for this time.
Joy- for these conversations.
Joy- in the repartee about art & ideas.
Joy – marks the little white polished heart rock with memory and history.
The rock had no reason to be there- in the middle of the walkway – in the middle of a doubled door entrance on the wide sidewalk. There was nothing around the city landscape that suggested how or why it came to be there. As a matter of fact- it should have been kicked off to the side seeing the massive amount of foot traf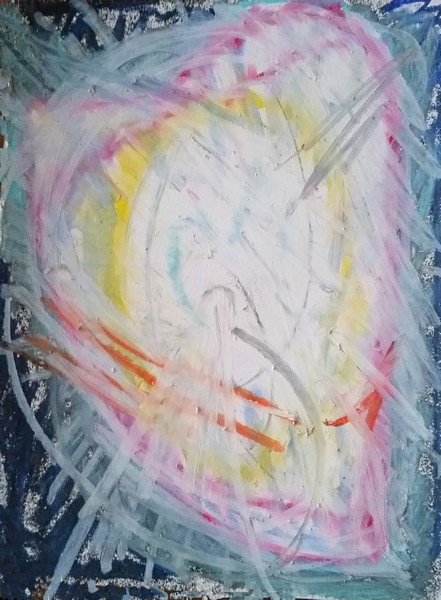 fic and the door traffic that traveled through this area.
I felt, thought and assessed. I decided it must have been left for me. I put it in my pocket- and when I got back to the hotel room into the suitcase pocket with the hot sauce, it went.
I meditated.
A few of us laughed about my magnetic attraction for misplaced object stuff.
I started to think about the suitcase and all its metaphors as a transient, space or void.
I meditated.
The suitcase: interruption- connection- physicality- body- place- space- void or containment- memory- discouragement or Hope- Lost and found- this went on in my journal as a visual course for days and can become an entire series.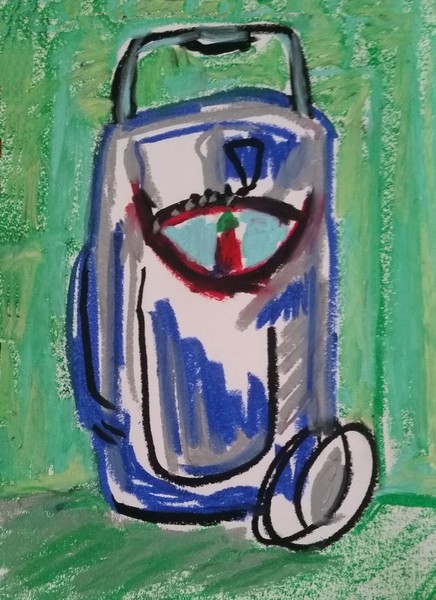 The next day I went to sign into the Elizabeth Center for the Arts, and the security attendant said to me "Excuse me, Mam, this is yours" he stuck out a closed fist, and I laughed nervously- putting out my open hand, not knowing what to expect.
Dropping out of the dark clenched hand: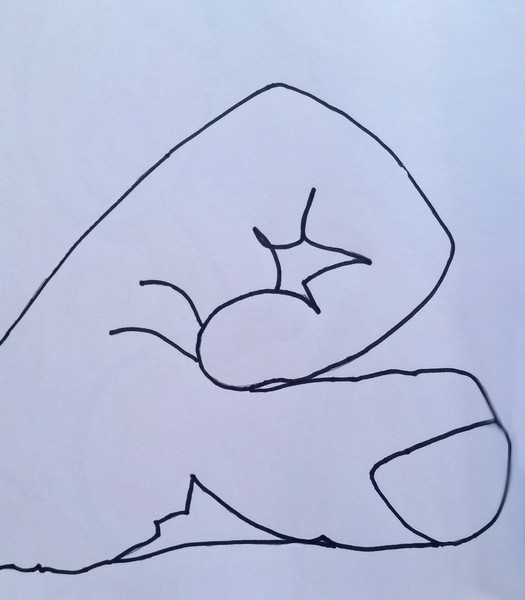 A Wood Nott – I thought no harm -stuck it in my pocket and went on my way.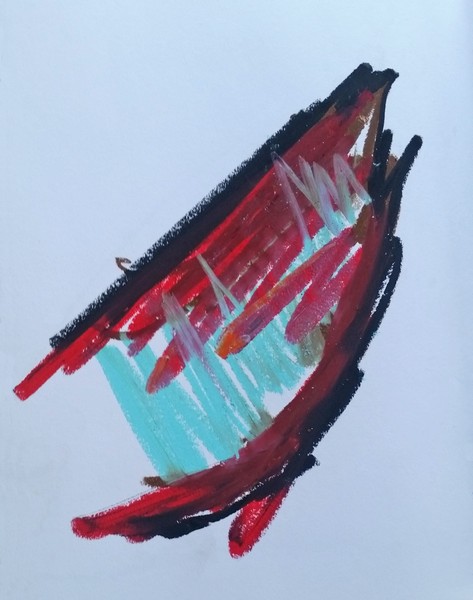 The days filled with discourse community in art, history and student projects- opposing and agreed.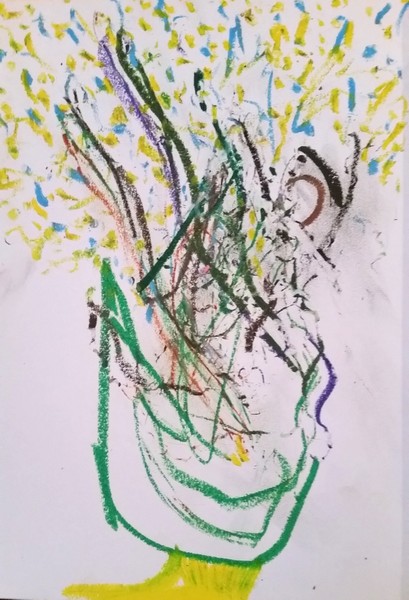 As George and I made-up metaphors and small stints about the Nott.
Why Nott?
Would Nott you?
When I got back to the room into the suitcase with the polished rock and hot sauce, it went.
Trope?
A few days passed, and I sat late at night at a small table beside the road, talking on the phone outside the hotel, intending not to bother my roommates sleep.
Much to my surprise and delight, a Show-
Traffic at a complete pause–
Bang – Ding – Whirl – -two naked people fighting in the street –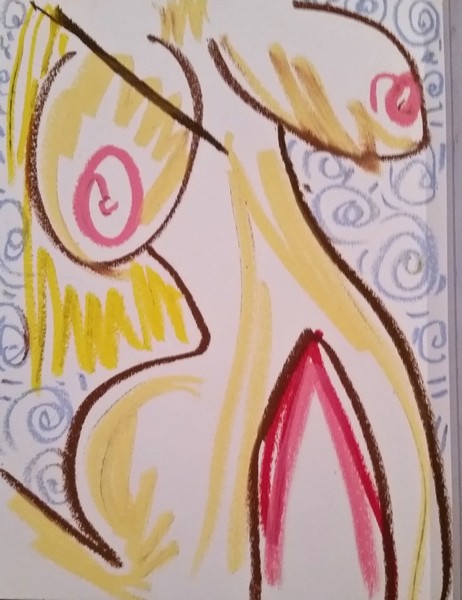 The woman thin, with gold long hair and platform shoes, bouncy- perfectly shaped boobs with nipples at standing ovation in the cold nights' attentions. Her heavy load of jewelry swirling on a stumbling run. A naked man in a hat traveling behind her, carrying her clothes- screaming sounds- of the ground–
-Crack – Bang- – zing! Loud Shots Ring- Freak me and the doorman out —-momentarily!
STOP-Pause,,,,,, Time and event, surreal -!-! With that a black Limousine slides up to the naked screamer- whished off – Gone ! – 2 Gone ?? GONE!
Time stood still, as the doorman looks at me with a long pause in silence, as if the city streets lost its sound or a mute button was pushed. The doorman reaches down and then over to hand me another polished White Rock saying, "I think this is yours." I said jokingly "special delivery?" We laughed! – up to the room I went.
Once back to the room, the flat little White Rock joined- the wood Nott- the white heart-shaped polished rock and the tiny bottle of hot sauce in the suitcase.
The little suitcase pocket drew my paused attention- I thought so much drama, and event in such a small pocket?
What did it mean?
Metaphor?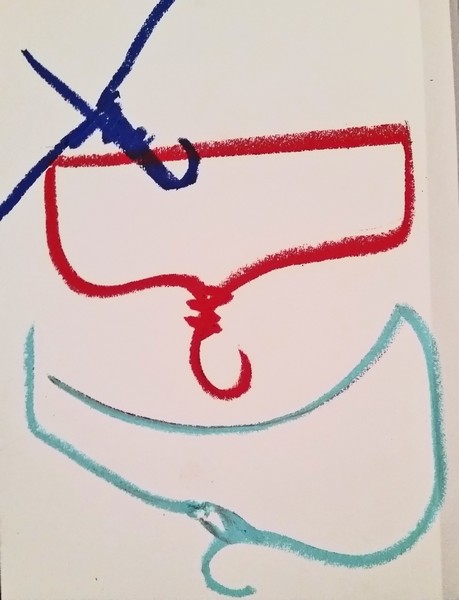 Now it was time to leave NYC; I pack my belongings to find a metal hanger, the only one of its kind in the closet, wire, old, long past style, the thick type, slightly rusted, out of shape and left behind.
I wondered its story and why-
I knew it should be mine,
So into the suitcase with all the other misfits of find.
Creative Force? And a Story in Object I find.
I wondered?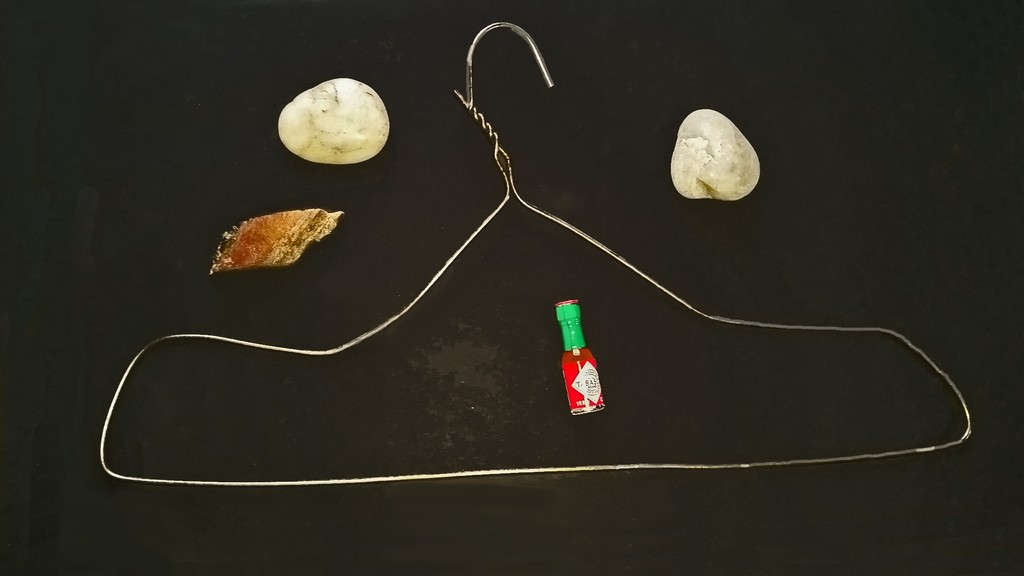 Home, Home on the range -A few days and nights pass.
Exhaustion-
Meditate- sleep and draw- I saw all the objects: as a finished sculpture. Objects called to its new form.
This Sculpture equals: A city, the People, Memory, Places, Travel, Mystery, Adventure, Education, Space, Architecture, Entertainment and Observations in spirit that contrasts elements of reality. – the essence of this artist's daily existence that is a living journal in a dimensional form.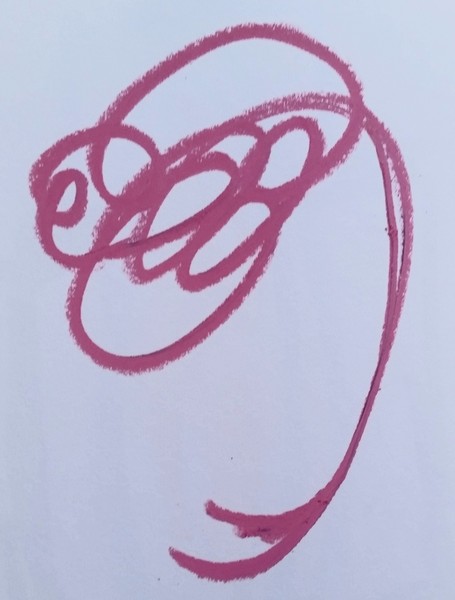 This sculpture story reveals my recipe to how objects interact with technical operations and a visual story teller.
Object sculpture- make new statements offering metaphors as an opportunity to reflect the personal responses about self.
My way of organizing space creates live scenarios – equaling movement and energy.
Throughout this educational probing, I have maintained that objects are containers,
holding: energy, time, emotion, memory and vibrations of experiences.
Objects inspire me to create fresh arrangements that encompass a new focused energy flow, manipulating perceptions, ideas, memory and history; stimulating personal private responses.
For me, this process is continuous- in the moment and creates a vortex of Joy for my existence.
FINISHED SCULPTURE:
Conclusions? – or just a new start- oh- Joy of Joys!
—- After that-
a Great Horned Owl came and sat.
More Questions?
Signs?
More stories –
—–More Art—–
What about this or that?
Collect it. Draw it. Research it. Now there's that-
Let's Chatt.
_____________________________________________________________________
Paintings- 3′ x 8′, Gold leaf, tar and oil paint on canvas.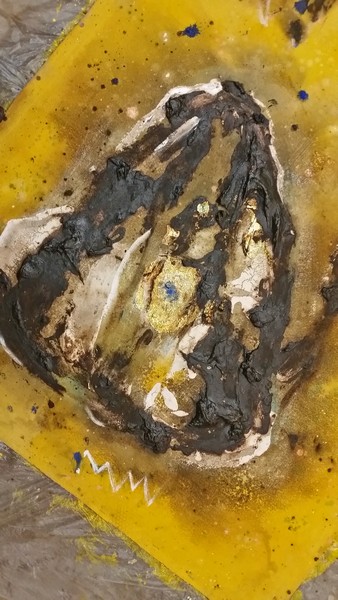 ______________________________________________________________________
ART PHOTOS:
The sculpture: Three Pi still on the road-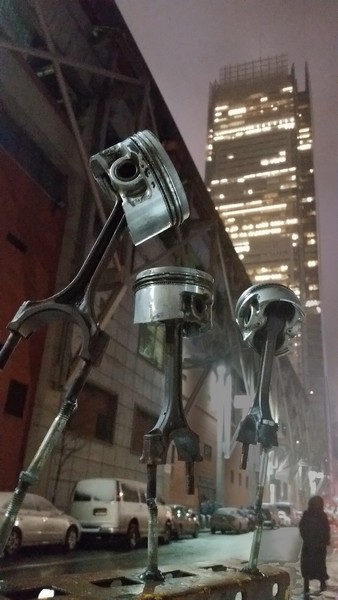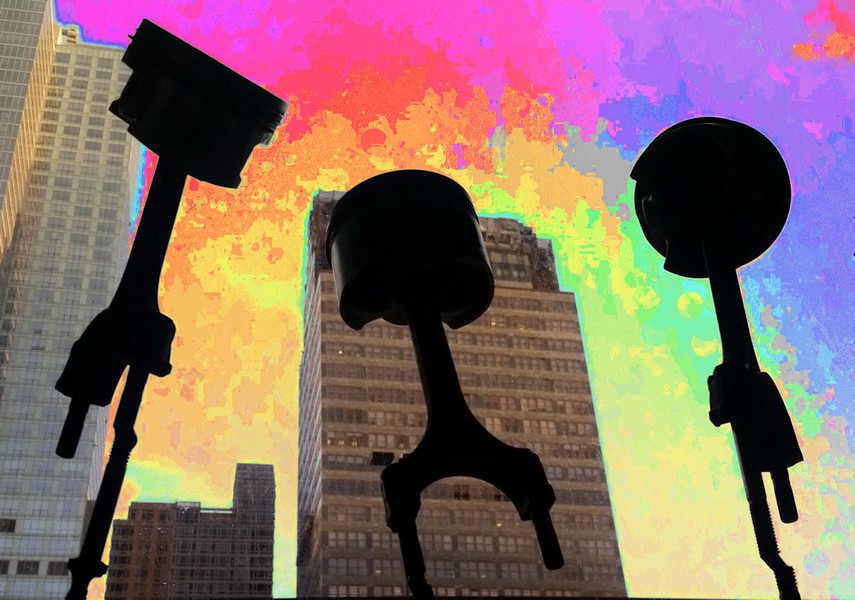 ______________________________________________________________________
Wishing you JOY!
XXXXXXXXXXXXXXXXXXXXXXXXXXXXXXXXXXXXXXXXXXX