http://www.poststar.com/articles/2008/10/14/ae/today/14000636.txt
"Eeffie" is a whirlwind of rust and metal, desperately trying to corral her three children, one with a hole where her heart should be. The sculpture by Mi Chelle Vara is part of the "From Victim to Victory" project at bjsartworks in the Troy Shirt Factory on Lawrence Street in Glens Falls. The month long project focuses on 14 artists and their experiences with domestic violence. For Vara, that experience is among the worst possible.
A friend, nicknamed Eeffie, was beaten to death with a baseball bat by her husband. "We were supposed to eat lunch that day," Vara said. "He came in through the back door. She had three children and she stayed with this man trying to work it out for her children."The artist said she used red in her sculpture because Eeffie's life was based in fear and trauma. "But knowing her I didn't know any of this," she said. "It hit me very hard because you don't necessarily talk about these things. To know somebody and not be interactive in the whole thing, it left me feeling like I missed out."
Beverly Saunders is the owner of bjsartworks responsible for curating the show. She said that her friend Pam Barker, whose art is the most dominant in the collection, was the inspiration for the show. Barker created her body of work using an artist's grant after her personal experience with domestic violence. "She needed to share," Saunders said. Some of Barker's work utilizes newspaper headline clippings in its expressions. The words take on a new context in Barkers shadow boxes. They convey a sense of urgency and longing."It's been a passion to get the word out," Saunders said. "Knowing how hard it is to say anything — it's a silent epidemic. There is something that comes out of the bad in our lives. In situations that are less than healthy, there is some sort of learning experience to be had. There's a growing experience, especially when you're getting out."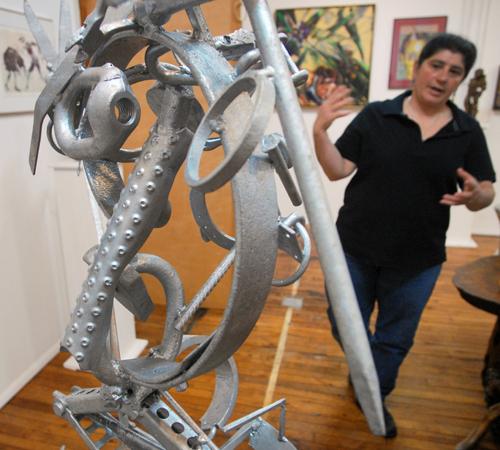 Each of the 14 artists was allowed two submissions, save Barker, whose shadow boxes and sculpture are peppered throughout the show. "From Victim to Victory" features work in nearly every medium, from textiles and sculpture to acrylics.
"There is a way to reach your dreams, and there is hope on the other side of this," Saunders said. Her sentiment is evident in the piercing eyes of the shows self-portraits like those in works like Laura Neadle's "Departure." The exhibit is a juried showing and a winner was announced on Thursday at an artist's reception. The winning piece, "Winding Course," was by Michelle Winnie of Saratoga. The acrylic painting features a woman, hands above her head and face, shielding herself from some unseen assault from above. Her hands are steeped in burning reds while hues of blue swirl around her. It is a beautiful as it is uneasy. Of the 14 artists featured in the show, four are men. "I think that's a really important thing to touch on," said Mi Chelle Vara. "(Domestic Violence) is not gender safe. I didn't realize how many men had the same problems and they, socially, have it even worse."One of the men participating in the show is Daniel Zollinger. Though not a victim himself, he is sympathetic to the cause.
"I took a sculpture class with Pam (Barker) while she was creating some of these pieces," he said. "The minute I saw the content of the show I thought, 'Wow.' "Zollinger submitted an acrylic painting, which he feels celebrates the victory in overcoming domestic violence.