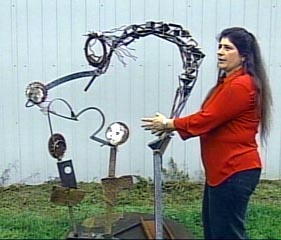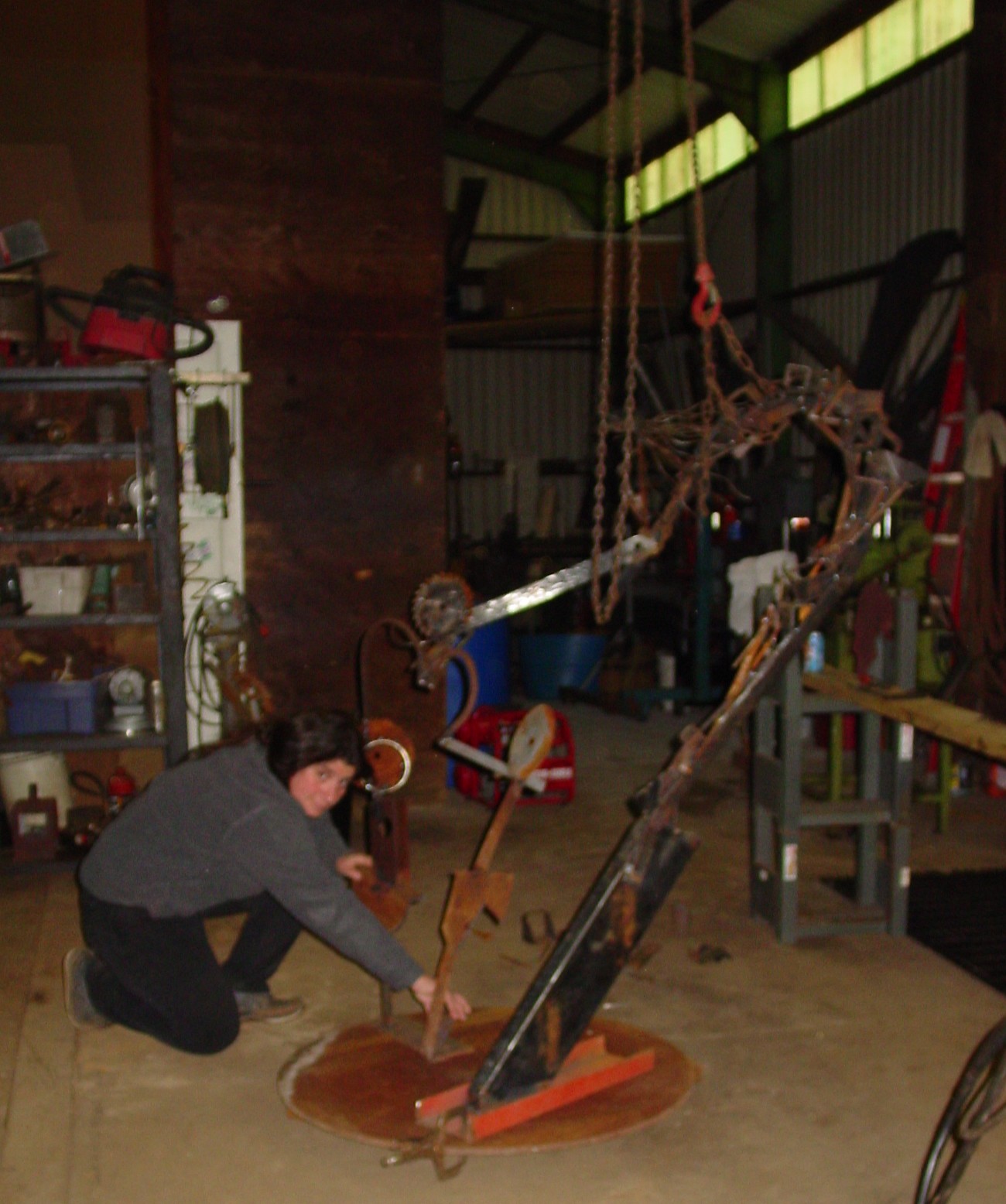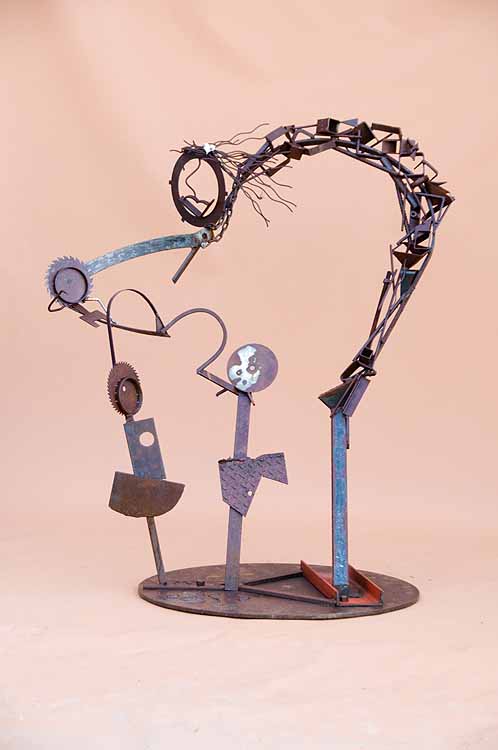 "Effie" (2006)- 70"h x 48"round, up-scaled metal welded and left in the raw.
Is a sculpture is a response to Domestic Violence.
This story is about a friend of miChelle's that tragically lost
her life to her husband's hand, leaving her young 3 children
parentless and a small town shocked.
The artist miChelle Vara was overwhelming with emotion, left
wondering how this could happen, and what she could do to help
others become more aware and sensitive to the issues.
miChelle remembered most how Dawn Bovey Roberts loved her
children unconditionally with every fiber of her being.
That love is what prompted this sculpture.
The sculpture was on tour in New York, New Jersey and Vermont
for Domestic Violence over 5 years. "Effie" the sculpture has worked as a
platform through which many have shared their tragedies, growth
and an opportunity for a community to work together through the
pain. The Sculpture "Effie" opened a dialogue for resources,
support and awareness to many people.
      The project raised monies that went to DBR fund for her children.
      Any one can fall pray as domestic violence is a serious hidden
problem affecting all of the family unit, friends and a community
in our country.
   This involvement lead to many further sculpture dialog about the subject in hopes to supporting awareness through visuals.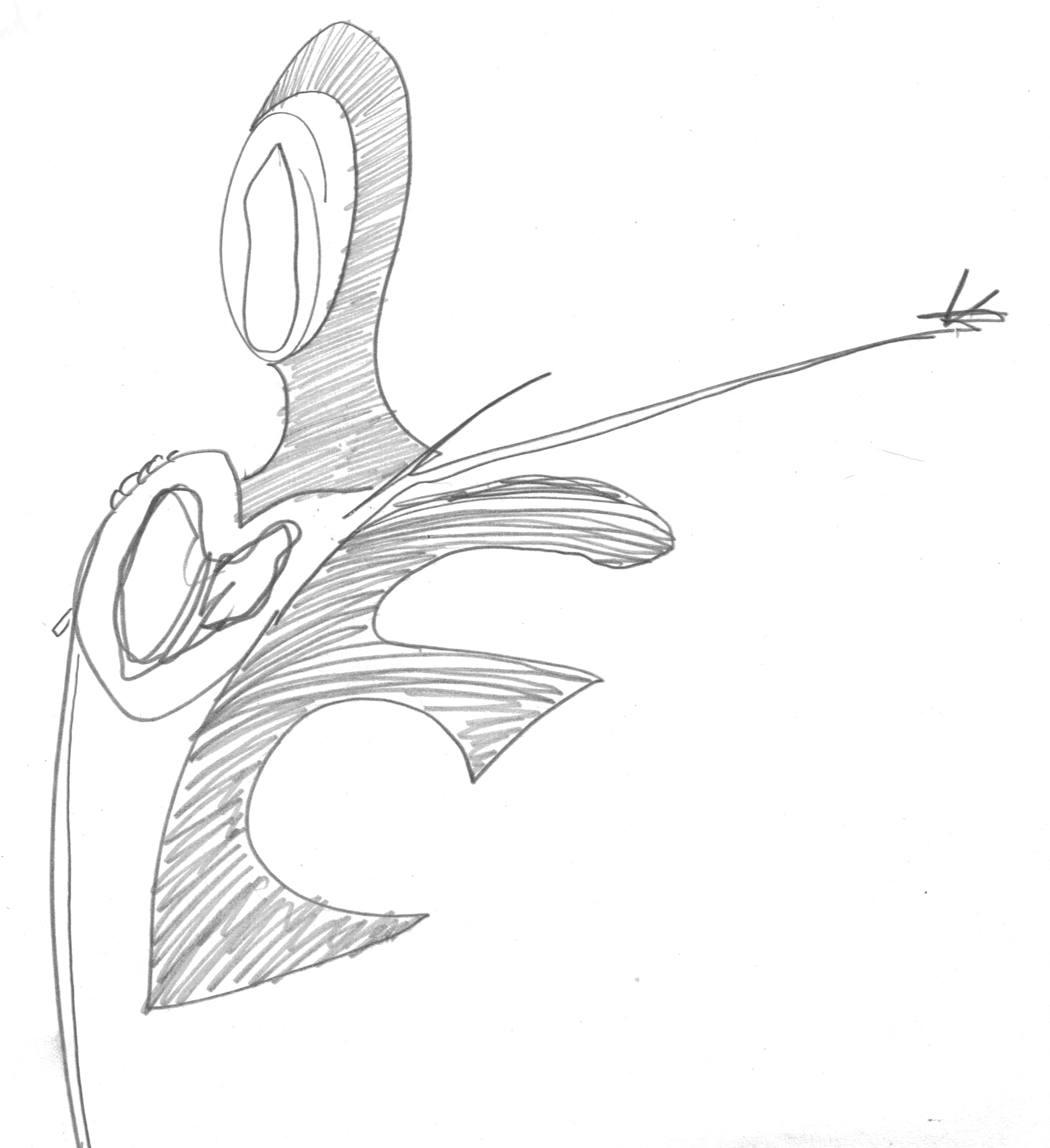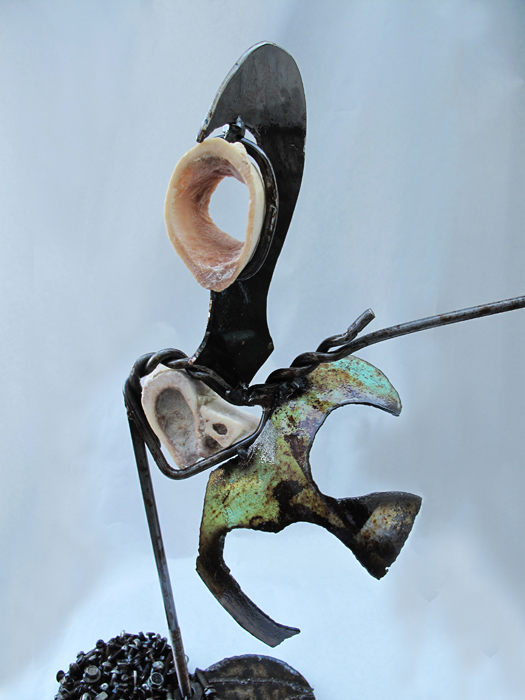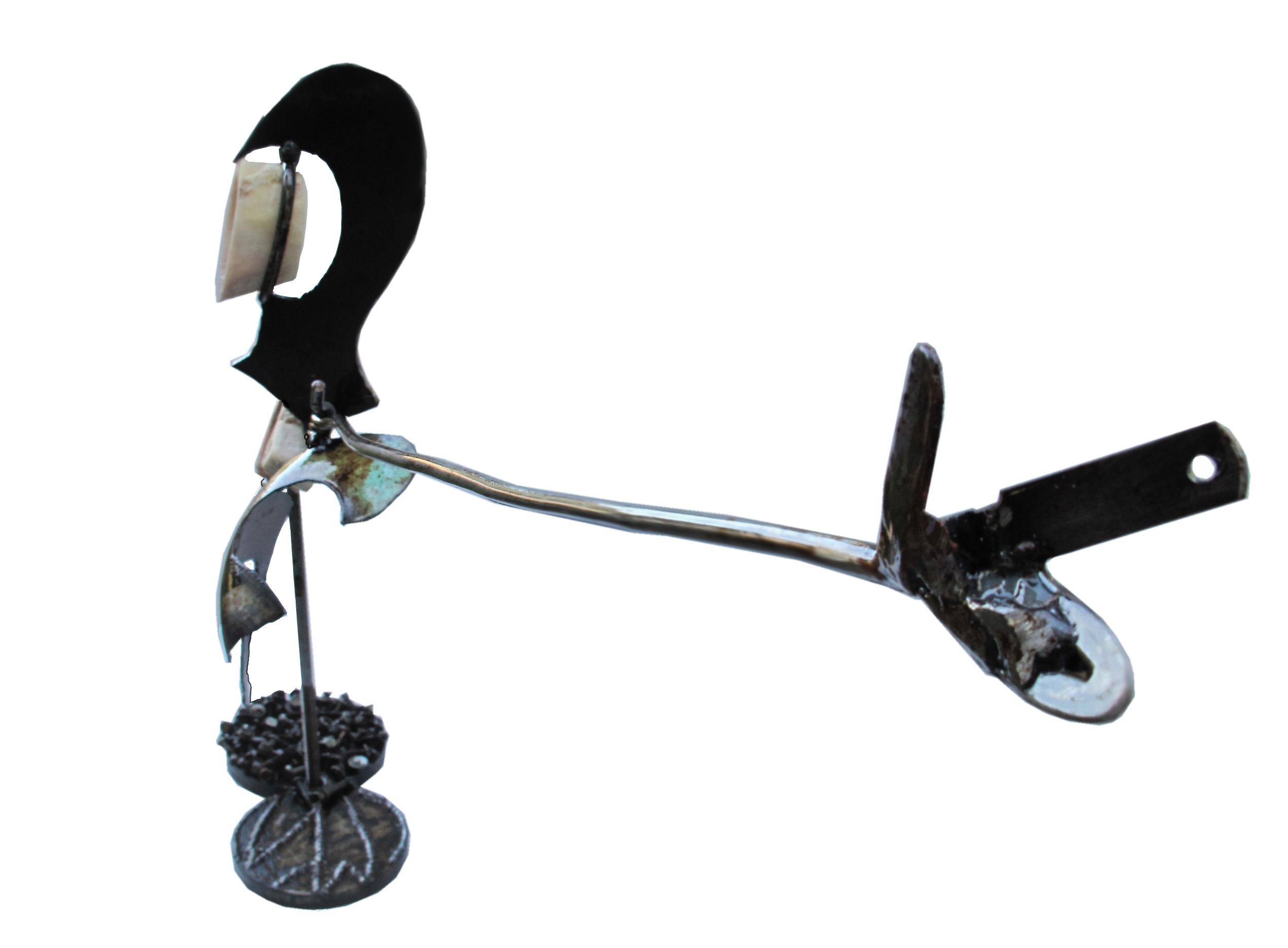 19. Be Fearless (2009)
20"h x 12"w x 18"l,
Re-cycled metal chosen for property references and bone. welded and finished in industrial clear.
_________________________________________________________________________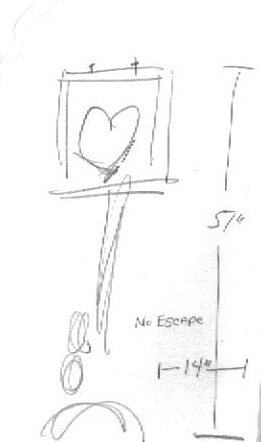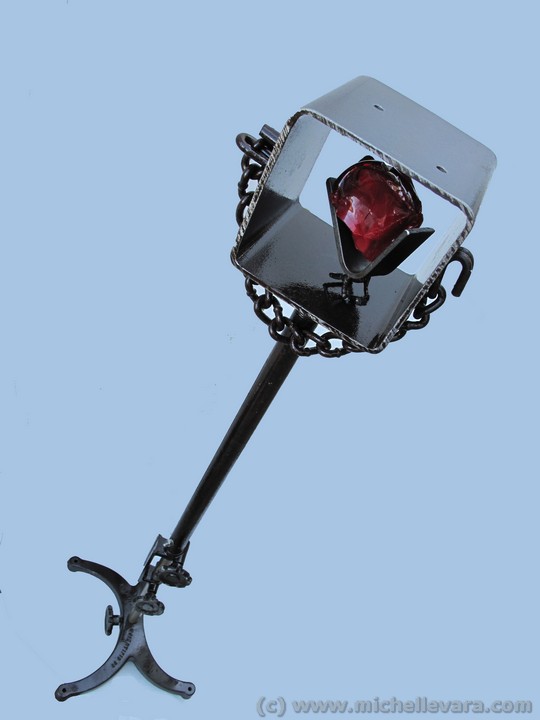 38. No Escape (2009)
50"h x 22" square, Glass and steel painted with high gloss epoxy clear.
The glass in this piece escaped from Germany with a woman during the Communist Regime, and left to the artist in a will.
___________________________________________________________________________
Sculptor miChelle M. Vara from Ballard Road Art Studio Gallery, Wilton NY is now finishing 8 sculptural pieces to be shown in conjunction with Domestic Violence awareness month.
This body of work is called- "The Soul Perceptible"
The artist mission is to make the soul capable of being realized by the mind or through the senses. Visionary art encourages the development of our inner sight. To find the visionary realm we use our inner intuitive eyes. All inspiration originates here. The visionary embraces the spectrum of imagined space.
I believe best known for this is artist Alex Gray.
Poet William Blake called it "The Divine Imagination."
miChelle's past involvement thru a tragic loss of a friend Dawn Bovey Roberts in lighted her to the need for open communication and support for those in danger.
She feels Art as a venue, opens a forum thru visuals in a positive action towards supporting safety in a community for all people.
miChelle's sculpture takes a new visual standpoint using Iron and glass to convey her thoughts on once negative energy that was transformed into growth and enlightenment for the world around her.
224.

Divine Providance

(2011)
27"h x 3.5d x 11"w
Polished stone slab, iron, and brass finished in wax.
Eye of God

watching over humankind.
_________________________________________________________________
 Saratoga Today
 http://www.saratoga.com/today/2009/10/the-domestic-violence-awareness-project.html
The Domestic Violence Awareness Project
 Written By: Yael Goldman on October 9, 2009
October is National Domestic Violence Awareness month, a 31 day campaign to support the individual stories, experiences and personalities affected by domestic abuse.
Every victim of domestic abuse is different and, similarly, this diversity calls for a variety of outlets and mediums to show support and rally prevention awareness.
As a visual medium, artistic expression calls unique attention to this cause, which is why local sculptor mi Chelle Vara uses visual art to inspire positive action as part of Domestic Violence Awareness Month. Vara created 8 sculptural pieces, at her Ballard Road Art Studio Gallery in Wilton, to be shown in conjunction with the awareness campaign.
From Vara's perspective, communication is vital for those directly and indirectly affected by domestic violence.
"The problem with domestic violence is the silence barrier. If it's happening, even to someone close, no one wants to talk about it," Vara said. "I create visual pieces that are dimensional; allowing a dialogue to open up through all people."
The tragic death of friend Dawn Bovey Roberts, a local victim of extreme domestic violence, enlightened Vara about the need for open communication and support for those in danger.
Last year, Vara showed her support with two sculptures, and his year she's added eight more with "bigger language."
Through these pieces, Vara aims to capture the positive: how she has seen many people grow through domestic violence, using their experience as something positive to propel them to a new place as an individual. She works with iron and glass to convey how negative energy can be transformed into growth and enlightenment for the world around her.
Vara's artwork demonstrates just one medium for expressing the relationship between violence and emotion. She highlights the power and inspiration surrounding those who conquer domestic abuse, and it is their encouraging stories that speak volumes about violence of all forms.
"Domestic violence and violence are not separate issues. Violence in society must be addressed, and addressed positively," Vara said.
By capturing the good that comes from even the most negative situations, Vara's sculptures embody the message that triumph over social violence can be inspiration for change.
 Video's to come-