911 Sculpture Description-
3 years shown – The State of NY, Albany NY.
"In positive reflection and remembrance"
Two H- beams, signifying the twin towers, strength and the unity of multiples working together.
One beam on angle is signifying the rise of human interaction, care, relationships, opportunities, change, and the horizon.
One beam straight portraying our standing unified strength as a human population and country to pull together and rise above all obstacles.
The wheel – The circle –
I think this component has inexhaustible implications.
(The Sun and moon, work, human culture, concept of all-inclusive, Unity.)
Spokes are the many individual parts that make up the hole,
The hub holds all the components together, the cogs grab moving forward,
and sprocket shows all the little things never accounted for.
In my mind's eye the circle is also a representation of all the forces (medical, fire, rescue, military, etc,) that work together so hard in collective efforts, the loss of innocents and not to be forgotten are troops that are even now on the job.
In the overall I believe the remembrance of life lost and given in this extremely intense event are also implied in the over all of this piece.
In gratitude,
miChelle M. Vara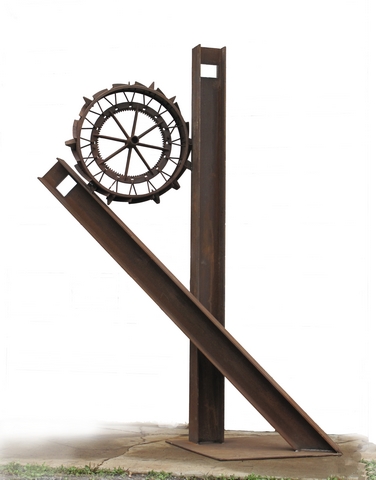 74. Industrial Nation (9/2011)
144"h X 108w X 48"d,
Weighs 2000lbs
I Beam, farm implement wheel finish is rust.