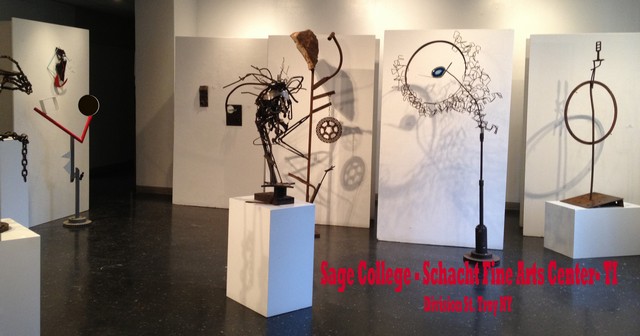 1. SAGE College, Schacht Fine Arts Center TI, Division St. Troy NY
-Art Show runs October 1 to Oct 19, 2012- Free and Open to the Public.
Oct 9th, 3:30pm- Artist talk is at the Dinosaur Barbeque with lunch, Troy NY                               -Pre Registration Required
-Oct 9th, 6pm- Open Gallery with Artist in attendance, in conjunction with MoHu Campus events.
-War of the Worlds, showing – $10 Adults, $8 students and seniors,
Further information 518-244-4505            www/sage.edu/theatre
2. Ballard Road Art Studio and Gallery
-Open for the MoHu events throughout the tour dates and by appointment.
Gallery displaying functional and Aesthetic sculpture and paint of artist miChelle Vara with 40 year portfolio of diverse clients throughout the country.