05/17/15– "LOOSE AFFAIRS" – Opening Exhibition, Summer 2015
I have chosen to take this opportunity and explore "Loose Affairs" as an open ended subject with endless possibility's to create from.
With this in mind it became apparent to me that there was 3 ways in which words in context, kept cropping up. So that's how I handled the matter.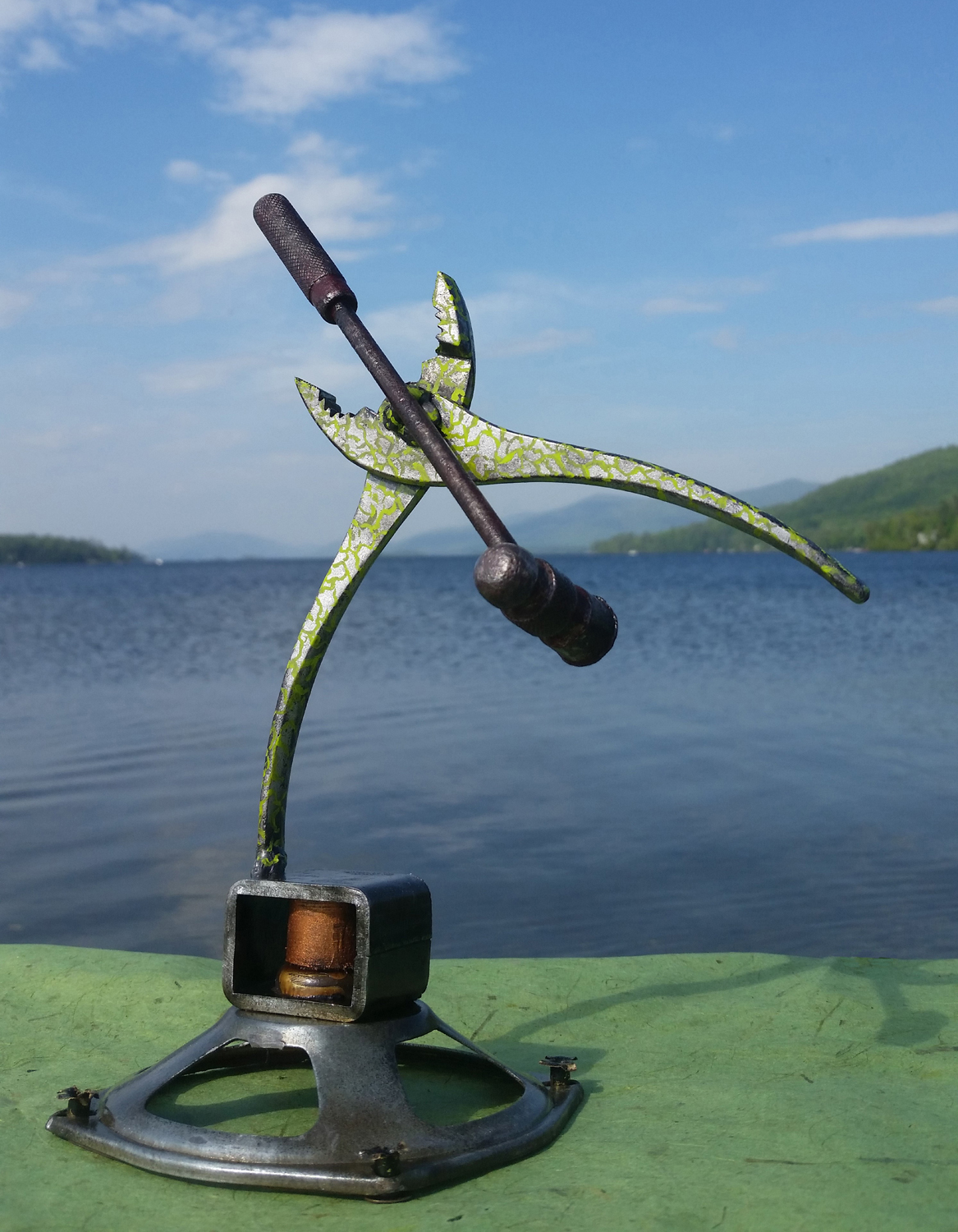 115. Loose Affairs (5/2015)
12"h x 7"d x 10"w
Recycled metal tools welded and finished in stain and clear.
-This piece was taken completely from the sexual point of view.
Sex Is A Loose Affair
Connecting
Good…Bad…..
Hard as a hammer
Sing praise of excitement
Fragility of the moment
Adjusting….
Lines of intention
Tools to cope
Game….Face…..Mind….
Love or not……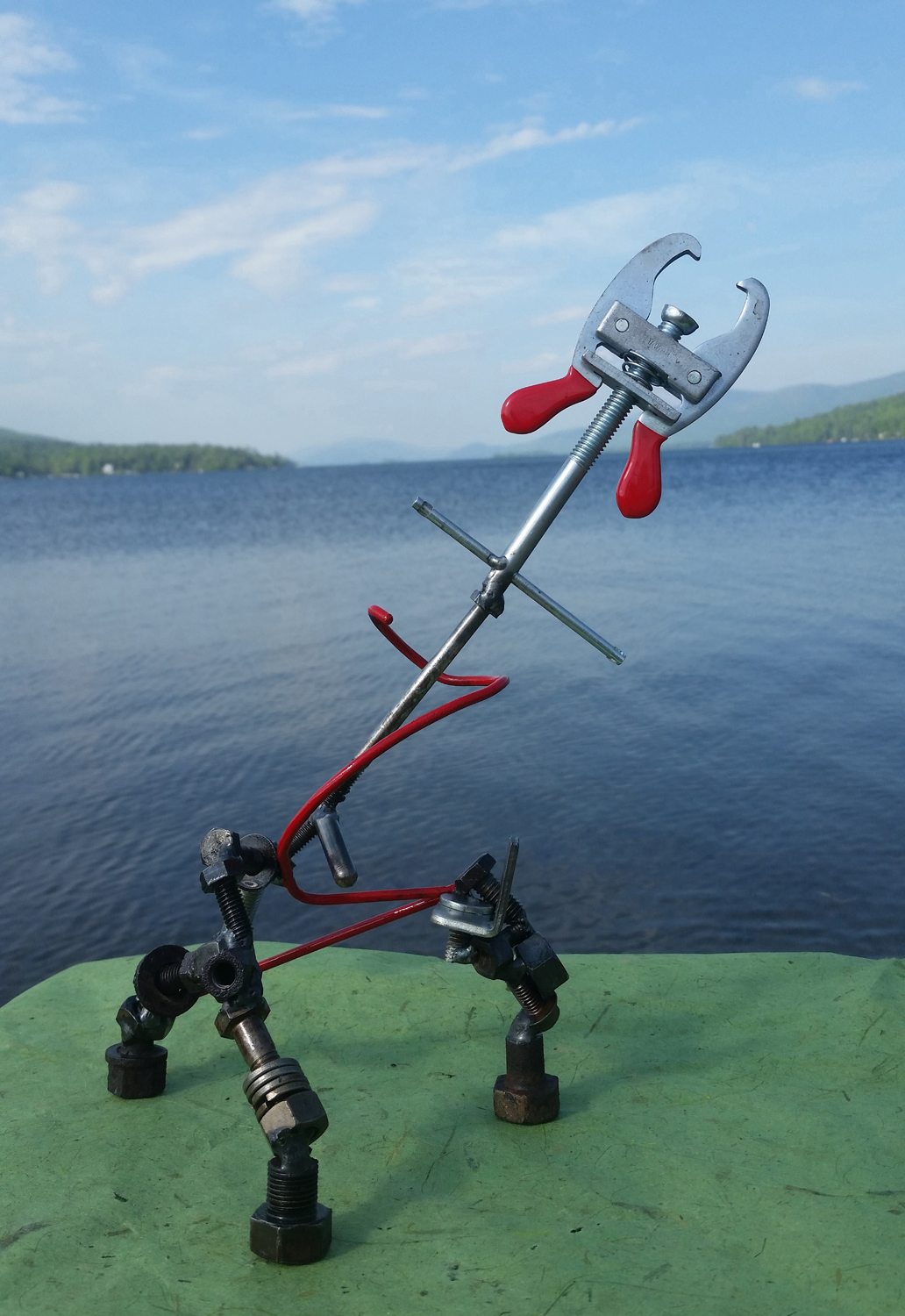 116. Loose Affairs 2 (5/2015)
13"h x 7"d x 10"w
Recycled metal welded, finished in paint and clear.
-This piece is a multidimensional perspective.
Literal- abstract- metaphorical
The tools use is to loosen the grip of a specialized clamp, that transfers electricity making it actual, useful and metaphorical.
The nuts and bolts as legs are the foundation. Foundation is where perspectives are formed from which humans rate systems- socially, scholastically, monetarily. The cross is speaking to religious perspective (and or) the lack there of. The line that is red is the road traveled and works as innuendo to the male, female. Red is the tension also is revealed in the handles of the tool. Begging to ask is anything actually a "Loose Affair"?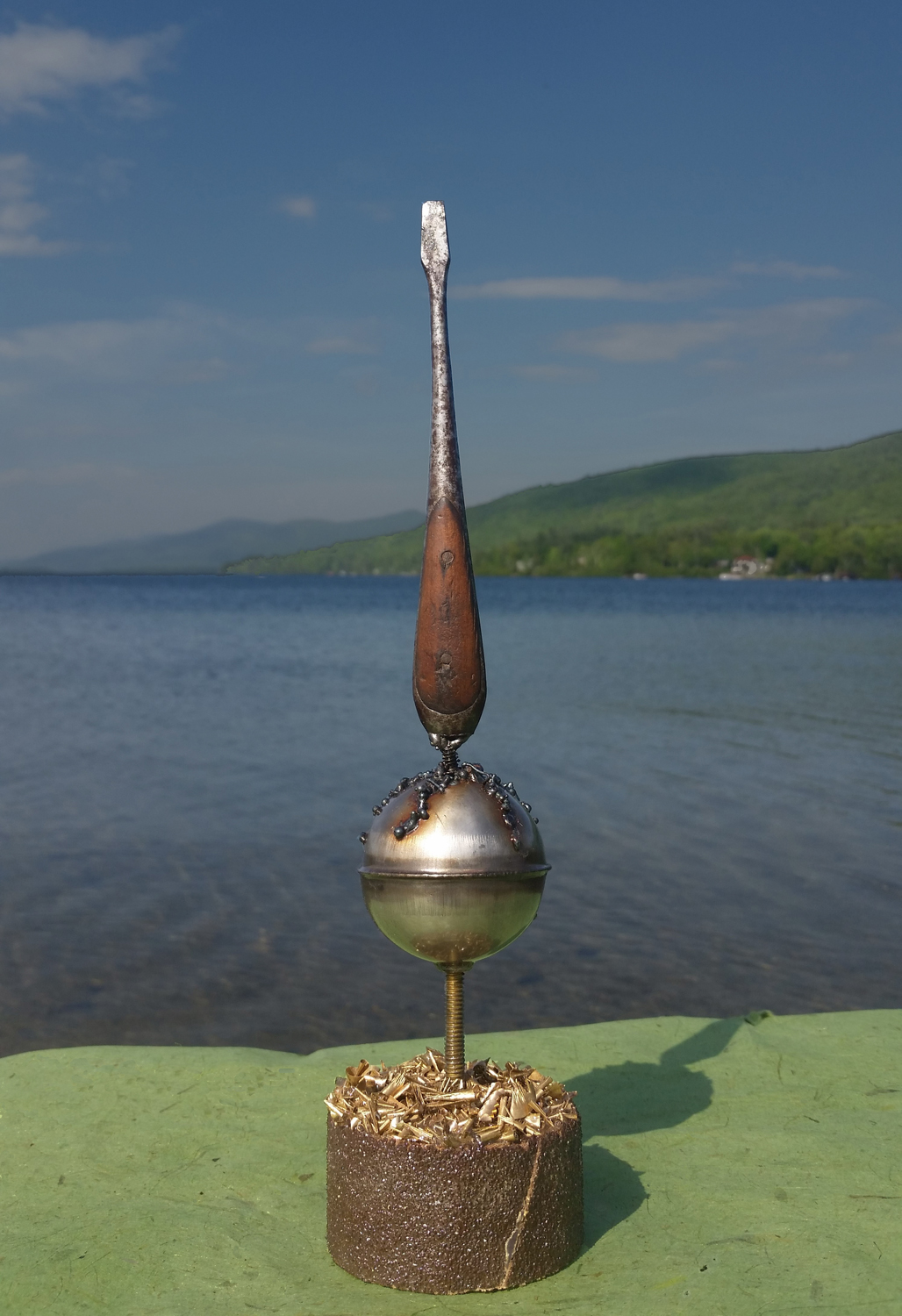 117. Poli – Ticks (5/2015)
Brass chips, Garnet, screwdriver handmade in 1930 Germany,
ball float, wood, paper, welded with clear finish.
The name: Poli– Plastic Ticks– Blood sucking bug.
The earth sweats the "Loose Affairs" of a few strong and powerful people who rise to the creed of breeding & opportunity only make their own rules. Trading the poor or uneducated for more power, ego and greed.
The screwdriver is handmade in Germany 1930. In this context Screw – Driver is a person or persons with ego driven intentions. Handmade stands for the elite. The float serves as a representation of earth and the small weld beads are the sweat and the gold of water. Water is the most valuable resource. World commodity's shown through brass chips and garnet paper also to include the wood of the base.