In this work, I became interested and explored – extreme shift/ change/ fluctuation as a line in human personality.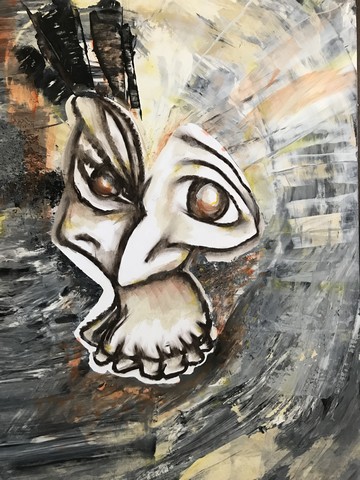 Some of the questions I researched-
What makes a radical shift in personality? Is a human bad to the bone? What cultural changes have accrued to cause bad manners amongst humans? What part has the digital age played?
Backstory: I had a few occasions where people freaked out in simple, nonchalant, conversation- over nothing- of course, it concerned opinion and politics. My intention in the conversation was not at all intended to be aggressive— just light fodder but in these few cases went bad quickly.
I believe everyone has the right to their opinion and truth is in the eye of the holder- caused by, or stimulated by, exposure to media and culture – where and what you were raised with.
In this work, I revisited two greats Francis Bacon and Samuel Beckett rereading "Waiting for Godot".
Funny- how differently I perceived the piece now that I didn't have to sit through it, as once my father requested. My father was a literature and philosophy buff along with education and spiritual teachings so my exposure was large in subject range.
I think Dilip Bhatt, (professor of English) sums it up quickly- "In Waiting for Godot, Beckett builds his themes through the minimalist setting and the characters' absurd conversations and actions. Characters represent humanity, the setting represents human existence, and words and actions demonstrate larger truths about the human condition."
That statement is a good reflection of the visual series "Fit of Carnality".
Thank you for the visit hope to see you next month! ~MV