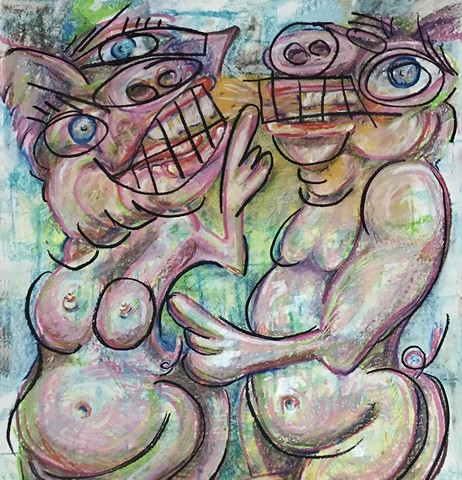 Hello, from the frosty windows of my studio. Over the last three months, I have really enjoyed traveling and pigs. Above is the finished painting "Pig in a Poke", 26″ x 40″, oil, marble dust, on Artist Fine 200lb paper. To be included in the "Pork Chop" Series.
"WRECKAGE"
While driving around Canada, I found some really interesting places and things. I also eat unique cusine and spent time with some people who shared a completely different perspective of the world which stimulated good conversation and new ideas.
Found along the highway was "La Grande Hermine" or "the Big Weasel" on Jordan Harbour in Ontario, Canada. It was easy to find a lot about the ship it is well documented on the internet if you're interested.
Although the days were horribly cold with the wind whipping, and my fingers freezing off, the photographs and mystery of the place were so exciting that I did some drawings.
The thing I noticed most about the scene is the presence of space and the feeling of trama which conjured a dramatic sense in my body. That may have been me freezing in place – LOL!
I tried to document through photography images that would spark the feeling in my body to use in the studio.
This series is not completed. The photographs and translations have not been processed.
I'm out of time, so- as Red And Green would say "Keep Your Stick on the Ice" – hope to see you again soon! MV