Hello, thank you for coming!
---
Elizabeth Streb Residency at Skidmore Collage
Photos- Extreme action
Streb Residency, Saratoga NY 6-2019

Streb Residency, Saratoga NY 6-2019

Streb Residency, Saratoga NY 6-2019

Streb Residency, Saratoga NY 6-2019

Streb Residency, Saratoga NY 6-2019

Streb Residency, Saratoga NY 6-2019

Streb Residency, Saratoga NY 6-2019
We were in the Tang Museum and For me, it was an amazing time, that flew by. The cross-pollination of disciplines not only stimulated new ideas in me but I created over 200 oil pastel drawings and i have tons of ideas I haven't begun to follow yet. So A Big Shout OUT Of Praise and THanks to Elizabeth Streb and her team!
Elizabeth is got it all going on! and her performers WOW talk about teamwork and use their bodies- WOWzer / +FLYing!
And Trish is a wonderful sweet host!
I can't say enough about being in the company of these amazing and talented people, there is an ease and massive creative force that surrounds their space that motivates and sometimes over stimulates the senses.
sample of Energy Drawings in oil pastel-
I can't say Thank you enough!
---
Then there's the smart and interesting Laura Flanders which I had a wonderful conversation. She now owns one of my drawings. She's kinda scary because: shes so_ —-aware *** sharp- –smart and super well spoke – GO FIgure (Lol)! _Too Kool!! By the way, she wears wonderful shapely shoes – too hot! Sorry, I didn't get a photograph of them! Maybe next time!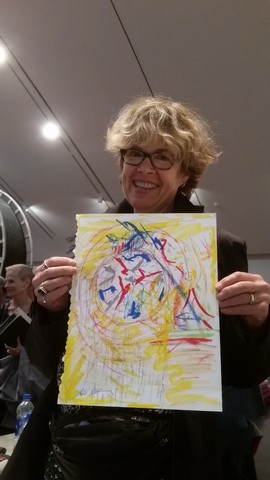 ---
I got to meet one of my childhood heroes – Nancy Grossman
She was nice to talk to and paid a compliment to my work – Yup that made me ecstatic! Big thanks to her sweet assistant for taking a picture, I was so excited I wouldn't have thought of it!
Michelle Vara & Nancy Grossman

Michelle Vara & Nancy Grossman
---
new Sculpture for this month –
Sculpture No. 799_ Chicken 21″H x 6″T, Iron Binocular lens, fishing weight, chain, welded and photographed at the Stewart Conklin dam in Lake Luzerne, NY – but feels more like Corinth.
This sculpture is not what the name insinuates but it is a contemplation on the Saratoga NY art scene from many conversations with art lovers of the area. This piece of sculpture was impossible to photograph i used all the no NO's and I spent a long time trying.
Even now i belive the photograph shows the pc but loses the impact of its soul. For instance, the binocular lens that I used changes with atmosphere, color, and light, and seems to follow you as you move around the room, making the piece as alive as you or I and it truly speaks for its self. It's a piece that needs to be lived with. Check it out in person at the Ballard Road Studio, just call (518-587-8706) and make sure someones there- or can be.
Well that's it for this month- Hope to see you next month and remember one of my favorite sayings – "This Aint No Dress Rehearsal"
Wishing you an inspired well future! ~m