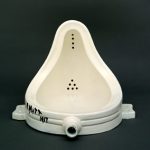 Duchamp has been compared to Leonardo da Vinci, as a profound philosopher-artist. But there is also a comparison to be made with Buster Keaton, another handsome deadpan clown whom Duchamp somewhat resembled. He valued humour, telling a New York newspaper that, "People took modern art very seriously when it first reached America because they believed we took ourselves very seriously. A great deal of modern art is meant to be amusing."
Actual article go to
http://www.telegraph.co.uk/culture/art/3671180/Duchamps-Fountain-The-practical-joke-that-launched-an-artistic-revolution.html

To think its not only me in this time space reality that thinks-
we should enjoy our art experience.
Having fun and not taking every thing to seriouse.
I can agree there are time to be serious and some art pieces are all about seriouse.
In the end it is about the ART and not the shoes or the degree.
Just…. Balance- Form- Movment- Experience……….