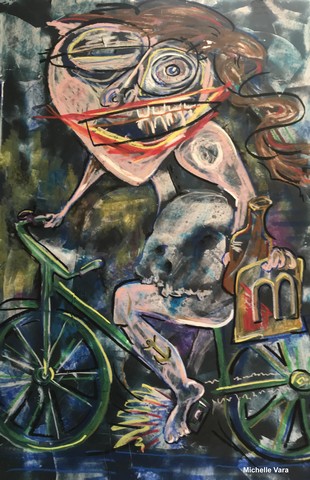 Bicycle Woman, Fort Edward, NY- (2019)
26″ X 40″ Oil, marble dust on paper.
A vividly deep momentary experience that was perceived by Michelle, digested then captured by the artist's hand to share.
Michelle said- "this image was etched in my mind's eye!" A visual snapshot, that she saw in a car ride towards home from their weekend at camp as they moved through the small town of Fort Edward!
The woman barreled up the sidewalk hill with her leg sporting an anchor tattoo as it pumped the pedal to a tune of urgency. She was in shorts so short you couldn't see them. A bottle of some kind of hootch with the McDonald's grub bag- clenched in hand as she sported a look of sheer ecstasy. -Things that make you smile!
Michelle always sees something of noticeable interest headed home from camp that way. One of those fantastic moments to create from with no time for the camera!