Welcome To the Ballard Road Art Studio Gallery
We welcome you to visit the unique brick-and-mortar gallery space at the corner of Ballard Road and Route 50 in Wilton NY, just outside of Saratoga Springs NY.
Please call ahead 518-587-8706 as our hours are by chance, event, or appointment.
We at Ballard Road Art Studio Gallery invite you to join our mailing list for gallery openings and other special events.
Visit the Art Journal for current projects or the online Art Gallery for completed ventures.
NEW CALL FOR ART YOUNG ADULTS 7 to 17yrs old
Gallery highlights-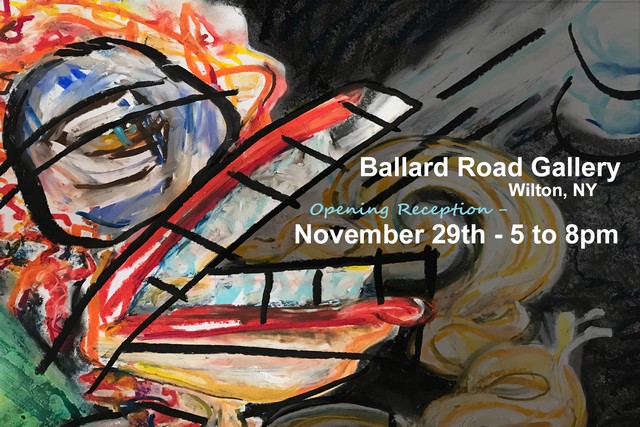 In Conjunction with Ballard Road Art Studio – Services to include but not limited to:
Commissions
Metal sculpture
Airbrush: vehicles, clothing, murals, helmets, canvas, any surface any place.
Hand Lettering: all surfaces, signs, etc (Since 1970, Vara has been hand lettering.)
Gold & Silver Leaf
Project designs
Canvas: painted in a wide range of styles.
Murals: all surfaces
Mixed media
Functional Art: lamps, tables, handrails, gates & more
Design
Layout
Welding all alloys
Fabrication
Metal restoration
Displays
---
"We turn ideas into art for unique people and places."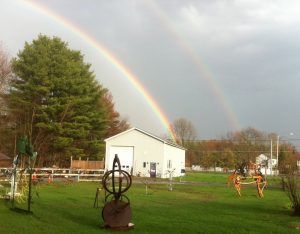 About – In 1995 after many other names and spaces the Ballard Road Art Studio settled on building a new facility, at the corner of Ballard Road and Rt 50, located 7 miles from downtown Saratoga Springs in Wilton NY.
The large well-tooled Master Maker Space offers a full fabrication, machine, photography, video, and paint shop with digital capability. Our tools and knowledge delete all boundaries allowing a springboard in the creative Steam Can productions of inspiration. This energy is realized into art, functional & aesthetic pieces, using classic and unique processes, and applying them to- not so common canvases, such as lighting, rat rods, motorcycles, furniture, jewelry.
Our outpouring of objects exposes our compulsive attitude to communicate visually. Make -Create -Learn -Share
Ballard Road Art Studio Gallery
New Space Opening Soon – A physical gallery space where we Welcome viewers from around the world into conversations about art, science, philosophy as it is applied to the art and functional work made in-house.
About the Artist:
Michelle Vara has extensive experience and certifications, holding an MFA from Plymouth University, UK. She is diverse in management, welding, design, layout, sculpture, murals, gold and silver leaf, hand & digital lettering, airbrush, backdrops, signs, photography, jewelry, pottery, carving, and digital programs that coincide with this field. She has applied her talents in craftsmanship and diversity, to projects for varied client types. She uses a small crew to create all projects in house. This offers the client an individually tailored experience- for a well-designed and fully developed finished project, produced in NY State USA in a timely fashion.
in 2000 Chad Wilson became the director of Ballard Road Art Studio. Wilson lends his talents and experience in the fields of mechanics, fabrication, welding, machining, and ironworking, he creates an atmosphere for expansive options in technical advancement.
The subsidiary called C&C Specialty Iron: deals with specific, minute details of fabrication and machine shop activities for a small and elite group of museums, corporations, and individuals.
Commissions and Grants have included: State, Federal Government, private institution, and individuals…………….
To see a sample of numerous completed projects please visit the BLOG and Portfolio selection of this website.
Thank you for visiting please feel free to contact us or make an appointment 518-587-8706.