Welcome To the Ballard Road Art Studio
We're Excited to Represent artist Michelle Vara at the Miami Florida Art Fair, which is the largest yearly curated art event.
You're invited to join us
Vara's work will be at Space No. 638_ Mana -Spectrum Miami on December 5-9, 2018. Address: 217 NW 5th Avenue @ NW 22nd Street, Miami Fl.
For our cherished collectors, friends and followers please contact us and we will put you on the list for passes.
Press Release Vara_Press Release Miami 2018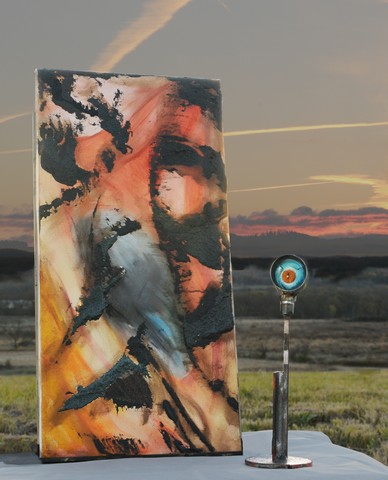 Spectrum Miami December 5 – 9, 2018
Mana Wynwood
2217 NW 5th Avenue @ NW 22nd Street
Miami, FL 33127
Ballard Road Studio is excited to share recent paintings and sculpture of Michelle Vara in conjunction with Spectrum Miami, a curated contemporary art show in the heart of the Wynwood District, December 5 – 9, 2018.
A resident of upstate New York, Michelle Vara's recent work reflects her three-year study of consciousness and the varied dimensions of untapped human potential and how these are visually communicated through mixed media sculpture and unique techniques of painting with the artist's carefully researched and personally developed non-toxic, road tar-based paint.
Using an automobile hubcap as the paintbrush to apply the custom developed tar-based paint Vara forms a place in each painting where elements of reaction and dimension – physical and metaphysical – find context reflecting principles necessary for accessing inner core intelligence. Via this sui genesis approach to both the material and application of paint in conjunction with the practice of automatic drawing developed by the Surrealists, the artist explores a hypothesis on energy formation and generation – potential – contained in human consciousness.
Vara states her reason behind developing this particular approach is to incorporate the metaphor of material used in her sculpture via the hubcap into her painting. The hubcap becomes a 'circle in action' linking its employment as paintbrush, its rotation on the car's wheel and in the artist's hand, to theories originating from several different types of insight, including the recognition of intuitive intelligence and cognitive processes, and to visually communicate an awareness of the varied dimensions of untapped human potential in each individual viewer standing before the work.
In mixed media sculpture, Michelle Vara forges additional pathways to access these insights aided by the use of recycled materials. By calling upon the energy embed by history within each component the artist furthers the idea objects are vessels for memory providing a personal connection which transports the onlooker to uncharted places in unexpected ways.
---
"We turn ideas into art for unique people and places."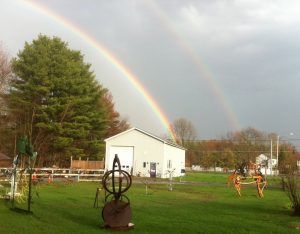 In 1995 after many other names and spaces the Ballard Road Art Studio settled on building a new facility, at the corner of Ballard Road and Rt 50, located 7 miles from downtown Saratoga Springs in Wilton NY.
The large well tooled Master Maker Space offers a full fabrication, machine, photography, video and paint shop with digital capability. Our tools and knowledge delete all boundaries allowing a springboard in the creative Steam Can productions of inspiration. This energy is realized into art, functional & aesthetic pieces, using classic and unique processes, and applying them to- not so common canvases, such as lighting, rat rods, motorcycles, furniture, jewelry.
Our outpouring of objects exposes our compulsive attitude to communicate visually. Make -Create -Learn -Share
The subsidiary called C&C Specialty Iron: deals with specific, minute details of fabrication and machine shop activities for a small and elite group of museums, corporations, and individuals.
Ballard Road Art Studio Gallery
Is where we Welcome viewers from around the world into conversations about art, science, philosophy as it is applied to the work made in-house.
Artist Michelle Vara has extensive experience and certifications, holding an MFA from Plymouth University, UK. She is diverse in management, welding, design, layout, sculpture, murals, gold and silver leaf, hand & digital lettering, airbrush, backdrops, signs, photography, jewelry, pottery, carving and digital programs that coincide with this field. She has applied her talents in craftsmanship and diversity, to projects for varied client types. She uses a small crew to create all projects in house. This offers the client an individually tailored experience- for a well designed and fully developed finished project, produced in NY State USA in a timely fashion.
in 2000 Chad Wilson became the director of Ballard Road Art Studio. Wilson lends his talents and experience in the fields of mechanics, fabrication, welding, machining, and iron working, he creates an atmosphere for expansive options.
Commissions and Grants have included: State, Federal Government, private institution and individuals..
To see a sample of numerous completed projects please visit the BLOG and Portfolio selection of this website.
Services to include but not limited to:
Metal sculpture
Airbrush: vehicles, clothing, murals, helmets, canvas, any surface any place.
Hand Lettering: all surfaces, signs, etc (Since 1970, she has been hand lettering)
Gold & Silver Leaf
Project designs
Canvas: painted
Murals: all surfaces
Mixed media
Functional Art: lamps, tables, handrails, gates & more
Design
Layout
Welding all alloys
Fabrication
Metal restoration
Displays
Thank you for visiting please feel free to contact us or make an appointment 518-587-8706.