Wilton artist creates historical sculpture
http://www.saratogian.com/articles/2009/07/19/wglife/doc4a5f5c5bd1ad3247861717.txtBy NAOMI TELUSHKIN
For WG Life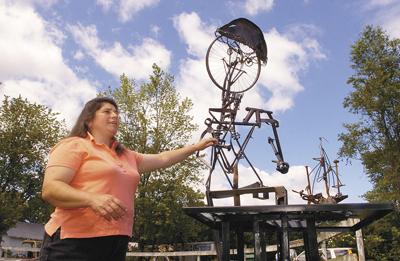 miChelle Vara and her latest work celebrating the voyage of Henry Hudson at her Ballard Road studio. ED BURKE WG Life
WILTON — In 1609 Henry Hudson and his ship, the Half Moon, discovered the Hudson River. Now, 400 years later, New Yorkers will commemorate Hudson in a celebration known as the Quadricentennial, and a local artist's work is part of the kickoff.
Wilton resident miChelle Vara was commissioned one year ago to build a sculpture of Hudson, which will be installed in the Kingston Arts Council on Saturday. Her final result, a combination of iron pieces nearly 10 feet high, "is a depiction of his entire voyage. Me trying to roll his story into metal."
"Henry Hudson is so inspiring," Vara said. "He was supposed to be delivering goods, but he took the boat and went off on his own adventure. He was a pirate really."
Although Vara has worked as a sculptor for 30 years, this is just her third historical project. As she researched Hudson, she found herself becoming interested in the European traveler, a man she had previously known little about. She said she feels sculpture is a great way to teach people about history.
"Sitting in a classroom and reading, that can be so boring. To take a kid instead and watch him with a sculpture — look, it's a wrench! It's a bicycle! Suddenly, he's involved."
Her sculpture includes a bicycle wheel for Hudson's head and a large metal map for his lap, both of which symbolize traveling. The map has a noticeable hole, which to Vara depicts "the great unknown." Not just the general unknown of traveling at his time, but also the unknown of Hudson's fate.
"Nobody ever knows what happened to Hudson. On his second voyage, he was mutinied off his ship, along with his son and first mate, and they were never heard from again."
There are nuts and bolts attached to the bicycle wheel, which are meant to represent his mind.
"He had to be putting together so much all the time. How to get this major ship out, get his crew together. How he could be an adventurer but be funded at the same time. The man was so driven," Vara said.
"His crew almost starved to death, suffered through freezing conditions. He was motivated on a spiritual level. And isn't that kind of passion what art is really about?"
Vara worked on the piece for a year, explaining that it takes a long time to bring a sculpture to life.
"The flow is wrong or the balance," she said.
Sometimes it just takes a while to get a hold of a certain part.
"You can't just call up and say, 'Can I have a 30-foot metal shaft please?' "
When asked about inspiration, Vara said, "Everything inspires me. A friend will call and say, 'I have to go to a boring baseball game with my kid,' or something, and I'll say 'take a sketchbook; it won't be boring."
The sculpture will be at 6 |Ballard Road Art Studio Gallery in Wilton until June 26, when it will be moved to the Kingston Arts Council. For more information, call Vara at her studio at 587-8706.