Inspired- Creative- Passionate- Intuitive- Fun-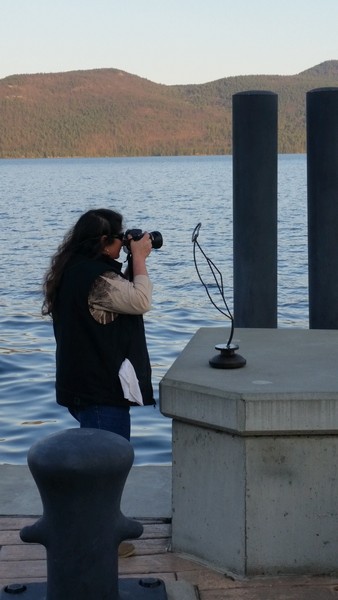 Michelle Vara Bibliography 2017
 Michelle Vara has enjoyed a unique vivacious life, centered on the arts, education, animals, vehicles, and travel. As a young child, she could always be found with her horses and dogs carrying a sketchbook/ journal in pursuit of finding – experience- and discarded objects.
Her interests reached deep into patterns, of nature and universe- continuing today. She attributes her love of reclaimed objects to those formative years. Her schooling was nontraditional Montessori and supported experimentation.
This is where her interest in photography seated itself to a lifetime of practice.
 Her first paid job was hand lettering signs at 9 years old, on the New Jersey Shore. From there she would teach herself to airbrush on every surface known, using all the different paints available. She practiced many styles and painted murals, canvas and signs for the local businesses. She could also be found selling art to beach vacationers and vehicle enthusiast.
 Michelle won many awards including a full scholarship to Pratt University.
Michelle heard a calling to leave the nest early and get on with experiencing life.
Experience she did!
She traveled the world with show, trick, event, racehorses and joined the Circus, both places to expand art, animal husbandry and human enlightenment. The stories she can tell from those experiences are larger than life.                               
Michelle reveals her vast scope of vocational knowledge, through her art, in a plethora of subjects that is contextualized with amass of materials and space.
She became a master, hand pinstriping, gold and silver leaf, hand lettering, airbrushing, and murals.
She began to pursue large sculpture for the amusement, movies, plays, industry, where she worked painting and sculpting, backdrops and scenery with Universal Studios and Disney to name a few.
She became certified in: welding/ brazing, jewelry, photography, restoration, OCA certified, safety practices, rigging, crane/ lift operator, CDL licensed, horse training /riding instructor for the handicapped, hairdresser, animal trainer, heavy equipment operator, and a few other things.
 Michelle decided to give more time to airbrushing. So, she boarded her horses and loaded her motorcycle into a bus. Striking off – once again to cross the America's, in pursuit to create on demand for the patrons of: motorcycle rallies, motorhome meets, events and fairs.
Her goal was to depend on the skill of hand-eye and to paint constantly, in any atmosphere, any subject matter, by request, immediately- for money.
She accomplished her goals and became one of the top ten airbrush artist and hand letters to find personal exhaustion.
With that she decided to build a house in North Creek NY and settle down, where she opened Adirondack airbrush and signs.
29 years ago, she moved to Saratoga NY, to open Ballard Road Art Studio and A Little Bit of Heaven Horse Training & Carriage Service located on Ballard Rd. and Rt. 50 in Wilton NY.
Six years ago, Michelle closed the horse business to work on her education.

Now she is a graduate, holding a MFA from Plymouth University in the UK, and traveling to show, abroad regularly.
When she's home shares her time with her life mate, animals, and loves entertaining and cooking for their private art parties.
 Today Michelle maintains a Tinker Space for Steam Can Creative Work; where her art shares a world of experience, using tactile diversity and intrigue across platforms of education, science and technology in inspiration of forward progressive positive thought. Through teaching and lectures, Michelle expands a practice of exchange. Her work ques personal reaction, conversation or memory in the viewer.
Michelle has been told: "Your work is very approachable which allowed my pre-existing boundaries or perception to open into personal awareness." -S.W. – To date this is Michelle's most valued comment and award.-
Over the last decade she has maintained a practice of walking, meditation, journaling, reading and drawing daily. She continues to work on her life interest being- "the Hard Question of Consciousness" and "the Energy of Objects"  along with humanity, enlightenment and subjects that swirl the current world's environment.
 Michelle has a large selection of series that cross platforms of material and enjoys research, which leads metaphoric conversations in a visual dance of possibilities as if a smorgasbord for the artwork to reveal the life of objects. The work is personally hand-constructed, cueing a combined sensory experience. She is principally concerned with creating, learning, remembering, thinking, reading, communicating on a visual plane and connecting to, or unlocking secrets of, the conscious/ unconscious mind.
 In the Blog you will find details and insight of the artist in her own words and the large Portfolio section give flavor to the scope of the work 
All work is available for purchase or lease through the artist's office which is open by appointment. Office: 518-587-8706