Vara believes in the development and design for artwork the considerations should include:
• Consider the elements of the site as a source of design ideas
• Consider the facility and its intended uses
• Strengthen the area surrounding the artwork as a gathering place
• Reflect – the application space, history, diversity and/or cultural profile
• Complement the building's architecture and surrounding aesthetic values
• Be durable, sturdy and stable, suitable for the climatic conditions, resistant to UV damage, and safe for public interaction.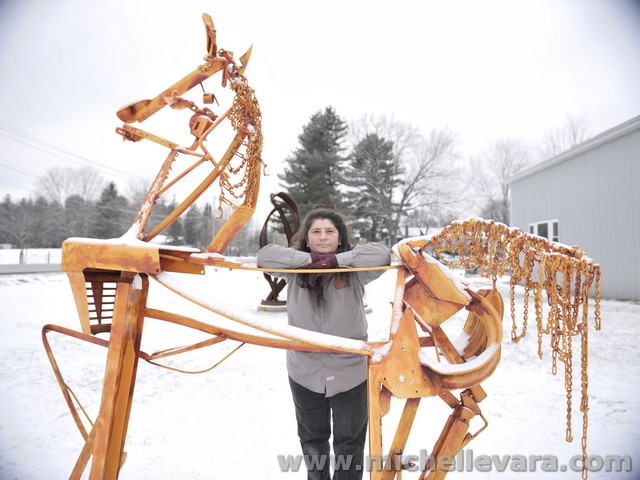 The stubborn resistance cumulated in irons past performance, of an era gone by.
Metal articles once performed a function then discarded and abandoned.
Found by a treasure hunter who stored preserved and selected for a new function.
The statement without a word.
Parts chosen for reasons of line, form, shape, texture, history or finish.
Pieces brought together to fully engage the visual space, once only 2 dimensions drawn or thought, researched.
Now thrusting energy to encompass juxposed segments of parts and life joined with never ending ideas, ground out on modern equipment and simple physical strength.
Speaking in visual augmentation but verbal silence.
The finish as intentional as the parts chosen.
The statement well thought, multifaceted, planned, dimensional, encompassing high action, intention and balance.
My life is the passion of my work.
miChelle M. Vara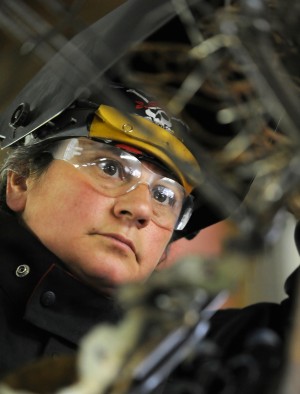 Statment
I look to build Sculpture in irons recycled ambiguity for a correct out come.
The drawn line pushed into dimension with the use of negative space.
The volumes filled in a spectrum and influx of ideas capturing motion of life.
Understanding sensitivity of visual balance, form and size.
The structural limitations explored in a technical indefatigable like fashion.
The intrinsic long labor, forming symbiotic Rhythm to the finished out come.