When we asked for 5 words that describe miChelle she said:
Inspired- Creative- Passionate- Wild- Fun-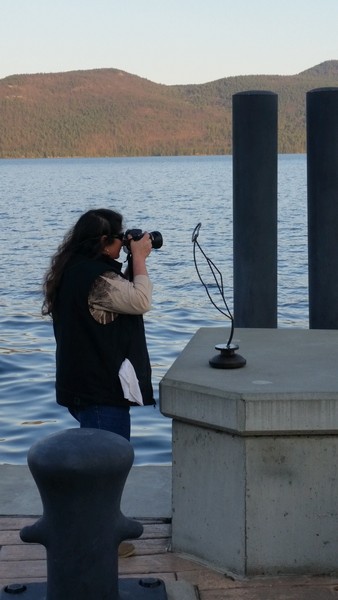 miChelle Vara has enjoyed a unique vivacious life centered on the arts, animals and vehicles. From the beginning as a young child, she could always be found with her horse, dog, a wild animal and a sketch book in search of supplies. She attributes her love of reclaimed objects to those formative years. Her schooling was nontraditional and supported ideas beyond the average, enticing experimentation. Her first paid art job was hand lettering signs at 9 years old on the New Jersey Shore. From there she would teach herself to airbrush on every surface known with all the different paints available. She practiced many styles and painted murals and signs for the local businesses, also selling the work to beach vacationers and vehicle enthusiast. During this time she won many awards including a full scholarship to Pratt University.
miChelle heard a calling to leave the nest early and get on with experiencing life. Experience she did! She traveled the world with Standardbred race horses and joined the circus, both places to expand art and animal husbandry. The stories she can tell are larger than life but dear to her heart and the people she shared time with are colorful and abstract, in which she is thankful for them all. This time gave her a full understanding of pin stripping, gold and silver leaf lettering and welding. During which she became certified in: rigging, crane/lift operator, CDL licensed, welding, hairdresser, animal trainer, heavy-equipment operator and a few other things.
After traveling with the big top she thought she would give more time to Airbrushing on the road, so she boarded her horses and loaded her motorcycle striking off on her own to travel the motorcycle rallies, motor home meets and fairs. Her goal was to depend on the skill of hand eye, paint all the time in any atmosphere, any subject matter by request immediately for money.
She accomplished her goals and became one of the top ten Airbrush artist and hand letters to find personal exhaustion.
With that she decided to build a house in North Creek NY and settle down, she opened Adirondack Airbrush and Signs, and also went to work for movies, plays, and the amusement industry painting and sculpting, backdrops and scenery. Where she found herself traveling again.
28 years ago, she moved to Saratoga NY to open Ballard Road Art Studio and A Little Bit of Heaven Horse & Carriage located on Ballard Rd. & Rt. 50 in Wilton NY. She actively works Ballard Road Art Studio, creating the physical work, securing grants and commissions in paint and metal sculpture. She keeps a vigorous show schedule and has secured many accolades. Six years ago, she closed the horse and carriage business to work on her education. She is currently enrolled in Plymouth University in the UK working towards her doctorate in fine art and traveling abroad. When home she shares her time with her life mate, animals and loves entertaining and cooking for their private art parties.
Please feel free to contact miChelle at: 518-587-8706 or www.michellevara.com
All work is available for purchase or lease though the artist.